Ben's helping hands: Freshman assists in cafeteria clean-up all year
During lunch this past school year, most Emmaus High School students didn't think twice about cleaning up the mess left by others. However, one student lent his helping hand to aid in clearing tables.
Benjamin Ruschman spent every school day trying to help other people as much as he could without expecting anything in return.
During fifth and sixth lunches, Ruschman walked around the entire cafeteria and offered to throw out classmates' lunch and collect trays. When first seeing this, people were confused as to why someone would want to do this.
But the feeling of wanting to do things for others is something that Ruschman feels deeply about. He didn't do it for credit. He didn't do it to win friends or even get people to like him. He simply enjoys helping others.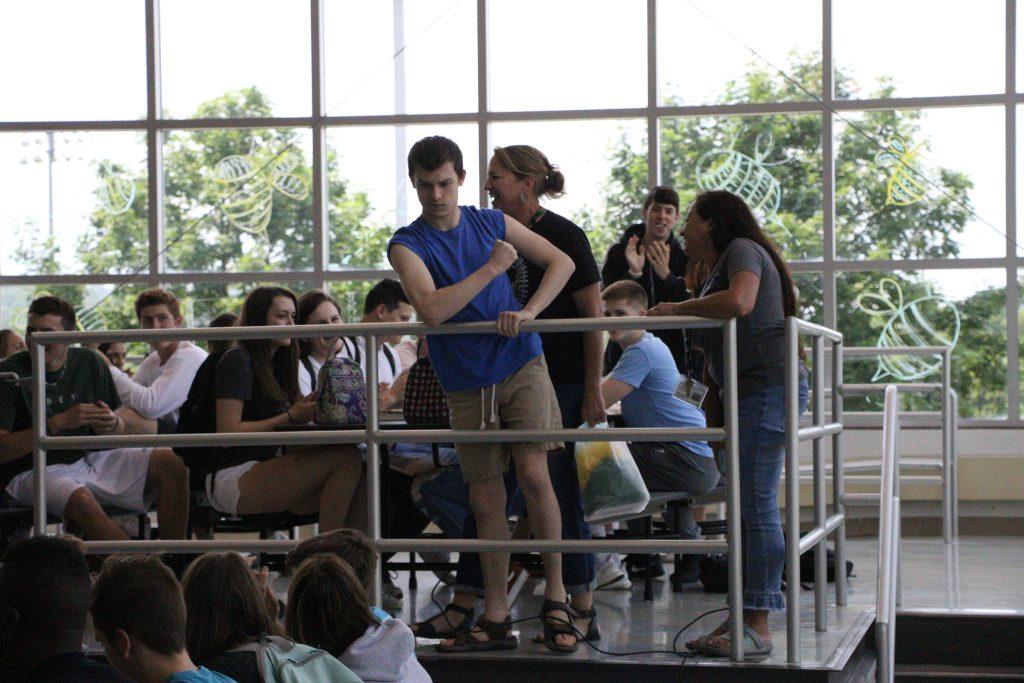 "That's my job, to help people… I just like to do it to be helpful," Ruschman said.
As a student who takes classes in EHS' special education program, he is known as someone with a generous heart. And as the academic year wrapped up, his good deeds did not go unnoticed.
That was when several aides decided to surprise him with a card signed by classmates who thanked him with sweet messages of gratitude.
"I just see him walk around every day all day asking to help people," aide Amy Zazo said. "I asked two people to draw artwork [on the card] … and they drew a picture of Ben with him holding the tray, and then from there, I started walking around. Every time I would go up to a table, I'd say 'do you know Ben?' and without hesitation [they would say] 'Oh yea Ben, that's my buddy.'"
Zazo notes that Ruschman eats his lunch in record time so he can spend the remaining time during his lunch to help others.
"Everybody knows Ben," Zazo said. "In fact, I couldn't get the card away from people."
But people didn't just sign their names.
"Ben, you rock," his peers wrote.
In a world where some people focus on what they can do to be noticed by having the most followers on Instagram or wearing the nicest clothes, Ruschman prefers to focus on helping out others. Anybody who has ever talked to Benjamin, can notice from the second they meet him, he enjoys the simple parts of life.
Helping people at school is not the only part of school Ruschman loves. His favorite subject in school is science, since he loves to learn about plants, animals, and other living organisms.
Outside of school, he has a couple hobbies he does in his free time:  listen to music while break out his singing skill. He also loves to play K'nex at home and spend time with his family. Benjamin does help out at home as well.
"I like to cook stuff like chicken in the oven, and do laundry,." Ruschman said.