Emmaus secures four wins at the Freddy Awards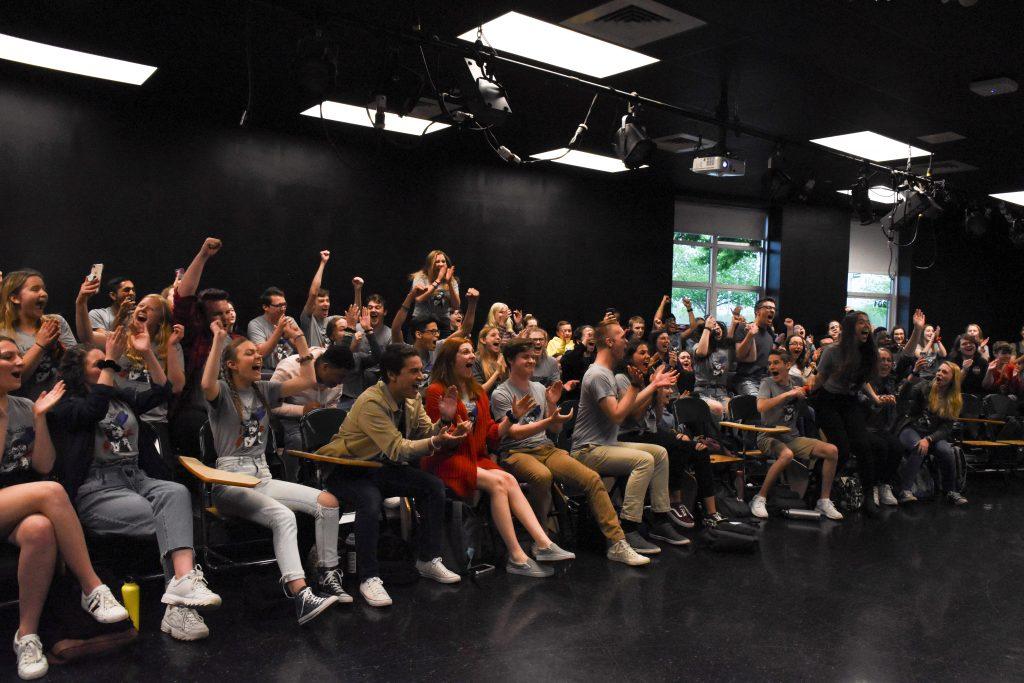 On May 23, the Emmaus High School Drama Department's cast of Les Miserables: School Edition attended the 17th annual Freddy Awards, performing live and ending the night with four Freddy Award wins in total.
Overall, Emmaus placed second to Bangor High School in total awards received, earning four awards: Lorenzo Antigua with Outstanding Performance by a Male Ensemble Member, Ryan Murphy with Outstanding Performance by an Actor in a Supporting Role, Trevor Warren with Outstanding Featured Performance by an Actor, as well as the award for Outstanding Stage Crew.  Reflecting on the night, crew leader senior Addison Biello felt honored to have received the award.
"From a crew side, obviously the cast comes out every night and gets their standing ovation, and everyone loves it because they obviously deserve it," Biello said. "But from crew, we don't get as much recognition, so being a senior, this was my last chance to like go up and be nominated for the award… as soon as we [the crew] found out we won, it was probably one of the best experiences of my life, and I got to share it with so many of my best friends."
Murphy, who played Marius in the show, notes the feeling of shock when he realized he had won the award for Outstanding Performance by an Actor in a Supporting Role. According to him, the entire night "was full of surprises."
"It's very humbling to be placed against so many very, very talented male performers," Murphy said. "It was just an absolute honor to receive that award, and it made me very happy."
Throughout the night, various high school casts performed numbers live to the Freddy's audience and those watching the live broadcast on television. Both Murphy and Warren share a favorite memory of the night: when the EHS Les Mis cast performed their acclaimed number, "One Day More," which received a nomination for Outstanding Production Number. As a senior, Murphy thought of the final performance as the perfect way to end his high school theater career.
"I think performing 'One Day More' one more time was so special, because everybody was extremely passionate that night, and it was a total different energy from when we were doing it in our performances," Murphy said. "[At the Freddy's], it's just such a fantastic spotlight, its live broadcast, and probably over a thousand people are in that building, and it was just a nice sense of closure to do that one last time. It was our absolute favorite song of the whole show, so it was extremely iconic, and it just felt really, really good to perform that one last time."
While Warren, who played Javert, had lots of live performance experience under his belt, performing live at the Freddy's proved to be a completely different experience.
"I thought I'd be fine, and for the dress rehearsals even before the show, when I went out and starting singing, I realized my leg was shaking," Warren said. "That has never happened before… I didn't think I was that nervous going out into it, but once I got up there… it was a really cool experience to be performing for that many people just in an audience."
Warren recounts the moments before he won his Freddy for Outstanding Featured Performance by an Actor. Although the award came unexpectedly to him, he felt comforted by the unity and support of each school's cast beforehand.  
"I didn't know what to expect," Warren said. "You don't see any of the other people in the category, and you just have no idea what you're up against so it's really just a guessing game… So it was very nerve-wracking, but it was also cool to see everybody else there coming together, all the different schools [and] they support they give each other as well. We're actually very close with Parkland, like supporting each other and everything."  
Biello notes the prevalence of school pride she witnessed while being at the Freddy's. She recognizes the importance of winning both group awards, such as Outstanding Stage Crew, and individual awards as well.
"I think we have a lot of pride for our school and our show, and it's always amazing to win big group awards and crew awards," Biello said. "But it's a more heartfelt and genuine experience when it's for individual people, so from my standpoint watching Trevor, Ryan, and Lorenzo winning, everybody is just so genuinely excited for them, because we know that they're great people and that they put in all these hours [of practice], so they 100 percent deserve the awards they got. Watching them go up there and win that was just an incredible experience."