Class of 2019 first to graduate at PPL Center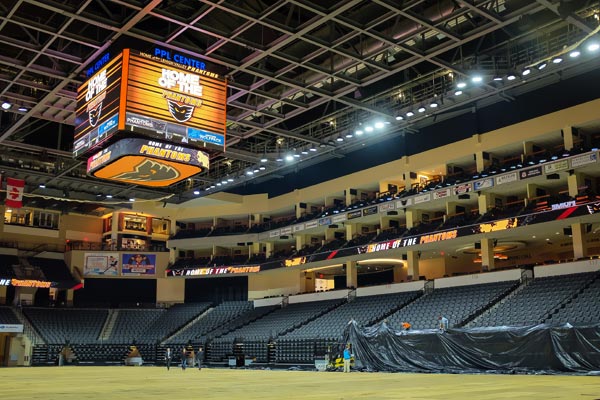 On Sunday Emmaus High School's class of 2019 will grace the PPL Center's stage, sealing their grade school careers with a diploma and moving forward into the next chapters of their lives.  
This major transition, from home to a dorm, school to employment, student to servicemember, or otherwise naturally causes students to reflect on their four years at EHS while anxiously awaiting what is to come. For some seniors, graduation will be bittersweet, but no less a deserved reward for their hard work in high school.
While some students choose to party and embark on vacations right away, sleeping in tops Phoebe Haberstumpf's list of what to do after graduation. But, leaving the school will impact more than her sleep schedule.
"I'm sad to leave the people, but I'm excited to start the new part of life, away from everyone," Haberstumpf said.
Likewise, Lindsay Neeb is conflicted on leaving high school behind. It is a move from old to new, known to the unknown.
"I don't know if I'm as scared [to leave] as much [as I am] sad," Neeb said. "I'm sad to leave this place. I actually kinda liked high school."
What leaves the deepest impact on the class of 2019 seems to be the people they've met throughout their high school journeys. Oftentimes, peers and instructors can lead students to discover their true passions and talents, both inside of the classroom and out.
"I really enjoyed the extracurricular activities and clubs [at EHS], they were really fun," Neeb said.  "I made some of my best friends from there."
On a similar note, Haberstumpf anticipates missing her teachers the most from her time in the building.
Complicated feelings on graduation are understandable, as the move from high school to young adult life is striking. Hayden Mitchell relates the experience to a near dream.
"It hasn't hit me that we're graduating yet," Mitchell said. "I feel like on the stage, I'm gonna be like 'woah, like this is actually real.' It doesn't really feel real yet and it's gonna be weird not showing up here next year."
Perhaps the complexity of parting with grade school and a student's typical day-to-day lives can be attributed to the uncertainty that comes with growing up and taking on a new place in the world.
"[My excitement level to graduate is] like a five…. I'm not registering that it's actually happening yet," Mitchell said. "I'm… looking forward to college life but… I haven't been super, you know, 'college!' And I actually do enjoy most of the people here."
Teenage nostalgia and comfort undoubtedly cast shadows on senior's outlooks, but the experiences that are to come will outshine what's missed. Looking back, many give suggestions to amend their own imperfect high school experiences, and maybe help those of current underclassmen.
"Enjoy high school people," Neeb said. "Live it up! Don't be with negative people."
On an even simpler level, Mitchell's last words of advice pertain to a basic yet largely overlooked human function: "Get more sleep. I didn't."