Scorsese returns to mob genre with The Irishman
Martin Scorsese has never been a filmmaker to shy away from death. From the countless executions Goodfellas is rightfully recognized for, to Travis Bickle's demented rampage in Taxi Driver, violence has always been a core aspect of his films.
This is why it comes with no surprise that Scorsese's latest film, The Irishman— his most affectionate, yet brutal film to date— features a scene in which hitman Frank Sheeran, played by Robert De Niro, is forced to kill a man for the first time. Taking another human's life seems like quite the task, one with a fairly heavy toll on a person, yet this particular scene plays out in such an honest way which leaves no room for stylistic bravado. All the viewer is left with is a man, a gun, a bang, and a cold body on a winter night, revealing one of the most surprising things to come out of Scorsese's return to the mobster genre: a sense of mortality. In his previous films, he portrays death as a plot device, not an idea for contemplation.
While excess is nothing foreign to the acclaimed director (as evident in The Wolf of Wall Street), this style is nowhere to be found in a film which many might consider to be a perfect fit for it; a three-and-a-half-hour mobster epic. Where Scorsese would traditionally have used a flamboyant soundtrack, flashy transitions, and unique camera angles, the audience is afforded none of these luxuries. There is no barrier between the viewer and the cold truth of the horrific acts playing out on screen. Thus, the previously mentioned over-three-hour runtime lends itself to this style.
This length allows the story to play out in an almost novel-like way, most likely due to the inspiration for the film, the narrative nonfiction novel I Heard You Paint Houses. This title is even a quote used numerous times throughout the film, exemplifying a strong connection to the source material. With more time, Scorsese is able to use the pacing itself as a vessel for thematic resonance.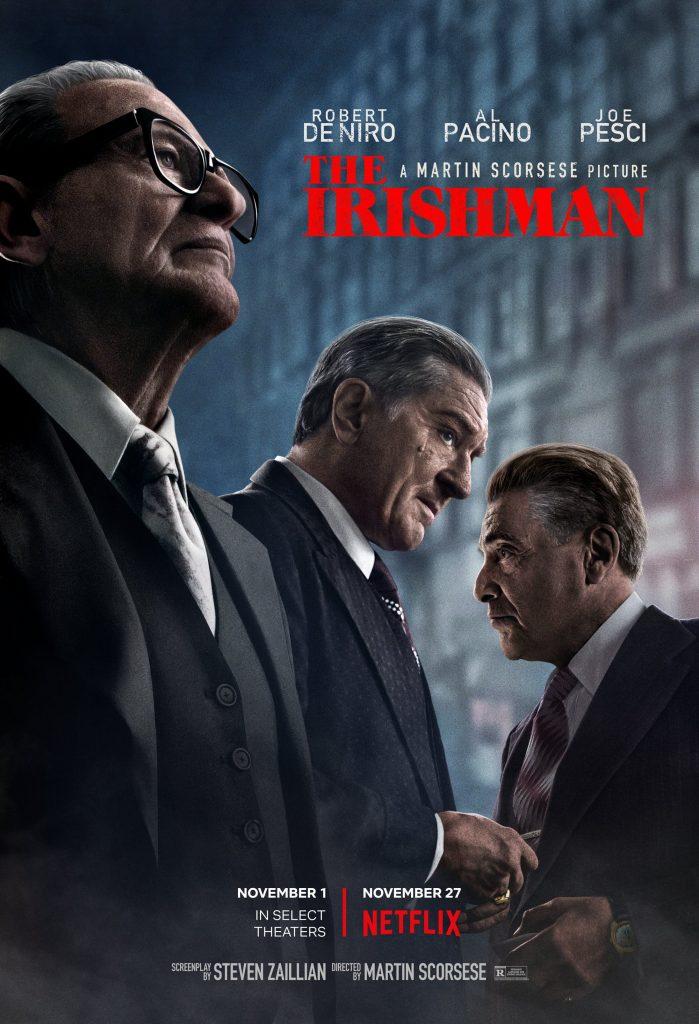 When things slow down and characters are forced to face their actions, so is the audience. Of course, this can also make The Irishman rather hard to approach. Very few viewers will decide to open up Netflix and throw on a film of its length. However, it's safe to say the third act is the strongest section of the film, one which easily makes the viewer feel the three hour journey was worth it. By the time the conclusion arrives, De Niro is finally able to show off his acting skills in a film which had previously been dominated by the likes of Joe Pesci, Harvey Keitel, and especially Al Pacino.
In his largely comedic role, Pacino steals every scene with a complete disregard for cultural sensitivity. Throwing racial slurs against Italians left and right, the actor is startling in his role of worker union president Jimmy Hoffa. Without this strongly comedic energy at its core, the story's conclusion would have been far less impactful than it is in the finished product. It's the juxtaposition itself between the first two acts and the third which allows the ending to resonate in such a profound way.
Director of photography Rodrigo Prieto also adds a level to the film's intimacy with his creative decisions. When the camera lingers on a freshly executed mobster, the audience is left in disgust. When the camera elegantly glides down to the characters, the audience feels the importance of the moment. In addition, Prieto keeps many of the killings in frame for an uncomfortably extended period of time, allowing the audience to feel the same discomfort as the characters. Instead of cutting away to a more glamorous scene as audiences might expect (or hope), the viewer is left with the horrifying sight of a lifeless body with just a few too many holes. Every shot feels like a conscious decision from the director all in the effort to produce a visually stunning film.
Despite the excellent camerawork, a glossy digital look did persist, particularly with the infamous de-aging effects used on Robert De Niro and Joe Pesci. Causing much public outcry upon the release of the trailer, it is disheartening to admit that CGI used on the actors in an effort to make them appear younger looked rather embarrassing. Seemingly ripped straight from an entry in the Call of Duty franchise, a younger version of Frank Sheeran sports a rather rubbery appearance in a scene taking place in World War II, allowing for a hilarious, albeit unintentional, opportunity for video game comparisons. Some of the shots themselves appear to have a digital finish to them, something one would not expect from Scorsese, a major proponent of recording motion pictures on reels of film.
While the film features much of the same organized crime politics that audiences have seen before, nothing feels recycled. Inspiration was obviously taken from previous works, but the themes of The Irishman allow it to stand above its predecessors as a poignant commentary on aging, death, and regret. This Netflix original seems to be Scorsese's attempt to finally close the book on his infatuation with the Italian-American mobster, and it could not have been done any other way. While acting as a conclusion for the director's forays into organized crime, The Irishman also represents another step towards Netflix establishing itself as a legitimate studio.
Currently in limited release in theaters nationwide, the film will be available to stream on Netflix on Nov. 27.