Rian Johnson creates whodunit masterpiece with Knives Out
Rian Johnson, director of Star Wars: The Last Jedi and Looper, created Knives Out, which has proven his best movie to date. 
Throughout the two hour and ten minute run time, the film establishes itself as an engaging thriller, without a single dull moment. Extremely clever and well thought-out, Knives Out uses every minor detail in the set and script to tie together a great whodunit mystery. Audiences will want to watch it again and again—just to catch every minute detail, every Easter egg, and every nuance.
The film presents itself as a real-life game of Clue, encapsulating a meta-story about a murder-mystery writer, Harlan Thrombey's (Christopher Plummer), death. Benoit Blanc (Daniel Craig), a world-famous, eccentric private investigator, dons a hearty Southern accent and the wardrobe of a classy twentieth-century detective; he insists on continuing the case even though local detectives have already ruled it as a suicide. Other characters, played by a star-studded cast including Chris Evans, Jamie Lee Curtis, Toni Colette, and Katherine Langford, display boundless personality flaws, including hubris, selfishness, entitlement and greed, creating a perfect recipe for well-developed characters.
Moviegoers quickly shift from sympathizing with Thrombey's children and grandchildren to hating every single one of them. Chris Evans's character, Hugh Ransom Drysdale, grandson of the late family patriarch, presents himself as the black sheep of the family from early on. He fails to show up to his grandfather's funeral, yet arrives early for the will reading. Harlan's two children, Linda (Jamie Lee Kurtis) and Walt (Michael Shannon) embellish their accomplishments, desperate since their teen days to be as successful as their father.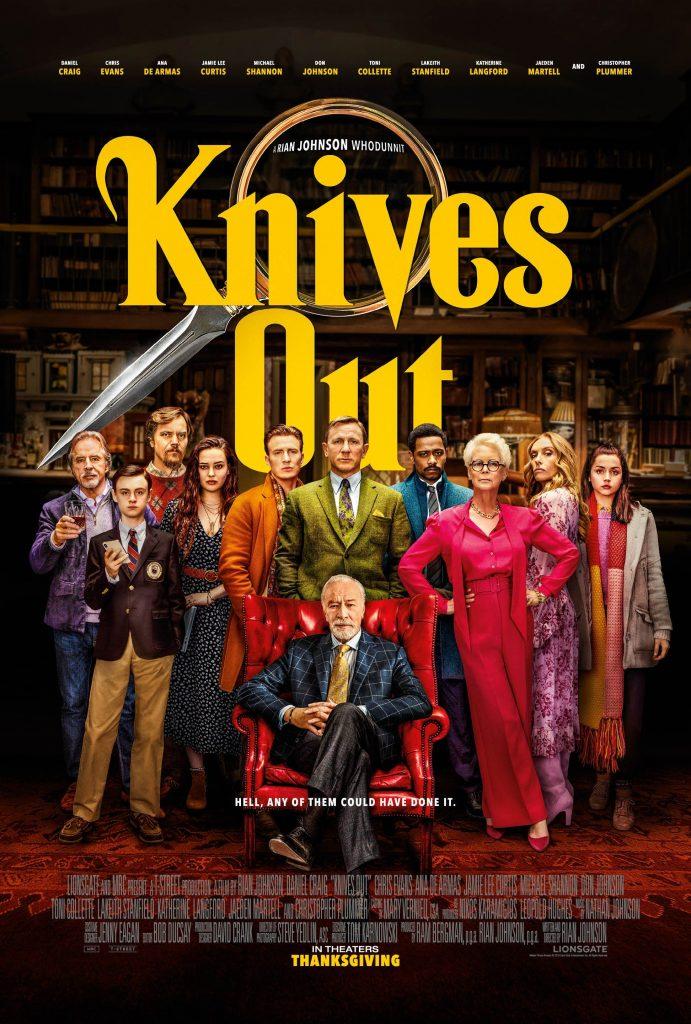 The movie reveals that everyone in the family has a motive, and everyone in the family has a fatal flaw. Because of this, the audience can never pinpoint the real killer until the very end, and it's the same for the detectives in fiction. They required the assistance of Harlan Thrombey's nurse, Marta Cabrera (Ana de Armas), to give them the true run-down of the family members; they know that she's telling the truth, because when she lies, she vomits. This becomes a key, and sometimes witty, element throughout the film.
With a film as detailed and delicately crafted as Knives Out, moviegoers will want to pay attention to everything from house decorations to coffee mugs. Rian Johnson chooses every detail carefully—with every line, every object important to the plot. Johnson does not forget about a single thing, creating a full circle from beginning to end. He incorporates foreshadowing and red herrings from the opening minutes of the movie, which makes it so that any premonitions held at one point of the film are likely completely disregarded by the end–in turn, creating an immaculate example of calculated writing and a fully developed plot.  
Critics of Johnson's previous film, Star Wars: The Last Jedi has nothing to fear; some of the main critiques of The Last Jedi do not apply to Knives Out. The movies share nothing in common other than the director. For example, many fans complained that Johnson omitted any ideas from fan theories, strayed from what the audience expected, and veered 'far too progressive' according to Twitter critiques by fans disappointed by perceived political influences. Knives Out is not part of a franchise, so there is nothing specific to expect story-wise. Even though the film offers plenty of commentary on modern issues, including immigration, activism, and ignorance, it approaches them in a way that allows anyone to enjoy the movie no matter their political beliefs. Moviegoers and Star Wars fanatics should simply forget their opinion on The Last Jedi before making a decision to see Knives Out, because chances are they will be splendidly surprised. 
Knives Out, a can't-miss blockbuster, proves itself to be one of the best of the year and one that audiences will long to view over and over. It represents the best of the mystery genre, reflecting the perfectibility and cleverness that a movie can achieve when written just right.