Closing the "digital divide": EPSD provides mobile hotspots for loan
The East Penn School District's 1-to-1 initiative, currently supplying every secondary school student with Chromebooks, requires students to have internet access at home in order to complete assigned work. 
Following a December 2018 BrightBytes survey asking about students' internet access, administration purchased 20 Kajeet SmartSpot devices. Though the survey revealed that approximately 98 percent of students at the high school have high speed wireless internet access, less at middle and elementary schools, administration moved forward with the rentable hotspot program. 
Emmaus High School principal Dr. Kate Kieres was surprised by the high school's survey results.
"There was thinking that maybe people didn't respond," Kieres said. "Or though it said 'not cellular,' maybe people didn't know what that meant."
Students at secondary schools can sign out Kajeet units from school libraries for one night, one week, or three weeks, provided that they have a permission slip signed by a guardian. The devices are palm-sized mobile wifi routers that provide students with safe, reliable internet access.
Assistant superintendent Laura Witman was instrumental in initiating the program and wants to get the word out about the devices. 
"It wasn't really publicized [last year]…" Witman says. "We just want to make sure people know that these devices are available."
The East Penn School District website now includes a page titled "Stay ConnectED at East Penn" that describes the Kajeet program, gives recommendations of public wifi options in an interactive map, and shows a copy of a handout that was distributed in paper copies to all students.
Kieres believes closing the Kajeets are a necessary companion to the 1-to-1 initiative.
"We have a responsibility to work with the parents to make sure it doesn't just turn into a brick when they get home with it," Kieres says. 
She notes that use of the devices has been "sporadic" across the district, but the administration is dedicated to supporting students without access. 
"We bought several just to see what the need would be," Kieres says. "And they're very lightly used."
Kieres describes another strategy the district employs to help students get web-based work done. 
"One thing we do is keep the library open Tuesdays, Wednesdays, and Thursdays until 5:30," Kieres says. "That is lightly used, but we keep it open because even if it is just three kids working on a term paper, it's worth it."
If Kajeet circulation rises significantly, Kieres says that the district will make a commitment to purchasing more units to accommodate the higher traffic. 
Administration plans to hold another BrightBytes survey this spring, which, according to Witman, "gives [the district] data on how kids perceive that the devices are being used in class."
Network support specialist Ross Snyder oversees the Kajeet program, receiving reports of data usage and other information collected by the devices. According to Snyder, Kajeet implements its own firewalls that block a list of websites dictated by the company.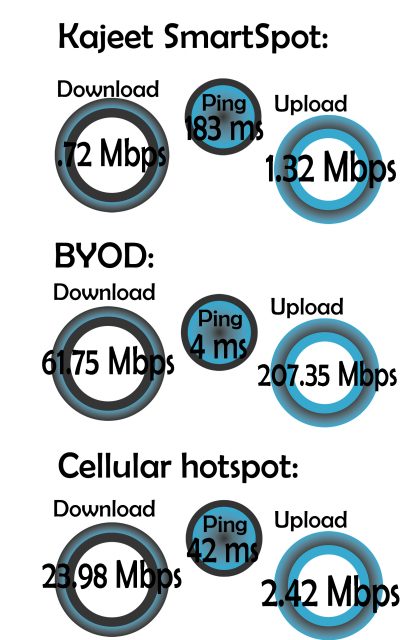 The school district has the ability to edit the devices' black and white lists, but they currently operate with Kajeet's defaults, which differ between elementary, middle, and high school units. High school devices block social media sites such as Twitter, Instagram, LinkedIn, and SoundCloud while permitting educational programs like Google Suites, Duolingo, and Quizlet. 
In an Ookla wireless speed test, the SmartSpots performed significantly slower than the Bring Your Own Device wifi network, but satisfactory for completing school tests. All tests were done on the same laptop with over 20 Google documents open in addition to two Gmail inboxes. Beyond slight hesitation when between tabs, the SmartSpot held pace with the BYOD system. 
District administration plans to continue tracking the units' circulation in addition to comparing the new survey results against last year's baseline in order to determine the future of the 1-to-1 initiative.