The most worrisome time of the year: seasonal depression dampens holiday spirit
The picture-perfect Hallmark-type Christmas is painted in the following: Hot cocoa steaming, ice skaters spinning, fires crackling, stockings hanging, brightly-colored lights shining, children giggling and to many, this is the "most wonderful time of the year." 
When I was younger, I remember being so excited for the holiday season. The day after Thanksgiving, I would force my parents to pack up the fall decór and dust off the Christmas boxes in my storage room. I would climb the shelves, carefully choosing which box I wanted to open next, like they were presents themselves. The tiny ceramic snowmen, the snowflake hand towel that hangs in the bathroom, the hundreds of ornaments to choose from, the "Elf on the Shelf" and my personal favorite, a dancing Coca-Cola Santa that sings "Jingle Bell Rock" on repeat all day long.
It is a magical time of year for any little kid, but with an older sister and constantly being surrounded by children from school, magical things end quickly with comments like "Santa isn't real." I heard my classmates talk about it and I tuned it out for as long as I could. But being my sneaky self, I told my mom that I know Santa isn't real to see her response, and, of course, she confirmed. I cried for hours. Suddenly the magic was gone, and the pressure was on. As I grew up I noticed my excitement fade and that Christmas time was not what I remembered it to be. For some, the holiday season is the toughest time of year to get through, provoking feelings of pressure, anxiety, sadness, and loneliness.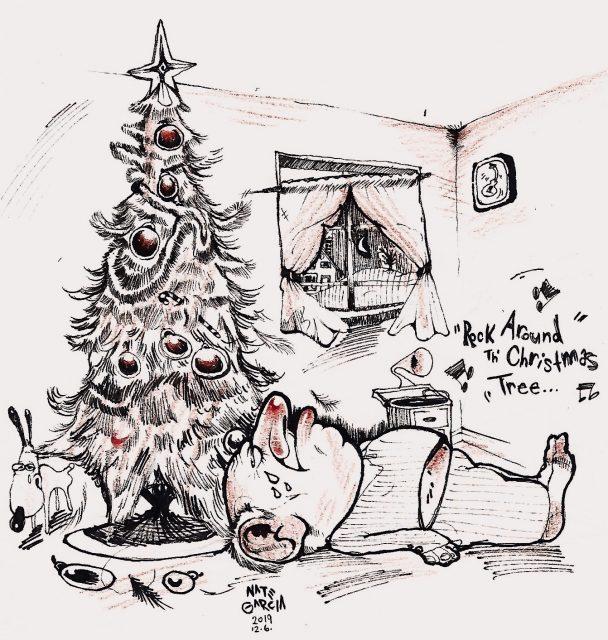 It is normal to feel down from time to time, but some people go into a real, deep, dark depression during the winter. Often referred to as "seasonal depression," the holiday blues are defined as sadness during a certain time of year that can be in response to anything: an unhappy memory, trauma, colder weather, stressing about money and gifts, or just feeling lonely. According to the National Society of Mental Illness or NAMI, 64 percent of people with mental illness have said that it worsens around the holidays. 
Approximately 755 of overall respondents said that the holidays contribute to feeling sad or dissatisfied. When surveyed, 66 percent of people have experienced loneliness, 63 percent experienced too much pressure, and 57 percent experienced unrealistic expectations.  Roughly 55 percent of people found themselves remembering happier times in the past compared to the present, and 50 percent were unable to be with loved ones.
Although the media in the past has portrayed that suicide rates spike during this time of year, they actually don't. Studies show that suicide rates are the lowest in the U.S. during the months of November, December and January. Despite the statistics, depression is extremely real during this time. In an Instagram poll of 177 people, 57 percent said that the holiday season makes them sad and 43 percent said that it makes them happy. 
Emmaus High School recently welcomed Dr. Trevor Pinho, certified school psychologist, to the staff to support students struggling with mental illness and trauma. Pinho says that research shows in winter time that people, in general, are less active, causing an overall heightened sadness.
"When you look at causes for seasonal depression, you see that a lot of people are less active in the winter because by the time you get home from school, especially if you are in a club, it might already be dark out," Pinho says. "Therefore, darkness equals lack of motivation." 
Avoiding the holiday blues is simple when one looks at the big picture.
Pinho offers some tips and tricks to do that exact thing. He feels that a lot of the time people create crazy expectations for the holidays to make everyone happy and to have the 'perfect Christmas,' which he thinks has to do with tradition and social media. For kids who do not have the traditional family, this can be a hard concept to grasp, leaving the holidays anxiety filling and depressing. 
"You are lessing likely to be upset if you do not set expectations for your holiday. Just take care of yourself, use the break as a break… meaning do not try to cram homework and stress into it," Pinho says. "Relax, enjoy time with the people you don't get to see often and don't compare your family fun to others; everyone has a different idea of the 'perfect holiday.'" 
When asked about looking for behavioral patterns in students, Pinho says it is different for everyone during the winter season. When surrounded by people who are happy and excited for the break, they become overwhelmed and bummed out by the time their festivities arrive. 
This holiday season remember to not worry about the outrageous expectations or material things. Focus on being with your loved ones, enjoy the quality time together, be grateful for what you have and know you are not alone.