EHS students give back to communitites during the holiday season
The Expression Project
The Expression Project, an idea formed by junior Lindsay Ott, is a way for students at Emmaus High School to express themselves through art painted on their backpacks. Ott has recently started this project, so far painting her own and one other book bag. Her idea is to give students an outlet of expression through her art.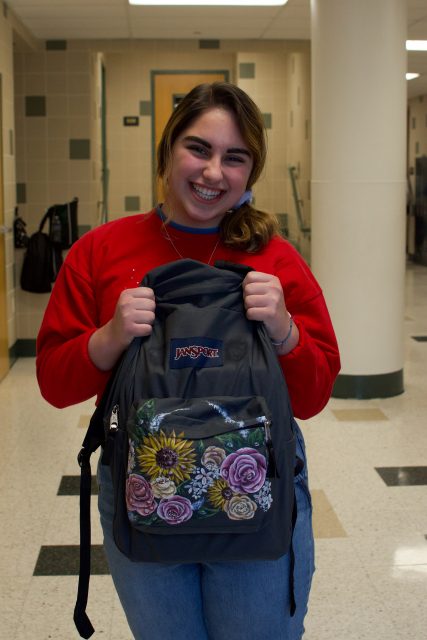 Not only does Ott hope to influence students at Emmaus High School, she also hopes to contribute to the creation of art programs for students who lack one. She is planning to donate the money she earns to the Philadelphia Arts and Education Partnership which helps schools without art programs create one. 
"I let the person decide what they want on their object. Usually they say 'oh you can pick it out for me,'" Ott says. "No it's your choice, this is the whole point of the project, it's supposed to be you expressing yourself and whatever you define as yourself can be painting on your backpack."
Ott has painted her own backpack, as well as senior Tobi Augustin's. During the Thanksgiving break, she painted a few more.
"On mine, I painted a whole flower design and for another girl's I painted a quote from her favorite song, and I did like a galaxy background for it," Ott says. "For ones that I am painting in the future, I'm doing a sun and moon design and a whole garden of sunflowers for another."
Augustin, whose backpack was painted in October, loves the final result, saying she couldn't stop looking at it when Ott gave it to her.
"Oh my gosh. Literally when I saw the backpack I was like 'ahhhhh' I was so happy and all day when I got it I was looking at it. It was so amazing," Augustin says. "It was better than what I told her I wanted."
Augustin was unsure of what she wanted for a design at first, asking Ott to just "do whatever you want with it." After Ott insisted on Augustin picking the design, she settled on a quote from her favorite song with a galaxy background behind it. 
"So it's basically like this worship song, it's one of my favorite songs. It's "So Will I" and it's the lyrics to it," Augustin says. "And it's like, "If the stars were made to worship, so will I" and it has this galaxy background and the lyrics are in white."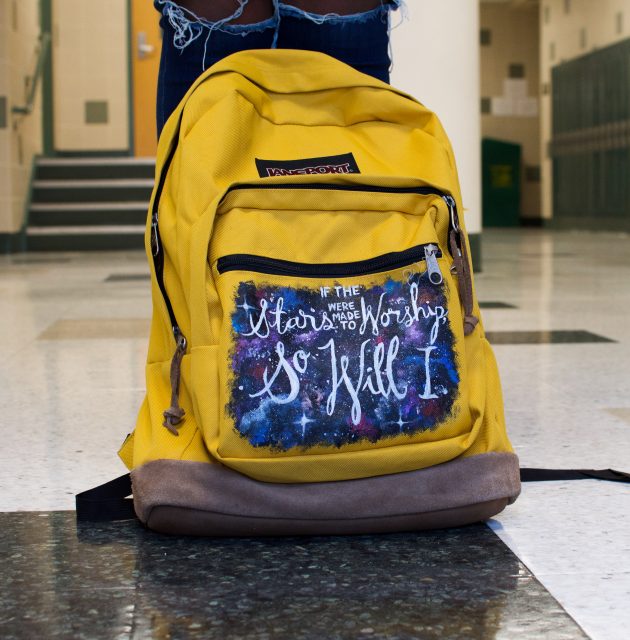 Ott hopes to become an art teacher in the future, and got her inspiration for art from the many art teachers she's encountered over the years. Tracy Maley, one of Ott's teachers who helped her in high school, has taught in the East Penn School District for 26 years. Maley teaches Drawing and Painting levels 1, 2, and 3 as well as AP Studio Art. Ott herself is enrolled in Drawing and Painting 3.
"I think [Ott's] backpack idea is excellent. Almost every single student has a backpack so, she has a nice market that she could work with," Maley says. "The backpack is also an advertisement itself because a lot of people see her designs in the hallways."
Ott charges $5 for small designs, $10 for a front pocket design, and $20 for the full backpack. Ott started the project with the idea of donating the money to an art institution. Finally, she settled on the Philadelphia Arts and Education Partnership. 
"[The Philadelphia Arts and Education Partnership] donate[s] their time and money to help these schools who are underprivileged and underserved to develop these art programs for children who don't have it usually," Ott says. "So, it ultimately goes back to little kids who can learn art and express themselves."
Augustin notes Ott's generosity and general caring nature. 
"It's typical of Lindsay to do something kind and generous. I thought I was just gonna pay her for the backpack and she was just going to like buy clothes or something," Augustin says. "But, the fact that's she's gonna use it for charity and like art related things, I think that's really cool."
Ott finds it very important for everyone to express themselves, hence the name of her project. She hopes that through the backpacks students will express who they are. She also hopes that through her donations, younger children will gain an outlet for expression. 
"I want to donate to programs that allow other children in schools that may not have these art programs to have them and make sure they get an opportunity to have an outlet to express themselves as well," Ott says. "So that's why I'm calling [it] The Expression Project, I feel like that's the whole point of it and I think that'll really help a lot of people."
Ott usually takes around two or three days to finish a backpack. She also uses acrylic paint so that the design stays on the backpack forever.
"It usually takes about a couple of days, three at the most. That's just for painting the initial layer and adding more details to it. I use acrylic paint which dries pretty well on any surface, but I also use a gloss medium over it so it keeps the paint in place," Ott says. "It's water resistant so it usually won't get damaged. It's pretty permanent, if you wanted it off you could paint over it, but there's no way of like taking the paint off."
As for advertising, Ott plans on making posters to put up in school as well as starting an Instagram account to spread her business. 
"I'm planning to make my own posters, I'm going to print them and ask if I can put them in art classrooms," Ott says. "And I'm going to start an Instagram hopefully to get the word out."
Ott's goal is to have students express themselves, and Augustin believes she did just that.
"Try to be unique. Just a simple backpack can make you stand out. Like I had a JanSport, for the longest time I didn't want to get a JanSport for a backpack because it's so basic, cause everyone has a JanSport backpack," Augustin says. "But now that Lindsay painted it, I feel like 'oh I'm different, even though I have a Jansport backpack.'"
As Ott continues her business, she hopes to expand and involve more people and objects to paint on.
"I am starting to get more people involved with it," Ott says. "Over the break I'm gonna paint more backpacks. And not just backpacks, also Hydro Flasks and bags of any sort."
Ott also emphasizes that although she hopes people get something out of the expression project, it's mostly just her having fun with art.
"It's just for fun, it's not really too formal," Ott says. "It's a nice way to make people happy, and it's fun to do."
Hahn at Haafsville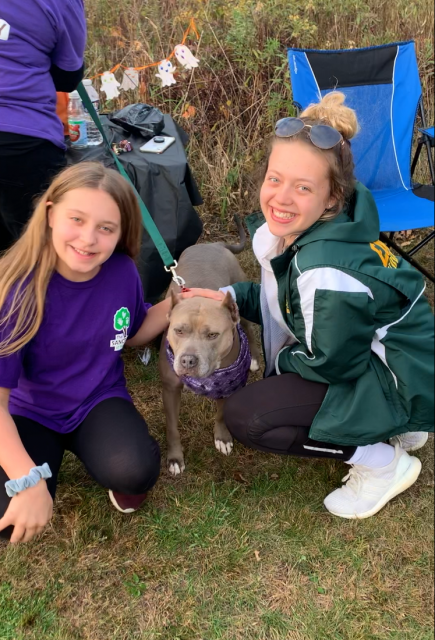 Even with the busy lifestyle of an Emmaus High School senior, Madi Hahn makes time to feed, clean, and care for sheltered dogs at the Sanctuary in Haafsville. 
The Sanctuary shelters animals in need of adoption, and adheres to a "no-kill" policy — meaning no animals are euthanized. The organization also offers fostering opportunities for dogs and cats that may not be able to handle the shelter environment. Hahn volunteers there roughly once per week in a two and a half hour shift, and often goes with her mom, Hiedi, and younger sister, Jessi. 
While searching for a family activity over the summer, Hiedi came across an ad for the organization on Facebook, and then signed the family up for an orientation. While she had the idea that her daughters would "lose interest after one or two weeks," Hiedi and her family fell in love with the shelter and the environment. 
"So it's kind of a family taking care of these animals — caring, friendly, covering each other's shifts," Hiedi said. "The people there have nothing to gain; they are the most selfless people that I've ever met." 
A typical shift consists of feeding, medicating, walking, and cleaning the dog's pens. Madi and Jessi typically stay back to help tidy up the dog's living space. 
Both Madi and Hiedi have described the experience of volunteering as something that brought the family closer together, and a way to enjoy quality family time. To volunteer, you have to go through an orientation, four training shifts, as well as work a minimum of two shifts a month. 
"[Madi]'s always busy,…but when I say, 'oh, they need someone to go in tonight,' she gives up her plans. And Jessi, who's 11 [years old], does too, which is surprising for both of them because you're not just snuggling — you're giving up going out with your friends, to go and spend a two or three hour shift [there]."
Though Madi must complete required community service hours for National Honor Society at Emmaus High School, she enjoys the time she spends at the shelter aiding dogs in need. She often recommends the shelter to her friends if they need hours, or are simply looking for an activity to fill spare time. 
Cats and dogs are housed on the Sanctuary's property, but the Hahns primarily spend their time working with the dogs there, partially credited to Madi's allergy to cats. The family has also opened up their home to foster dogs from the shelter. 
They recently lost their family dog, but have taken in Apollo, a malnourished Chihuahua-Jack Russell mix who was found stranded in Macungie, as a foster dog. 
"They decided that it'd be best for him to go to a foster home, a quieter home. It's a lot of patience for a dog like that. You kinda have to let him come to you," Madi said. "He'll make a great dog for any home, but right now he's really nervous and having trouble trusting people."
Apollo has been gaining weight and thriving in the foster environment, and goes to the Sanctuary every Saturday from 10 p.m to 2 p.m. for adoption days, as do the rest of the foster animals, in hopes of finding a forever home. The Hahns have fostered two dogs prior to this, Stella and Elliot, and plan to continue to take in dogs in need of a home. 
Even if families don't have the time or resources to foster a dog, or go out to the property to help out the shelter, there are other ways to contribute. Donating online, participating in fundraisers, or adopting, rather than purchasing from dog breeders, are also options for a less hands-on way to offer services to help support the organization. Hiedi and Madi recommend the shelter to anyone looking to get involved and give back to the community. 
Amanda Kline, the manager at The Sanctuary, encourages people to get involved — especially families. She sees people help out at the shelter ranging from older couples to families with young children. 
"We have a lot of opportunities for the community to come and help out — school groups, church groups, individuals that need community service hours," Kline said. "The strong volunteer base that we have and commitment to the shelter is just outstanding."
Madi plans to continue working in animal shelters throughout college and into adulthood, aspiring to one day open her home to foster dogs of her own.
"It's definitely really rewarding. I mean, of course I'm a dog person, but to me there's no better feeling than seeing [the dogs] get so excited that you're there," Madi said. "They obviously don't understand why they're there, or what's going on, but animals just have this capacity to love people so much."