Humans of EHS: Andee Korpics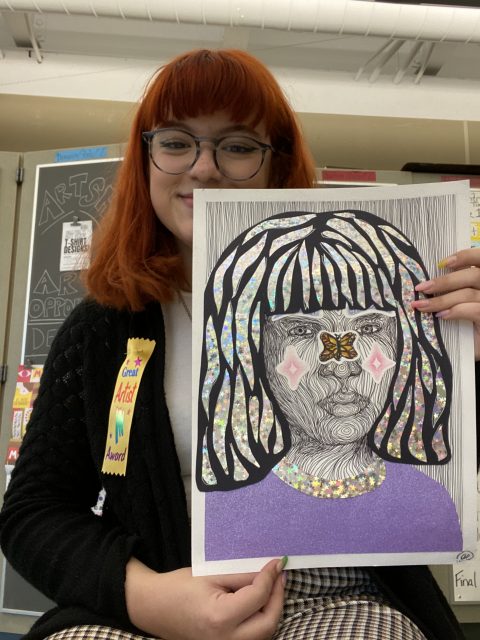 She holds her pencil firmly and sketches flowers and cartoon men in the margins of her notes, ensuring that the details are precise and there is not a single mistake. 
Emmaus High School junior Andee Korpics dedicates her time to creating art that represents large-scale ideas, and displays them on anything from a piece of paper, to an entire mural. Korpics sees art not only as a leisure activity, but as something that embodies her.
In elementary school, she would work to become proficient in drawing more than painting, although she did both. Day in and day out, she would watch videos in order to gain the necessary skills to produce advanced art. 
Korpics' inspiration comes from social media and pop culture, building off of what she sees on various platforms. She strives to make the best out of what she has and be the best she can be. To her, precision is a key factor in artistry, as it distinguishes her art from others.
"Art is like my sport," Korpics said. "It sounds very toxic, but it's competitive for me." 
During her seventh grade year, Korpics suffered a concussion that ultimately veered her in a different direction than intended. She received the injury at a scrimmage and, following this, she fell victim to depression. At the time, soccer consumed her life, leaving little time for art. But as a result of the injury, she is the artist she is today. She parted ways with soccer and committed to working on art full-time to improve the quality of her work. 
When she reached eighth grade, her art teacher noticed her passion for art and encouraged her to send a portfolio to the Emmaus High School Art Department. This resulted in her allowance to skip 2-D and 3-D Foundations and move straight to Drawing 1. 
"The class was fine," Korpics said. "I was intimidated because it was all upperclassmen and I was the only freshman, and I didn't know anyone."
Korpics' current project is through an art class at The Artwork Studio Academy in Lower Macungie. The project is led by her teacher, Mimi Pacheco, and the objective is to paint a mural for St. Luke's Hospital to symbolize a shift from past to present. Through this, she hopes to become a better artist and communicator, using this as a learning experience. 
Korpics believes she wouldn't achieve her dreams without the support of her friends, families, and teachers. 
"Mimi has been a huge influence on me," Korpics said. "I also want to give credit to my art teachers, [Mrs. Soboleski, Mrs. Maley, and Mrs. Pfenninger], because I love them, they've been so supportive of me and have taught me so much."
In years to come, Korpics looks forward to getting into a field relating to graphic design. Over the summer, she had the opportunity to work at Beauty Blender and help with packaging, picking up the logistics of it, while simultaneously gaining skills in design. Aside from the hands-on work experience, she is also the president of Buzz Magazine. Through involving herself in different extracurriculars, she believes she's learned more about herself.
"I thought I wanted to be the editor-in-chief of a magazine for my future career," Korpics said. "I still think of it as a possibility but I wanted the opportunity to design and put together the print issue." 
Korpics wishes to pursue a career in art and hopes to attend Pratt Institute to further her studies. She understands it will take consistent effort and devoted time, but despite the obstacles, she still aspires to continue creating art. 
"I would love to be one of those full-time artists that lives off of commissions," Korpics said. "I've been told my whole life that it's not a 'safe' career but anything in the art field you have to be willing to take risks and know that your career may not be stable."