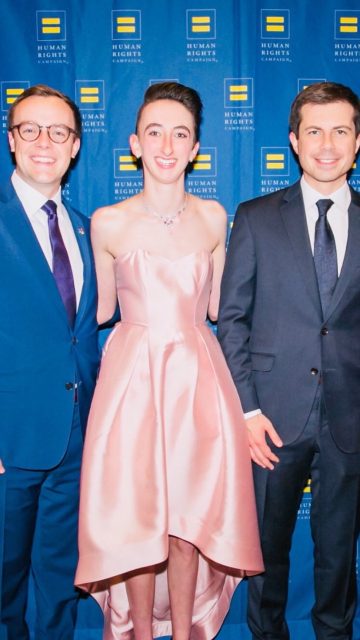 "I just want to make an opportunity to educate people on same-sex marriage," says Emmaus High School sophomore Oliva Pinocci-Wrightsman.
Oliva Pinocci-Wrightsman lived with her two dads as well as her sister in Las Vegas, where her dads were one of the first openly gay couples in their area, before they moved to Pennsylvania. Throughout the years of her childhood, her fathers have done much to advocate for LGBTQ+ rights, supporting the community itself, and spreading representation throughout their state.
Pinocci-Wrightsman has been involved with activism since she was 10 months old. Having moved from Las Vegas, transferring to Emmaus in August due to her father's job, Pinocci-Wrightsman uses her after-school time involving herself in clubs like GSA, Activism Club, and No Place For Hate. 
All of this activism, hard work, and representation for their city of Las Vegas led to the Pinocci-Wrightsman family being invited to the Human Rights Campaign at the Las Vegas Gala on May 11, 2019. But they soon found out that they would be earning and accepting the Leadership Award. 
She was also able to speak with her dads upon accepting the award, hosted by 2020 presidential candidate and LGBTQ+ advocate Pete Buttigieg.
"It was terrifying speaking in front of all those people," Pinocci-Wrightsman says. "But it was amazing, and I was so proud of my dads."
To put things into perspective, up to two million children have gay or lesbian parents in the U.S., according to Williams Institute, and one in ten LGBTQ+ Americans are married in a same-sex partner relationship, according to a 2017 survey by Gallup. 
"My dads affected my life so much," she says. "And they taught me you should always be who you are."
Pinocci-Wrightsman explains her goal is to educate more people on same-sex marriage, and spread the message that everybody should be able to love who they want. Because with all the support she says she receives from her friends, peers, and the public, there are still some people who disagree with same-sex marriage and her two dads.
"There are some people that say my dads shouldn't be together and married," she says. "Even though people are mostly supportive, there's always the few that aren't, but I hope to help change that."
Pinocci-Wrightsman wants to continue working in activism for the LGBTQ+ community, keeping involved with her after school clubs, and working to promote same-sex marriage just like her dads did and continue to do. Because to her, love is love, and nothing can change that.