Humans of EHS: Stefania Schoen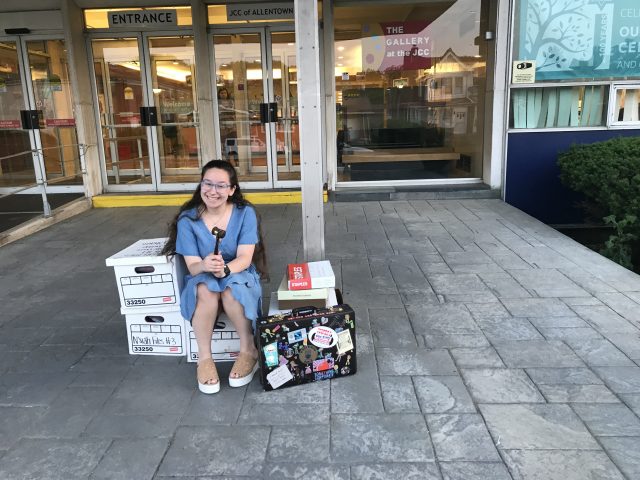 An integral member of Emmaus High School, senior Stefania Schoen influences the community through Science Fair, History Day, Model United Nations, Debate Team, directing the school's plays and musicals, along with being heavily involved in the largest teen Jewish organization in the world, the B'nai B'rith Youth Organization.
Schoen, beside 33,000 other Jews between the ages of eighth and 12th grade, participates in the organization as an effort to further her religious experience and spread the Jewish faith to others across the world. According to the official BBYO website, it "…serves as the community's largest and most valuable platform for delivering fun, meaningful and affordable experiences that inspire a lasting connection to the Jewish people." BBYO Allentown is the specific chapter, or city, that facilitates her involvement in the program. 
Schoen participates in a variety of conferences throughout the year as a part of the main activities in the organization. Though each conference typically has between 100 and 300 students, at different locations in Delaware or Pennsylvania, she also participates in larger-scale activities. 
"There are much larger events like over the summer, I went away for two to six weeks, and we would go to places all around the United States, but we've also been to Ukraine last year, and I've also been to Italy with BBYO," Schoen said.
During these international trips, Schoen will do anything from visiting historical sites to delivering groceries to Holocaust survivors in need. She becomes a part of experiences that few teens have the opportunity to experience as she "rehabilitates Jewish life where it's dwindled." 
However, the most touching experience Schoen recalls isn't just providing necessities to those survivors, it's honoring the very place where much of the catastrophe they endured originates from. 
"Last year when we went to Ukraine, we went to Babi Yar, which is the largest mass execution site in Ukraine from the Holocaust, and we visitied the memorial there and we talked about how the Holocaust is very much in the past for them, but there very much is a lot of damage that's lasting," Schoen said. "It was so interesting to see the people who didn't even know what it was, just going for jogs or bike rides through the site, [and] who were oblivious to the tragedy that happened there."
Participating as an active member since she was in eighth grade, Schoen credits the organization as the main inspiration to pursue her faith. 
"I didn't know that I would be very active in my Jewish faith after my Bat Mitzvah, but I think joining BBYO has gotten me in touch with the sense of community that Judaism has to offer, and that I have to offer that community," Schoen said. "It's definitely changed the way I want to continue living my life."
Dedicated to her religion, Schoen strives to carry Judaism into the next generation—a venture countless have done in the past. 
"Given how much the Jewish population is dwindling generation after generation just because there's so many inter-faith marriages and Judaism just not being passed on, I feel like its a duty that I have to continue being Jewish, because it's something that all of my ancestors have done for so many years, going back all the way to when the faith began. So to me, it's just really important that I keep that tradition alive and to honor the people before me, and that is a big part of our religion, honoring our ancestors, and doing justice to those that will come after you."
Schoen returned to Ukraine this November in order to continue her service to the Jewish community.