Vegan Treats provides options for vegan community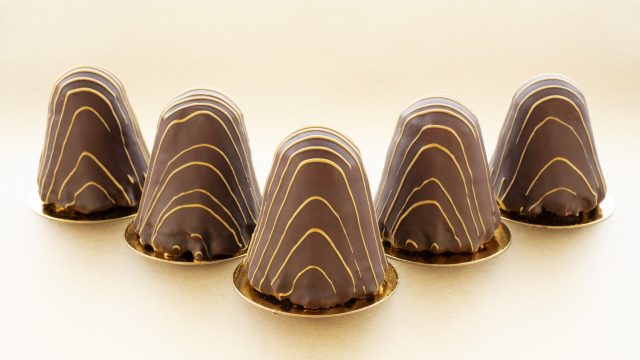 When you're craving a sweet treat, a small vegan bakery might not be what the average person has in mind. But for vegans (and even some non-vegans) in the Lehigh Valley, Vegan Treats in Bethlehem is exactly what they are looking for. 
As a vegan myself, I find this 100 percent cruelty-free, vegan bakery to be simply unrivaled. From ice cream to cookies, cakes (including wedding cakes) to donuts, and cannolis to puddings, Vegan Treats never fails to impress with its menu full of an assortment of desserts. 
Walking into the bakery located on Linden Street (not far from Liberty High School), the first thing one notices is the unique mural on the back wall presenting their name. Then their attention goes to the display case: a wide four-level shelf filled with a variety of colorful cakes. Off to the left side is where the other glorious collection of desserts is presented. Every week, they offer two different ice cream flavors that you can get either individually or swirled. 
While the customer area is limited in space, the line typically goes by fast and clears out with the help of the friendly employees. There are two high tables inside with a few chairs at each, and outdoor benches for anyone who wants to enjoy their treat there. There is also the option to take your treat to go. 
With many people wondering what vegan desserts could possibly be made of, the employees at Vegan Treats happily announce that all of their goods are soy-based. Since soy is an allergen to some people, beware of eating at Vegan Treats if you have a soy allergy. While I still support the plant-based desserts, I believe they could improve their menu by using bases such as coconut to lessen the potential threat of allergens.  
When I visited Vegan Treats, I tried five different desserts: raspberry cheesecake, Peanut Butter Bomb ($7.95), gluten free mango rice pudding ($8.95), and guava and brownie batter swirl ice cream ($4.50). I enjoyed them all, but the raspberry cheesecake and Peanut Butter Bomb were my top two favorites.
Being the most well-known dessert at the bakery, the rich-tasting Peanut Butter Bomb definitely deserves its popularity. The beautifully decorated raspberry cheesecake was also very tasty and reminiscent of what a real cheesecake tastes like. Just like it sounds, the mango rice pudding was very unique, but in a perfect way. The guava and brownie batter ice cream was very rich, just like all of the other ice cream flavors offered weekly at the bakery, and gave a flavor that some customers seemed to enjoy, while others did not. Their ice cream is sold in one size, which I would say is quite large, as well. 
The prices of these treats are a bit on the higher end compared to non-vegan options, but not compared to other vegan options. I felt that what you get is definitely worth the price you pay for the homemade desserts. 
Overall, I would say that Vegan Treats is definitely worth the stop if you ever get the chance to run in and grab a dessert. If you are looking for a quick treat, I would recommend going with a smaller ready-to-eat option, and not an ice cream or cake. But if you have the time to stay and eat in the bakery, then I would suggest trying the weekly ice cream or one of their delicious cakes.