Nate Garcia showcases "Trojan Cow" in Philadelphia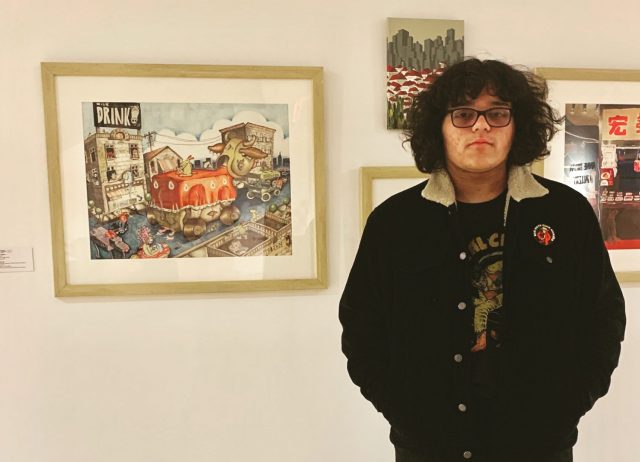 After almost an entire year since receiving the American Visions & Voices Medal award, senior Nate Garcia's infamous "Trojan Cow" piece is embarking on yet another journey. 
The artwork is among about 50 other pieces in the Art.Write.Now.Tour. So far, "Trojan Cow" has been on display at the Columbus College of Art & Design in Ohio and 21 Dreams Arts & Culture in Alabama. Up next, the piece will stay in the Pennsylvania Academy of the Fine Arts in Philadelphia until Feb. 1. After this stop, the artwork will be moved to the Joslyn Art Museum in Nebraska as its final destination. 
However, about two years ago, this accomplishment seemed nearly impossible. After a night of heavy rain, Garcia's bedroom flooded, leaving "Trojan Cow" almost entirely ruined. The piece thankfully dried, but Garcia still stood in the way of the work's success. When his art teacher asked if he wanted to submit the piece for a Scholastic Art and Writing Award, the artist declined. After some heavy persuasion, however, Garcia finally gave in. 
"I didn't expect anyone to give it a second glance," Garcia said. "Because I only submitted it out of encouragement from my art teacher, not because I thought it would do good or anything."
On Jan. 11, the Pennsylvania Academy of the Fine Arts held an opening reception to introduce all of the pieces included in the tour. Garcia obviously attended the event in order to showcase his own work.
"[The Pennsylvania Academy of the Fine Arts] did a really good job with curating and putting up shows and all that," Garcia said. "It's like an opening reception, because there's other people's artwork there, too. But, it's basically like an open gallery. It's really nice."
Once the Art.Write.Now.Tour ends, "Trojan Cow" will "return home to its rightful owner." While some would cherish one of their crown jewels, Garcia has different plans for the piece. 
"I will see it again and I will burn it," Garcia said. "I'll burn it to the ground, yes … Just to say that I did."
Garcia has already submitted a piece for the upcoming Scholastic Art and Writing Awards. Currently, the young artist looks forward to his next artwork: a unicorn in hell. 
"I'm really excited for that, because it's going to be big, it's going to be a unicorn, it's going to be in hell," Garcia said. "I've never drawn hell before, or a unicorn." 
For almost one year, Garcia has been riding on the waves of success that one piece has continued to bring him. However, he hopes to mirror this success in this year's upcoming Scholastic Art and Writing Awards. The artist has already submitted a portfolio and will know the results in a few months. 
"I could very well not even be given a third look, a third glance," Garcia said. "Only time will tell."