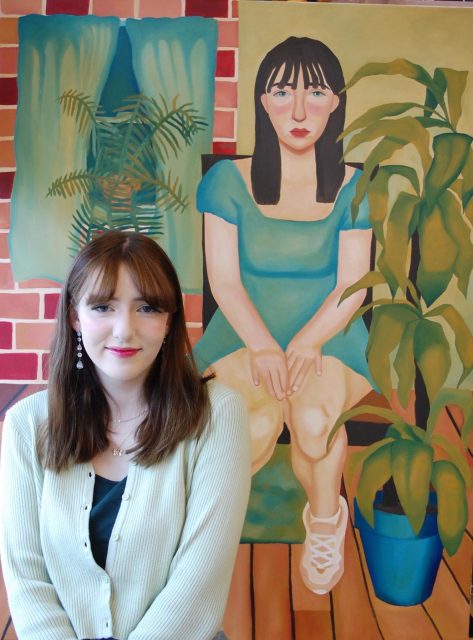 For Liz Carter, life has always been art. 
Carter, a senior, is enrolled in the Emmaus High School AP Studio Art course and can't help but produce a masterpiece with every project she embarks on. Since the discovery of her passion for art in elementary school, Carter has been creating since she can remember.
"When I was a little kid, I used to make these Christmas ornaments," Carter says. "They would have scribbles on them and my parents used to show me them and say, 'Oh look at these! They're so cool.' Basically I just learned how to scribble and then here we are."
Surrounded by inspiration throughout her entire high school career, Carter's admiration for art has undeniably been passed through her peers. 
"I know a lot of really talented artists," Carter says, praising friend and fellow artist, senior, Nate Garcia and her art teacher Tracy Maley. "They inspire me but also make me my own individual artist, too." 
Not only do her friends and mentors motivate her, Carter says she draws on classic oil paint geniuses when determining her next piece.
"I really like Paul Cézanne, he's this early 1900s impressionist painter," Carter says. "He's really cool."
A well-rounded student, Carter balances both excellent grades and her extracurriculars. Dedicated and determined, she spends time on art at all times of the day. 
 "Well, I dropped a class but I don't eat lunch," Carter says. "I mean, sometimes I do, but it's lunch, AP Studio [Art], ninth period, and then I walk home and take my painting if it's not raining, and [continue to] work." 
Last year, Emmaus High School art teacher Tracy Maley ran a field trip for art students to paint a mural on the side on an apartment complex in Emmaus. As a main participant, Carter says this was her favorite project so far while enrolled in EHS art classes. 
"Although I do a lot of outside [art]work, the Emmaus bubble mural was really cool, I loved walking there and be a part of something like that," Carter says. 
Carter is still deciding where to take both her academic and artistic endeavors, but plans on attending college next fall. 
"I really want to go to Temple [University], Kutztown [University], [and] Pennsylvania Academy of Fine Arts," says Carter. "I don't really know, I have a long list. I just know I really like Philadelphia and the city. I love Philadelphia."