"Gigaton" marks Pearl Jam's return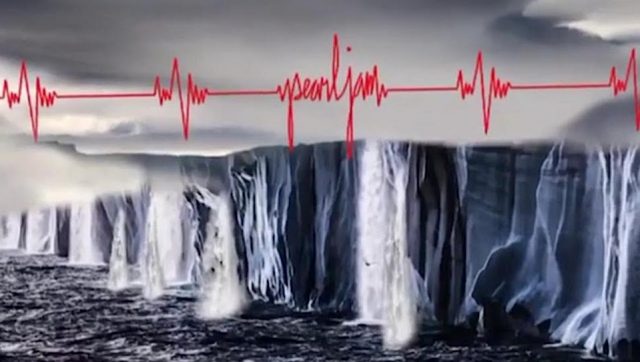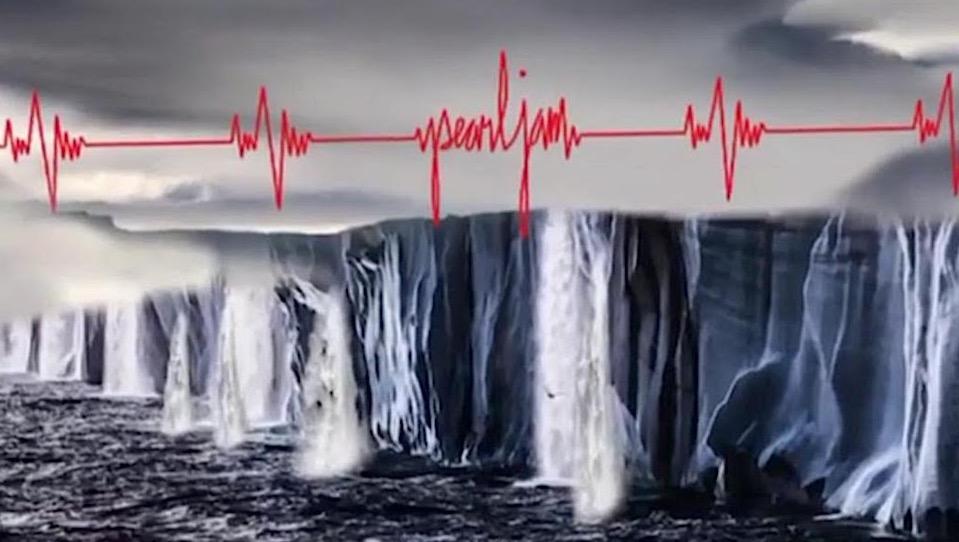 Amongst the clutter of new music to flood streaming services these past weeks came the return of one of rock's last bands standing: Pearl Jam.
For the first time in almost seven years, grunge icons Pearl Jam delivered their tenth studio album Gigaton. The follow up to 2013's Lightning Bolt was announced back in January, along with North American tour dates that have since been postponed due to coronavirus. The band also teased the cover art, which bears Paul Nicklen's Ice Waterfall artwork as well as the band name that transitions into a red heart monitor line. A few days later, the record's first single "Dance of  the Clairvoyants" arrived and received comparisons to the likes of The Talking Heads from each and every listener. This was the first taste of Pearl Jam fans heard since 2018's pseudo-anthemic, anti-Trump "Can't Deny Me" and was much more fresh. Fast forward to February and Pearl Jam released the second and final single of Gigaton, "Superblood Wolfmoon." Despite its outlandish title, it's a much more straightforward, riveting rock tune both Pearl Jam and their fans are more accustomed to.  
The album starts off with "Who Ever Said," a mixture of typical PJ riffs and fresh keys from keyboardist Boom Gaspar. The first opening silent-to-crescendo intro seems to be reminiscent of the similar starts of Pearl Jam staples "Once" and "Corduroy." Amid the distorted vocals of "Quick Escape," the track almost gives off Vs. and Vitalogy vibes, even more so instrumentally. The lullaby-like ballad "Alright" can easily be grouped among songs like "Sirens" and "Just Breathe" but ultimately lacks the caliber those two songs possess. Also, the drums and subtle acoustic guitar echo Lightning Bolt's "Pendulum." "Seven O'Clock" is possibly the best track musically and sonically on the LP but overall plods along at six minutes. The first 15 seconds of "Never Destination" are eerily reminscent of 2006's "World Wide Suicide" and kick off the project's latter and better half greatly. 
Another conventional rocker, "Take The Long Way" isn't a bad song but isn't necessarily one of the album's shining moments. The swinging nature of "Buckle Up" softly offsets its possible subject matter of growing old. "Antiquities lost, lost in the Nile/A sudden slip, a slip on the tile" Vedder sings soothingly. The Led Zeppelin-esque, acoustic guitar driven "Comes Then Goes" is one of the best tunes Gigaton has to offer — all that's missing is Robert Plant crooning about castles and Lord of the Rings folklore. The penultimate number "Retrograde" gives off a very breezy feeling complete with relaxed guitars and instrumentation. The closing "River Cross" contains an organ backbone like "Indifference" from Vs., only this song ends the album off on a more hopeful note like Lightning Bolt's "Future Days." Vedder pleads "I wish this moment was never ending" suggesting that the glory days may be over, but the repeating "won't hold us down," asserts that maybe there's still more yet to come. 
So the seven year wait is through, and Pearl Jam's next venture is finally at their fans' fingertips. Gigaton doesn't disappoint, but doesn't exceed expectations either. The misleading experimentation of single "Dance of the Clairvoyants" almost makes it seem like the project will offer different sounds and more risks. Ultimately, the album seems to do the opposite, with mostly a balance of typical sounding rockers and quintessential PJ slow jams. But should it be expected for a band nearly 30 years into their career to experiment? Still, it'll be interesting and exciting to see which songs become concert staples and classics. 
Obviously, this record isn't going to touch any of the lightning-in-a-bottle prowess of Ten, Vs. or Vitalolgy or even the aftershock residual of No Code and Yield. Sure, Gigaton will carve a nice little spot into the Pearl Jam catalogue, but as of now at least, it's hard to see stand it up against most of their discography aside from 2003's Riot Act.