Jack Sharp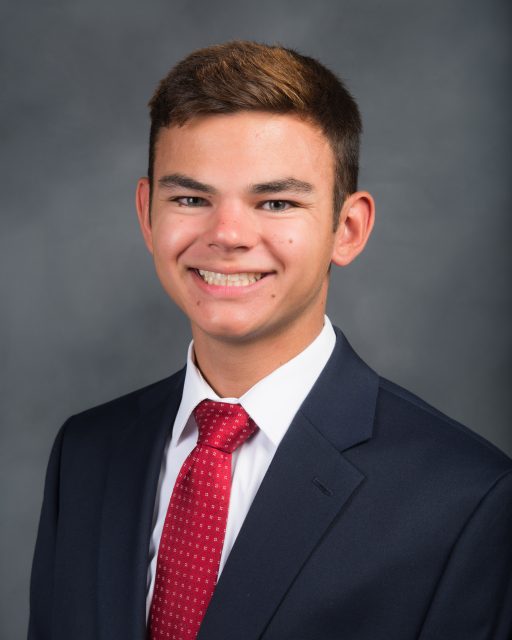 Many recognize Jack Sharp as an avid baker, someone who's always kind to others, and often gives back to the community. At Emmaus, he held the Advertising Chair position for the Student Government Association, competed with the highschool swim team, and is a member of the National Honor Society. 
Sharp plans to attend the University of Florida to major in chemical engineering. He looks forward to being in the south, going to a larger school, and meeting everyone on campus. 
Stinger: How do you feel you have impacted Emmaus?
Sharp: Being in student government helped a lot so I was able to do a lot of events and really just be able to kind of give back to the student body and community. Setting up for homecoming and being able to hang out with SGA friends while giving back was the best. 
 Stinger: What made you decide to get involved in baking?
Sharp: A lot of my family cooks and bakes, so I was kind of brought into that from a young age.  But I actually wrote my college essay about it. For my grandma's birthday, instead of giving her an ugly looking card or something, I decided to make her a pie. A lemon meringue pie, which is her favorite, she loved them.  That's what made me start really enjoying baking because just the look on her face and how happy she was that I made something she loved. It sparked my passion for it. 
Stinger: How have you changed since freshman year?
Sharp: I think I finally got my priorities straight with what I need to focus on. Now that my priorities changed because I'm going to college, I know what to concentrate on, what areas I need to work on, what areas I need to improve on. I also, like, know what I need to focus on or work harder at so I can improve. 
Stinger: Who was your mentor in high school?
Sharp: Ms. Reaman, of course. She got me used to high school and it was nice that I knew her from swimming. I had her freshman year, and she really helped me get comfortable coming to school and adjusting to Emmaus.    
Stinger: Who is your inspiration?
Sharp: I love Bob Ross. He's always so happy and positive.  
Stinger: Favorite restroom? 
Sharp: I love the one on the third floor near the multimedia room, the one that's only unlocked sometimes. You have to get there at the right time. You just have to know. That's the only one with hot water in the sinks. 
Stinger: Favorite hall monitor?
Sharp:  There was this one hall monitor last year, oh hold on let me remember her name, we have to put her. Mrs. DeLong. For spread the love once I used the money and gave her a gift bag. I loved her.  
Stinger: What was one class that you wish you had taken in high school? Why?
Sharp: I took creative foods, but I wish I took advanced foods. But I only did the first level of creative foods, I liked Mrs. Kingsbury, she was really good. 
Stinger: What's one school rule that needs to be added or changed for future classes?
Sharp: You can't be in like groups of 25 people in the hallway. You have to leave room for people to walk, just keep the hallway clear. No one can walk around those huge groups of kids. And they're always in front of the Spanish hallway or near French classes.