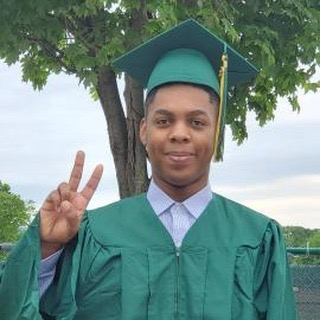 Ty'lei Singleton's high school career can best be described by his love for music. He has been part of Emmaus' Orchestra since freshman year and has been playing since the fourth grade. He is skilled in both the violin and piano.
He will be continuing his passion in the fall at Kutztown University, where he will be majoring in musical composition or another music-related degree. In the future, he hopes to become a music conductor or a music teacher.
Stinger: How have you changed since freshman year?
Singleton: I [have] made a lot less bad mistakes. I've matured.
Stinger: What was your biggest accomplishment in high school?
Singleton: Playing at the Orchestra Coffee House.
Stinger: If you could go back and change one thing, what would it be? 
Singleton: [I would] practice more.
Stinger: What have you enjoyed most about the music program?
Singleton: It's let me make more friends.
Stinger: What is one of the most important lessons you've learned in high school?
Singleton: To be self aware … So, as an artist, I guess, it's more helpful to be self aware because you could see your work as something a lot better than it actually is. But to other people it's not the same as how you see it. So, like, changing perspective to know how other people view your work.
Stinger: What is your favorite school lunch?
Singleton: The deli … I like changing up my options.
Stinger: What's a song that describes your high school career?
Singleton: "Humoresque" by [Antonín] Dvořák … The one I'm thinking of is a duet by two people. So I would be one of the people playing and I guess everyone else would be the other person. And then it reaches a climax and they're both playing at the same time.