"Losing him was losing a piece of myself:" Emmaus community continues to grieve tragic death of Dmitri Garcia
"I love you, and I'm so proud of you. You were a good son."
Those were the final words Darcie Garcia would utter to her son, Dmitri Garcia, a recent 2020 Emmaus graduate, during his last moments. Throughout the five days Dmitri spent in Lehigh Valley Hospital, Darcie Garcia watched her youngest child battle for his life, completely unresponsive, until doctors pronounced him dead — that moment on Sunday night, July 5, will forever plague her memory.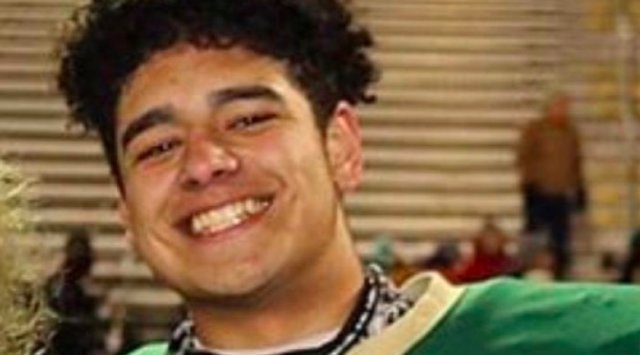 A completely life-changing and devastating event, Garcia would have never expected to lose her child when he was 18, as Dmitri's toxicologist ruled his death an accidental overdose, most likely from a counterfeit Percocet. Instead, Garcia always envisioned a life full of bear hugs, ear-to-ear grins, and unconditional love with Dmitri. Whether it was working out together or creating kitchen contraptions during quarantine, it didn't matter — she was with her son. 
"Just being together and sharing those moments, and sharing those hugs with him was so special," she said. "He was 6'3", 260 pounds, and every time I hugged him, I felt safe in my entire world. He would do that often.
And when the time came that they pronounced him dead, it was very scary because the doctor told us [before] we have two hours," Garcia said. "There was pressure, fear."
Nearly two months since his passing, Garcia still feels an "indescribable emptiness" within her household. Without Dmitri to accompany her to the gym, binge Netflix shows, or listen to Frank Sinatra while she tightens his dreadlocks, Garcia describes the vacant feeling she will forever experience with her son no longer a part of her life. 
"I'm a really strong woman, I know I'm one of the strongest people anyone will ever meet," Garcia said. "But this was enough to break me."
Despite her heartache, Garcia hopes to forever cherish Dmitri's lasting impact on herself and others. Ever since she would let him sneak into the gym as a child, Dmitri fell in love with athletics. He became an accomplished track star and football player — despite walking away from the Emmaus football team twice, his teammates nominated him as a team captain, as he electrified his fellow players with his positive spirit. 
"He always had a smile on his face, always upbeat, always positive," said Harold Fairclough, head coach of Emmaus' football team. "The kids loved him for that. No matter what we were doing, whether we were on the practice field, the weight room, he was great as a teammate."
Dmitri excelled in throwing during his track career with the guidance of coach Mark Keeley. The two met during Dmitri's eighth grade year where Keeley was not only his teacher, but his middle school football coach. 
"As hopefully most kids have teachers and coaches they're close with, Dmitri for me was someone who was always willing to work and improve. So the fact that he was so motivated to become the best version of himself always stuck out to me as a coach." Keeley said.  "He was such a leader and led with his kindness, he was a kid you could rely on to always help others, he was at that point where he almost could have been a coach on the field."
As a mentor, Dmitri loved to teach the younger players. Senior running back Brandon Camire remembers how "he took me under his wing right away."
"Everyone saw him as a role model, someone they know has their back regardless of the situation," Camire said. "He was like this big, giant teddy bear."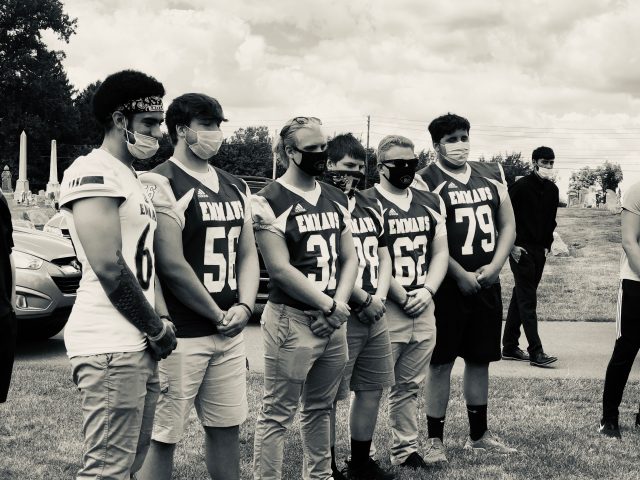 On top of football and track, Dmitri also played casual basketball with his friends at Lenape Park in Zionsville. One of his closest friends, Jaden Vasquez, misses his presence on the court while they continue to play. As Vasquez carries on with day-to-day life, it feels simply unreal that Dmitri is no longer there to accompany him. 
"I cannot get him out of my head. He's something I'm going to think about every day, for the rest of my life. He's always going to be in there," Vasquez said. "I'm making different decisions every day; I'm thinking, 'Meech is watching, he wouldn't want me to do this, he wouldn't want me to do that.'"
When Dmitri was hospitalized, family friend Mikayla Reppert created a GoFundMe — "BigMeech" — to help the family. Since then, another GoFundMe has been set up by Garcia's florist friends to help out financially as well. She said she was "blindsided" by the gestures, as it not only paid for medical bills, but also his funeral costs. For Dmitri's memorial, his friends organized a cookout-style celebration for him at Lenape Park — it was filled with fireworks, laughter, and memories of Dmitri as the nearly 150 guests paid remembrance to their friend. Nearly 400 people attended his funeral.
"It was really comforting. And the relationships that he had with everyone… I'm really proud of him. I'm proud that he was that kind of a friend and that kind of positive influence on people," Garcia said.
From the moment she witnessed her son being wheeled into the OR for his organ donation, surrounded by family as they read scriptures, sang his favorite song Three Little Birds, and prayed to God for Dmitri to receive a peaceful eternal rest, Garcia knew her life would never feel the same again. Though she will never laugh with him again, hug him again, or tell him 'I love you' again, Garcia knows she will have one last thing she will get to do — remember just how much she loved her son. 
"I just couldn't hug him enough, even if I knew it was us hugging for the last time," Garcia said. "I couldn't hug him enough, I couldn't kiss him enough, to express how much I love him."