Nas returns to form with "King's Disease"
Eight years following his last official album, hip hop juggernaut Nas makes his return with King's Disease–a 12-track, back-to-basics record executively produced by Hit-Boy.
Nearly 30 years into his career, Nas added his 13th studio album into his catalogue on August 21. Although King's Disease is the Queensbridge native's first official LP since 2012's Life Is Good, Nas has still been quite prolific towards the end of last decade. 2019 garnered The Lost Tapes 2 and 2018 saw NASIR, a seven-song project produced entirely by Kanye West. Unlike NASIR, King's Disease finds the rap legend more akin to the instrumentals, however, he may be a little too comfortable. 
The title track introduces the record in typical Nas intro fashion, as the rapper declares his return to form over a vintage beat with a faint vocal sample. "I made the fade famous/the chain famous/QB on my chest match the stainless/Amazing grace, I'm gracefully aging," Nas begins with braggadocious rhymes and love for his home of Queensbridge, New York, a sentiment that can be heard all throughout his discography. "Blue Benz" doesn't necessarily add much to the album, especially since it's followed by a much better ride along song "Car #85." Nas reflects on the good old days of the past couple decades as Charlie Wilson effortlessly croons in the background.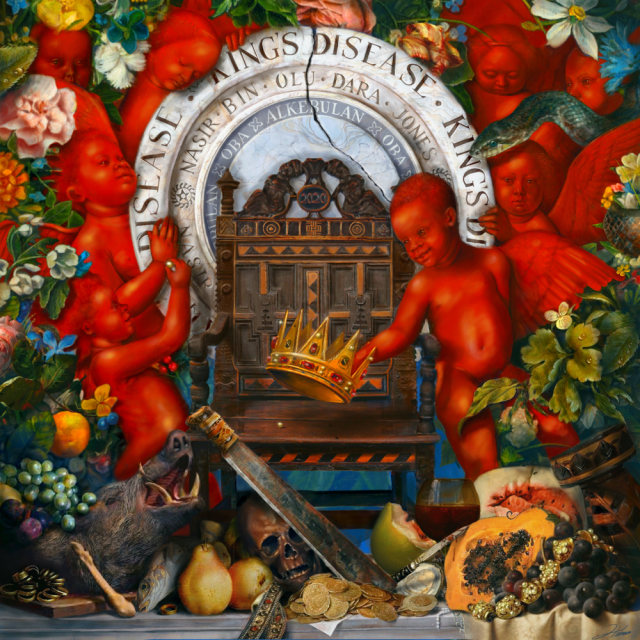 The album's sole single follows "Ultra Black," an anthem of Black pride sprinkled over a glossy, throwback instrumental. The song received much attention for the shots Nas took at Doja Cat, saying "unapologetically black/the opposite of Doja Cat." Regardless of one's feelings towards her, the so-called diss wasn't needed, especially coming from a 46-year-old man. "27 Summers" acts like a nostalgia trip interlude that lets the album flow better as a unit. However, as a stand alone track, it doesn't exceed any expectations. It's Esco painting pictures over a dark yet lush beat topped with some horns; it's nothing that new. "Replace Me" finds Nas and guest Big Sean describing a woman who fails to appreciate everything they give to her in their respective relationships. The lovesick hook is majestically delivered by Don Toliver, a star who also featured on another rap veteran's album this year–Eminem. 
"Til The War Is Won" is an elegant ode to Black women, complete with a great guest feature from 2014 XXL freshman Lil Durk. Following his late summer hit on Drake's "Laugh Now, Cry Later," Durk continues to show his talent as he shines on quite possibly the best song on King's Disease. Nas stresses the importance of Black women while also addressing issues like domestic abuse. He avows the allegations put against him by his ex-wife Kelis, saying "These coward men, that were beating on you (Never me)," while also calling out domestic abuse as a whole. The elder's verse segues into Durk's special appearance, where he addresses a plethora of topics from welfare to violence, as well as touching base on the Black Lives Matter movement. The duo of Nas and Lil Durk is nearly seamless, with each line just as impactful as the next.
While "All Bad" is a smooth, breezy track with a near perfect feature from Anderson .Paak, the song's subject matter does differ much from that of "Replace Me." That being said, the tune still manages to be one of the best moments of the record. "The Definition (feat. Brucie B.)" shows Nas tackling relevant topics including President Trump, global warming and even Gayle King's recent controversy surrounding the untimely passing of Kobe Bryant. 
"Full Circle" is another high point on the album, with Nas reuniting with members of The Firm–not the supergroup from the 1980s, that is. This band includes fellow New York natives AZ, a rapper who first appeared with an iconic presence on Illmatic, Foxy Brown, Cormega, as well as Nas. The Firm's origins can be traced back to "Affirmative Action" from 1996's It Was Written. Nearly 25 years later, the group still maintains their chemistry and all around tenacity on tracks. While each member holds their own, Foxy Brown steals the show with the penultimate verse. In fact, the order of each member's verses remain the same from "Affirmative Action." Only now, there is a hidden Dr. Dre feature, where he raps the outro to bring everything full circle.
The LP ends with "The Cure," a celebratory yet somber conclusion that finds Nas shouting out the late Nipsey Hussle and Kobe Bryant as well as dropping knowledge as he's been doing for nearly three decades. 
King's Disease is in general a very solid record, with a few blemishes here and there — the main one being Nas taking a walk down memory lane too often. On some songs it feels like a king reliving the days before becoming one ("Blue Benz", "Car #85", "27 Summers") while on others it shows that despite being a king, he still struggles ("Replace Me," and "All Bad'). With that in mind, King's Disease is still a respectable addition to the artist's expansive discography. Although maybe not as reassuring as Life Is Good, or even as personal as God's Son, it's definitely more consistent than Nastradamus and easier to digest than Street's Disciple. Over Hit-Boy's commendable and shiny production, Nas still manages to release a sizable effort this far along in his career, which cannot be said about most.