"Tenet" marks movie theatre comeback
After six months of one of the strangest movie seasons the world has seen in years, audiences have received a glimmer of hope for the film industry in the form of the latest Christopher Nolan blockbuster.
To attempt to understand Nolan's film Tenet in all of its complexities feels like a disservice. For the entirety of its intimidating 150 minute runtime, Tenet pays no regard to the audience's comprehension of the story. Characters enter and exit the film with little explanation, seemingly unrelated scenes are placed right next to each other, yet despite all of this Tenet remains an absurdly entertaining take on the international espionage film. At the same time however, Tenet's complexity contributes to its greatest weaknesses in addition to its strengths. 
It appears as though Nolan's latest effort is a culmination of much of what has come before. Audiences are still being treated to his trademark idiosyncrasies. From time-bending physics to muffled dialogue, this is very much a Christopher Nolan film. Yet this time it feels different. It feels like Nolan let loose. It's as if after years of building up the trust of Hollywood and audiences around the world, he has finally managed to create something completely his. For that reason alone one must appreciate everything that Tenet is. Yet despite this, Nolan's vision just might have not been as fully developed as one would hope, and even expect.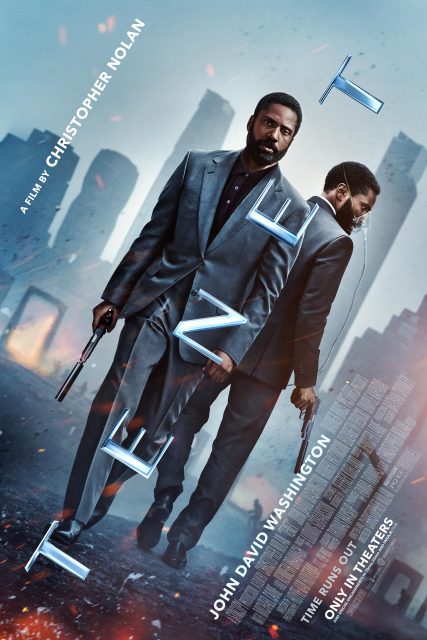 From the very start of the film it's clear audience comprehension was not taken into consideration by the filmmakers. Each scene introduces new characters, settings, and plot points with little regard as to whether or not the audience can keep up. At its best, this creates a fast-paced adrenaline rush of a movie. At its worst, one simply cannot understand what is going on, something which is clearly a fundamental problem in any piece of media. On top of this, it's no mystery that confusion is Tenet's greatest shortcoming. Far too many moments in the film will leave audiences completely dumbfounded as to what is going on, leaving nothing to focus on except for the stellar special effects.
The best example of Nolan's peculiar infatuation with practical effects comes in the form of a real airplane crashing into multiple cars, and even a building. Where many directors would consider this a wasteful expense on an already staggering budget, Nolan understands the importance of respecting the audience keen eye for subpar visual effects. Thus, he litters his films, Tenet included, with countless mind-blowing practical setpieces, representing a stunning achievement in modern filmmaking.
No matter how visually pleasing the film is however, the pacing leaves much to be desired. The first act barrels through the story with reckless abandon, yet the second act drags on far beyond what it needs to. The only truly satisfying portion is the third act, which moves at close to a reasonable speed, yet this change comes too little and too late, as the damage is already done. The film simply confuses the audience on every level, from plot to the speed at which the story moves.
Tenet represents another departure for Nolan, in that for the first time since his 2006 film The Prestige, a composer other than Hans Zimmer composed the original score. Ludwig Göransson composed the futuristic but familiar music used in the film. As many audience members have complained however, countless pieces of dialogue in the film are nearly inaudible due to the volume of the music and sound effects. Of course, the film often benefited from their volume, especially in the case of the fight sequences, in which punches landed with ferocious power.
And one would be remiss to not mention the acting in the film. Robert Pattinson gives a satisfactory performance as Neil, yet other than him very few performances are of note. Frankly, John David Washington disappoints in the lead role, offering very little inspiration to Nolan's script.
Overall, in other years Tenet would likely be considered a technically impressive but disappointing entry in Nolan's filmography. In 2020 however, it will likely be remembered simply as the film which brought theaters back from the dead. Thus, the 2020 movie season returns not with a bang, but with a muffled piece of dialogue delivered by John David Washington in a mask.