New music Friday: 10/2 recap
A wave of new music flooded streaming services on October 2, and with no lack of some anticipated projects, there is certainly lots to unpack.
To start, Megan Thee Stallion dropped a single accompanied by Young Thug entitled "Don't Stop." The two float over a crunchy Bud'da beat with exceptional chemistry. Megan maintains consistency, however, her subject matter has remained the same for most of her output thus far. Thug yet again proves why he is a cheat code for features, although he also has been sticking to similar subject matter as of lately. Overall, a very solid single from two of rap's freshest flows right now.
R&B singer Jorja Smith released her third single this year, "Come Over (feat. Popcaan)." She flexes her vocal talent and catchy songwriting ability over a rather simplistic instrumental. Popcaan slides on the song with an overbearing amount of autotune, but his cameo grows much more tolerable when the vocal filter is toned down. All in all, it's a fair effort but doesn't compare to her previous 2020's singles like the dazzling jazz-fused "Rose Rouge" and the social justice centered "By Any Means." 
The late Tom Petty even makes an appearance with his previous unreleased version of "Leave Virginia Alone." While the 1994 track garnered Rod Stewart a big hit, Petty had his own rendition, which is finally available. The relaxing, acoustic track marks the artist's first posthumous release since 2018's An American Treasure (Deluxe).
2020 XXL freshmen Fivio Foreign and Polo G collaborate on the former's single "Bop It," a blend of New York (Fivio) and Chicago (Polo) with production from Kenny Beats. Polo effortlessly glides on and off of it, making every second of his 25-second appearance count. Complete with its own dance, "Bop It" is a bouncy and energetic tune from two of rap's most rising stars. 
Popstar Dua Lipa recruited DaBaby for a remix of her infectious Future Nostalgia song "Levitating." Galactic synths sprinkled with a sing-songy mood, the track finds a perfect balance between two different worlds (rap and pop). Baby spits a quality verse, solidifying his status as a surefire feature artist.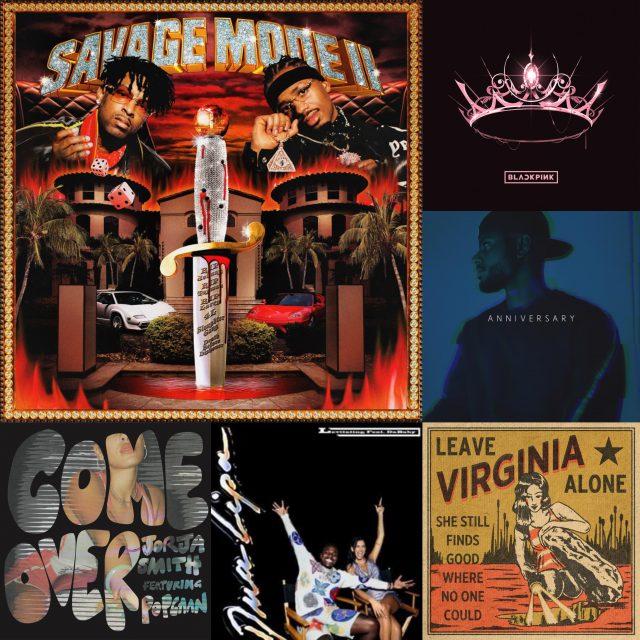 In terms of albums, rap group Griselda member Westside Gunn released his third effort of the year, WHO MADE THE SUNSHINE. This installment doesn't do much that April's Pray for Paris doesn't, slick production with standout features–that is if listeners can get past Gunn's annoying "unique" voice. "All Praises," which features fellow Griselda member Boly James and rap legend Jadakiss,  is a shining moment on the record with Gunn taking the hook and letting the guests hold down the verses. With other features from Busta Rhymes, Black Thought, Slick Rick, Conway The Machine and more, Westside Gunn put forth a solid 11 tracks–but not the best collection from the night.
K-pop quartet BLACKPINK put out their debut project THE ALBUM, an eight-song, 24-minute epiplectic sound trip. With a few catchy moments and quirky one liners, the album overall lacks any identity and distinction from most mainstream pop. The only real distinction here is when the girls switch languages, which isn't a flaw in K-pop music by any stretch of the imagination. In fact, those are some of the best and freshest moments on the record. The real flaws are the mediocre instrumentals and lack of clear unique pop qualities. Standout tracks include "Crazy Over You" and "Love To Hate Me." 
Bryson Tiller dropped his third album A N N I V E R S A R Y, which marks the R&B artist's first album in over three years. He celebrated his return to the spotlight when he released the deluxe version of his acclaimed 2015 project T R A P S O U L on Sept. 25. Similar to T R A P S O U L, A N N I V E R S A R Y  is a chill, sonic vibe fest of a record, only this time shorter in length. Tiller finds himself crooning and levitating over lush, elegant instrumentals for 10 solid tracks. The album's sole feature comes from Drake on "Outta Time," where both artists sing about relationship troubles on a mellow beat with a faint vocal sample. Tiller has hinted at dropping another album before the year ends, but until then, A N N I V E R S A R Y will be a terrific soundtrack for the fall season.
Perhaps the most anticipated release of the night was the 21 Savage and Metro Boomin joint project SAVAGE MODE II. Since 2016, fans have been waiting for the sequel to the first collaborative project between rapper and producer. Narrated by Morgan Freeman, SAVAGE MODE II is much more fleshed out than its predecessor. It contains a longer tracklist, an interlude and features from Drake, Young Thug and Young Nudy. 21 Savage seems more comfortable and confident over the seemingly effortless production. From the captivating hook on "Slidin" to the 50 Cent interpolated "Many Men," Savage and Metro gave 2020 an album to remember. In short, SAVAGE MODE II showcases the growth of 21 Savage as an artist and why Metro Boomin is perhaps the best producer in trap music.