Big Sean delivers lengthy "Detroit 2"
After a three-year hiatus, Detroit rapper Big Sean returns with an overlong studio album that is stacked with an A-list cast of features.
The 21-track Detroit 2 released on Sept. 4 marks the artist's fifth studio effort. The project follows up 2017's I Decided. and is the sequel to the 2012 mixtape Detroit. This record was preceded by two singles, "Deep Reverence" and "Harder Than My Demons," The latter a two-minute track with good wordplay over a fun and bouncy beat and a lush outro. While it's a solid single, "Demons" is outshined by "Deep Reverence" with the late Nipsey Hussle. The song was previewed earlier in the year by its producer Hit-Boy during a Verzuz between Hit-Boy and Boi-1da. The two offer great performances, with Sean opening up on a lengthy second verse. He minimizes the "beef" he had with Kendrick Lamar that sparked in 2013, following Kendrick's polarizing "Control" verse. "After what happened to Nipsey, I reached out to Kendrick /It wasn't even no real issues there to begin with." Sean touches on topics such as social media, anxiety and miscarriage, disclosing that a partner of his, who remains unknown, suffered from one. "Deep Reverence" is a personal, strong single that garnered anticipation for the LP perfectly.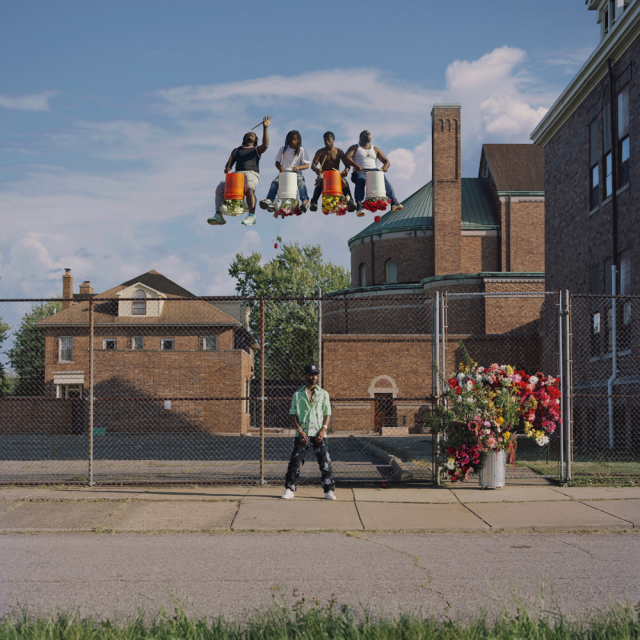 Detroit 2 starts off with the self-affirming "Why Would I Stop?," delivering strong lyrics and wordplay on a decent instrumental. "Run this, 5k, 3k, André/Hero in my hood when they dress like me, that's cosplay," he declares as he sets the stage for the album. The first part of "Lucky Me" finds Sean giving thanks for many gifts of his life, in a very cheeky and sarcastic manner. He feels "lucky" for becoming famous and having his life in the public eye, losing privacy in his relationships and having an old partner be "cancelled." Halfway through, the beat and flow switch, offering variety early in the tracklist. 
The Post Malone-assisted "Wolves" is a highlight on the project, showcasing great chemistry between the pair. Posty actually performs a quality verse, but as always his strong suit is his vocals. "Body Language" is a sensual R&B track, with Jhené Aiko and Ty Dolla $ign stealing the spotlight. Although Ty Dolla $ign could've done more on a different song, who's going to complain about a feature from him? Not to mention, Aiko and Sean reunite on "Time In" under their group name TWENTY88. The couple perform over a laid back instrumental and is a nice sentiment—until Sean starts singing falsetto. 
The record is able to breathe due to three spoken interlude-esque tracks of Dave Chappelle, Erykah Badu and Stevie Wonder giving insight and talking highly about Detroit. These "stories," as they're titled, are not only bittersweet vignettes of three incredibly and talented icons, but they also break up Detroit 2 extremely well. 
"ZTFO" and "Lithuania" both feature Travis Scott, but on the former he delivers background vocals. On "Lithuania," he takes the hook and the first verse and although it's a valid track, it doesn't sound much different from the other countless appearances he's made this year and even some from the tailend of 2019. Despite this, his presence on features still remains infectious and striking enough. Speaking of which, the collaboration between Big Sean and Young Thug on "Respect It" just proves Thug's staying power and overall talent on other artists tracks. 
"The Baddest" might be the worst point on the project: the instrumental sounds like a weak Kanye West Yeezus type beat. In all, it just sounds like a throwaway song that doesn't have a place on the record. On the flip side, the galactic-like beat that samples Michael Jackson's "Human Nature" on "Don Life" is possibly the climax on Detroit 2. Sean smoothly flows an effortless verse followed by a strong guest appearance from Lil Wayne.
"Friday Night Cypher" features what seems to be the entirety of Detroit's rap scene and is nearly 10 minutes long. From 42 Dugg to Boldy James to Eminem, the posse cut offers something for everyone. However, with such a long winded runtime, how much replay value with this tune garner? Still, props to Sean for putting so many artists from his hometown all on one track.
Overall, Detroit 2 is a quality effort, with some powerful highs mixed in with some cheap throwaways. It's biggest flaw is its extensive amount of tracks. Had Sean trimmed some fat around the tracklist, it would've been a stronger installment.