How COVID-19 has changed the game for college applications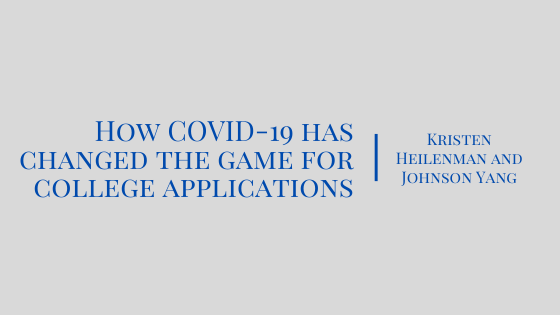 For most high school seniors, the summer going into their final year is filled with various college visits, tons of SAT/ACT prep, and the beginning of the strenuous task of college applications; however, for the class of 2021, this year looks more different than ever before.
Due to the COVID-19 pandemic, most college tours are virtual and SAT and ACT tests have been cancelled from March to September. To aid with the standardized test cancellations, according to EDSurge.com, over 1,600 colleges have announced test-optional policies for the class of 2021. 
In a survey of EHS seniors, approximately 49% have taken the SAT/ACT, and 57% of respondents are not planning on taking the tests at all. Continuously, 46% plan on taking advantage of schools' test-optional policies and will not be submitting test scores.
For college applications, many high school seniors will apply through the Common Application, which opened in August; the Common Application is a "non-profit membership organization" that allows students to apply to multiple colleges through one portal.
"Each year, more than one million students — a third of whom are first generation — apply to college, research financial aid and scholarships, and connect to college counseling resources through Common App," the Common App website says.
When applying, there are two main deadlines: early decision and early action applications are due in November, and regular decision applications, for most schools, are due in January; however, selective schools have an early decision two, which is in between the previous two dates. While both early decision and early action allow applicants to receive notice of if they are accepted or not sooner, early decision is binding while the latter is not. In regular decision, the deadline for most college applications is  Jan. 1, with notices returning in the early months of spring. 
According to the survey, 65% of students are planning on applying to a school through the early decision or early action processes.
With a graduation rate of 93%, most seniors will pursue a college-level education after graduating, USNews says. Though this year may have a different college application process, colleges and EHS' school counselors have been working hard to make the process go as smoothly as possible. 
Some seniors have been minimally affected by the changes to the college application process. Matt Magee, a senior and president of the Robotics Club, had taken both the SAT and ACT in his sophomore year, finalized his college list junior year, and finished his applications in October. 
"Some of the applications have been more difficult with school-specific questions," Magee said. "For example, why you want to go to this school since it's definitely more difficult to get a feel for the school."
However, Magee has still been able to find ways to answer the school-specific questions from information on the schools' websites.  
To help with this, the counseling office has been offering virtual college visits for all students through Google Meet.
Ali Ahmed, another senior, has also been minimally affected by the changes to the college application process. 
"It hasn't really impacted me since I took [standardized tests] last December," Ahmed said. "But it impacted my AP tests, and it made it a whole different test to prepare for."
With many college essays to write, Ahmed completed all of his important applications in the summer. 
 "I did most of my college essays in August to early September," Ahmed said. "I did all the supplemental essays, [so] COVID did not really affect me that much."
Ahmed has also agreed that his guidance counselor, Paul Wood, was a great help to him throughout the process. 
"My counselor helped me a lot with college stuff," Ahmed said. "I would email him a ton about questions I had to help me with the process."
For more help with college applications, students can refer to the counseling office's college planning page for more information and resources.