"Mank" gives modern audiences a new perspective of old Hollywood
With more and more filmmakers yearning for a return to the "good old days" of Hollywood, it's only natural that at one point audiences would be treated to a wonderful slice of 1930s style with a 21st century mindset.
Directed by David Fincher and starring Gary Oldman, Mank follows the story of Herman J. Mankiewicz, renowned screenwriter most famously known as the scribe of the often imitated but never replicated Citizen Kane. Through the eyes of Mankiewicz's sarcastic, alcoholic mind (an exciting combination when paired with a writer), the audience is treated to a two-hour-long dissection of 1930s society interspersed with plenty of Golden Age Hollywood references. It is through this social critique that Mank shines on the service, yet it is through its deeply affectionate character moments that Mank truly soars.
As is the case with any film so deeply ingrained in the history and mythology of another, one must first look to Citizen Kane in order to truly appreciate Mank. Released in 1941, Citizen Kane follows the rise and fall of fictional newspaper magnate Charles Foster Kane. Via Kane's story of happiness and loss, Orson Welles explores the very nature of love, memory, egotism, and nearly every single other topic one could think of. In every frame one can find a new idea, a new concept to be explored and analyzed. Thus, it's only natural a film would be created which explores how such a masterpiece could be crafted.
Stylistically, Mank excels through its gorgeously warm black and white cinematography and its jazzy original score. Through the visual style, provided by director of photography Erik Messerschmidt, the film connects itself with the atmosphere of the 1930s. It almost feels heavenly in the way that the sun casts a glow over every part of the film's Hollywood setting. The music, produced by Trent Reznor and Atticus Ross, further solidifies the 1930s atmosphere by maintaining the same rhythm and style as much of the dialogue used in films at the time (incidentally, the film's main character pioneered this sharp, quick-witted style of dialogue). Thus one cannot help but sink into the infectiously rhythmic atmosphere of Mank, one which begins with the grandiose title card reminiscent of the 1930s and ends with the witty final line uttered by Mankiewicz.
The performances in the film also stand out as major advantages, particularly with Gary Oldman and Allentown native Amanda Seyfried. Oldman as the often inebriated Mankiewicz portrays exactly the kind of social critic one would picture when given a description of the real life writer. Furthermore, Seyfried excels as the soft-hearted Marion Davies, the woman assumed to be the inspiration for one of the most important characters in Citizen Kane. Outside of these two, Arliss Howard soars as studio executive Louis B. Mayer (of Metro-Goldwyn-Mayer). The short in stature but large in influence actor quickly establishes himself from the very beginning as an integral character.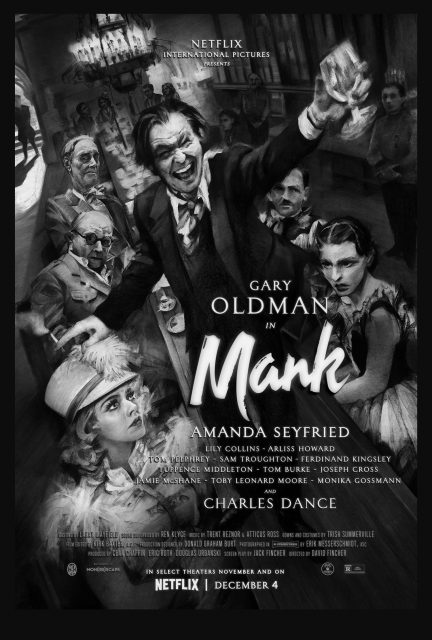 Of course, it is clear that Mank shares many commonalities with its inspiration. Told in a very similar structure to that of Citizen Kane, consisting of flashbacks and non-linear segments, Mank is a beautifully structured mirror image of the classic Orson Welles film. With title cards formatted to that of any properly written screenplay, flashbacks throughout the film establish different times and places in Mankiewicz's life. On the most basic level, these flashbacks bring a nostalgic atmosphere to the film, almost as if the audience is also reminiscing on days long gone. In addition, these title cards (and the flashbacks themselves) set the narrative at an interesting viewpoint: one from within the mind of the main character. Placing the narrative completely through the lens of one character's psyche, in this case Mankiewicz's, is a surefire way to easily invest the audience in that character's emotional conflicts. It's also what provides the film with an abnormally strong emotional center considering Fincher's filmography.
By displaying memories so heavily, Mank bridges the gap between itself and Citizen Kane. By exploring memory to the same extent as Citizen Kane, Mank effectively recontextualizes the iconic Welles film, a feat which the difficulty of cannot be understated. It is during moments like Mankiewicz's writing of the infamous "girl with the white dress" scene that Fincher adds yet another level of humanity to both his film and Welles'. Simply put, Fincher has created a simultaneous masterpiece of film critique and film recontextualization, all while crafting a still fantastic piece of art when examined by itself. 
As Jed Leland famously stated in Citizen Kane, "That's one of the greatest curses ever inflicted on the human race: memory." It's a scary (yet very human) thought that one's greatest weakness is unavoidable and inherent at birth. This fear of memory is present throughout Mank, as the eponymous main character explores his memories and slowly deepens his disdain for the man who inspired his script.
Yet it is this concept, and others like it throughout Mank, that elevate the film to true masterpiece status. By exploring the human condition in a way no other filmmaker has (aside of course from Welles), Fincher has crafted what could be considered his magnum opus. It is a film which finds itself connected through theme and story to one of the greatest films of all time. It would not be surprising if Mank followed in that very film's footsteps.