Playboi Carti drops long awaited "Whole Lotta Red"
After some two years of waiting and hyping up the project, Playboi Carti finally released his third album Whole Lotta Red on Christmas day. 
Die hard Carti fans have been anticipating this record for quite some time, with a leak surfacing every once in a while only adding more fuel to that fire. After countless false alarms and many cryptic tweets from the man himself, Carti's fanbase was assured of a release date when the rapper announced merch in addition to the project several days before the drop. The wait for the album had gotten so bad that an upcoming artist by the name of Mario Judah capitalized off the hype by dropping knock off Carti songs. Eventually, however, streaming services were granted with the 24-song Christmas present, and Whole Lotta Red finally arrived.
In the two years since Playboi Carti's last LP, Die Lit, he has made more of a name for himself, assisting artists like Tyler, The Creator, Solange and Drake. In April, he returned with his first solo work since Die Lit on the confusing and disappointing "@ MEH." In the 8 months the single has been out, it's proven itself to be completely useless in the artist's repertoire. In no way does it set the stage for the album, in fact, nothing does, as there was no single put out prior to the release of Whole Lotta Red.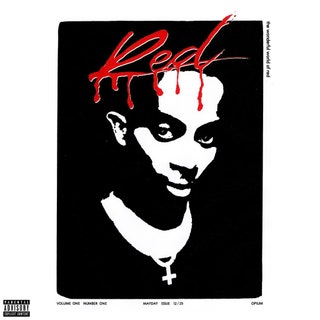 The lengthy project begins with "Rockstar Made," an intro with a beat that cuts right to the chase. The song is a thrashy yet subtle banger, but fails to be as captivating as his previous record's openers "Location" and "Long Time – Intro." From there, the first feature appears on "Go2DaMoon," with (co-executive producer) Kanye West taking up at least 75% of the two minute tune. The song seems like a The Life Of Pablo throwaway with Carti tacked onto the final 47 seconds. Kanye's verse is okay and has some decent wordplay, but he isn't really even saying anything. It also doesn't help that he had to carry the track, with Carti throwing verbal boomerangs until the song's end. The second guest appearance is on "M3tamorphosis (feat. Kid Cudi)", Cudi easily shines as the best feature on the album, switching between humming and laying an exceptional verse. Listeners were a bit disappointed when they expected to hear a now iconic leak called "Kid Cudi," especially after Carti posted a video of the two rocking out to Cudi rapping on the track. Alas, the song was nowhere to be found on the studio release. The third and final feature comes from Future on "Teen X." Future seems out of character, as he doesn't add much to the song and just echoes Carti, only sounding older and more monotone. Nonetheless, "Teen X" is still incredibly catchy and infectious. With so much hype surrounding Whole Lotta Red, it's weird how few of features there are, even though nearly every artist under the sun is on Die Lit, a few more cameos wouldn't have hurt this project.
Most songs within the first half of the record tend to run together and don't really hold much weight as most are fairly short. "Vamp Anthem," is a fun enough song with a very unique instrumental. The Die Lit sounding "New N3on" ushers in a shift in mood for the project, abandoning the new punk-like sonics and delivery of the first 12 songs, for a style more reminiscent of his previous works. The final 12 songs of Whole Lotta Red blows the first half out of the water, where Carti almost seems to be parodying himself in the most obnoxious and exaggerated way possible. On the next 12 songs, listeners are treated to a sound they've grown more fond of and accustomed to. 
Aside from the change in musical tone, the latter half of the LP has much better and more interesting lyrics. Obviously, Playboi Carti isn't an artist who's expected to deliver extraordinary lyrical content. However, on songs like "Punk Monk," he utters words that are actually worth paying attention to, with him detailing his relationships to fellow artists like Trippie Redd, Lil Keed, Uzi, Offset and even long time producer Pi'erre Bourne. He also drops quite possibly the greatest line of the record, "I don't rap I write poems." The first and only real signs of a Pi'erre Bourne beat are on "Place," a song that sounds like it can fit on any of Carti's efforts. The same can be said about "Sky," a track where Carti encapsulates what makes him who he is: the ridiculous adlibs, over the top lyrics and signature execution all layered over a fantastic beat. Speaking of fantastic beats, the best instrumental and perhaps even song is "F33l Lik3 Dyin." The Bon Iver sample accompanies Carti's pain and honesty in a very solid final track. 
After several listens, one word can sum up Whole Lotta Red: polarizing. It's nearly impossible to live up to such high expectations and hype so it's easy to see both sides of loving or hating this project. Interestingly enough, the record itself seems divided and bipolar as well. The first 12 songs sound like a brand new version of Playboi Carti not fully fleshed out yet, while the final 12 sound like the artist doing what he knows best. This dichotomy results in a rather indifferent aftertaste following each listen. It's like he didn't know which side to go with so he stuck them to one album and dropped it anyway. Had he taken more time with sharpening the new style he introduced in the first half and eliminated the second half entirely, perhaps it would've made for a more enjoyable experience. Let's be honest, it's almost 2021, no one is taking any album that has more than 20 songs seriously anymore. If he would've scrapped the first half and just released the latter, Whole Lotta Red would have sounded more like a sequel to Die Lit rather than it's own project. Still, this album is full of satisfying moments, catchy melodies and downright Carti classics.