An American Legend: Butz-Stavin puts Emmaus field hockey on the map
This previously ran in our October 2021 print issue.
In the mid 1960s, Sue Butz-Stavin picked up her first field hockey stick during intramural club at Raub Junior High. The passion born that first time she took the field on Allentown's west end has only grown deeper.
Now with Emmaus' field hockey trophy case packed to the brim, Butz-Stavin, 68, has racked up enough wins this month to put her over 1,000 career victories — a national record that adds to a long list of accolades in her 46 seasons as head coach.
Butz-Stavin's influence on the sport surpassed simply state-wide recognition long ago with her longstanding success in field hockey, and has turned the spotlight to Emmaus with her achievements.  
Senior Alexis Kociban, who has played with varsity since her freshman year, watched Butz-Stavin work her way toward her unimaginable milestone from right on the field. 
"It was amazing to be able to be a part of something that has been building for almost 50 years," Kociban said. "It was also amazing to see a lot of attention on Emmaus field hockey and just field hockey in general for her 1,000th win."
Growing as a player in the spotlight of Butz-Stavin's success streak has been out of the ordinary and has reshaped the way that some of her players look at each outcome of their games. 
"Winning so much definitely has its perks because it just feels good to win; I mean I don't think anyone really wants to lose," Kociban said. "A downside would be that we are pretty bad losers. The three full seasons we have had so far I've only seen two losses, which is crazy to think about with how many games we have had."
The win against East Stroudsburg — which earned Butz-Stavin win 1,000 — was inevitable for the Hornets, who have not seen a loss yet this year. As the players returned to the benches for halftime with the score sitting steadily at 7-0, anticipation for the celebration grew rapidly. Finally, with one last goal the victory was sealed at 12-0, and Sue Butz-Stavin had established herself in the history books.
The players could not resist attempting the Gatorade shower on Butz-Stavin in the moments after the final buzzer hit. Seniors Maddie Huffer and Emily Buss chased Butz-Stavin with the open Gatorade cooler through the congratulatory crowd of her players surrounding her. Butz-Stavin managed to escape and remain dry before the rest of the night's festivities began.
For the big win, a press conference and celebration for the team was organized, complete with the presentation of a special commemorative jersey which Butz-Stavin wore proudly for the rest of the night. Joined by past players, athletic directors, and other coaches, Butz-Stavin had her moment under the spotlight. As players gave speeches, she sat with her team, flooded with cameras and questions about the legacy that she has created.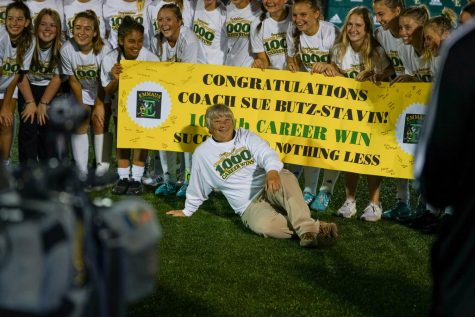 After becoming the coach with the most wins in field hockey history with her 840th win, Butz-Stavin did not slow down. Since then, she has continued to dominate the region and earn herself titles as Lehigh Valley coach of the year, national high school coach of the year, nominations for national coach of the year, and an induction into the first class of the District 11 hall of fame. 
Her road from Raub has created decades of success at a level that cannot be described as anything less than pure dominance. 
Growing up, Butz-Stavin always played sports, no matter what activity was at hand. She spent her days at the YMCA, getting the chance to explore a wide variety of games, especially since her mother was a gym teacher. She found a love for basketball and played it until high school, where she experienced her first taste of field hockey through gym classes and intramural sports. After this, Butz-Stavin switched gears, following a passion for field hockey instead.
In college, she moved on to play for West Chester's freshman team. Realizing that the rest of the girls had been playing since they were much younger, it became clear Butz-Stavin did not have the same level of experience as the rest of her teammates. So, she tried to stick with the sport, turning to refereeing instead, which was her first job in field hockey. Even when turning away from playing, Butz-Stavin could not walk away from the field hockey world.
While still in college, Butz-Stavin had the opportunity to coach her first team at the middle school level, leading them to a 10-0 season. After college, she left the United States, taking a chance to teach physical education in New South Wales, Australia, while continuing to coach. Eventually, she found herself back in the U.S., looking for a teaching position back home in the Lehigh Valley while living with her parents in the meantime. 
Emmaus High School leaders saw Butz-Stavin's resume and wanted her to fill the vacancy for a field hockey coach, but they had no teaching position for her. She turned down the coaching gig and kept looking. Eventually, Gwen Armitage, the athletic director at the time, called her with the good news: not only was she still wanted for the coaching position, but the teaching job she needed was also available. August 1976 marked the beginning of Sue Butz-Stavin's record-breaking career. 
When she first arrived at Emmaus, it was a much different place. The auxiliary gym was still the pool, it was called "Emmaus Junior High," and the field hockey field sat where the practice football field now stands. 
Forty-six years later, the shiny new turf at Memorial Field is lined with countless banners celebrating each and every championship game and title Butz-Stavin has worked to earn with her players. With every win, the team works to uphold their highly regarded "tradition of excellence" that the program has been built upon. 
Athletic director Rebecca George has been at Emmaus since 2018; however, she has known of Butz-Stavin since high school. Playing field hockey at Northwestern Lehigh High School gave George an opportunity to scrimmage Emmaus' team every year, and now she works with the same coach she once played against. 
"She puts Emmaus athletics and the Emmaus, East Penn School District on the map, in a way that so few have been able to do," George said. "I don't mean here, I just mean nationally. When you think about it, to reach that 1,000 milestone mark, I don't think there are truly words to explain it."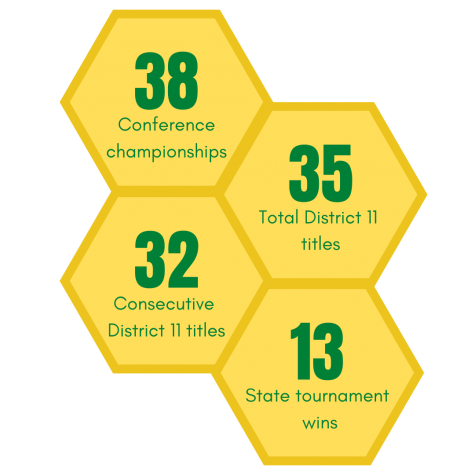 The multiple-time national coach of the year has cultivated a long list of successful athletes over her 45-year tenure, including countless D1 athletes, future coaches, and an Olympian. Seven of those athletes have gone on to play at the University of North Carolina, which is currently ranked 10th in the country. 
One of them, Meredith Sholder, has known Butz-Stavin since she was young, growing up surrounded by the Emmaus field hockey culture. 
Sholder's mother, aunt, and cousin all played under Butz-Stavin, creating a close connection between the family and coach. Now at UNC, Sholder has started in every game in the 2020-2021 season, and she has built up numerous accolades following a redshirt year.
During her time at Emmaus, Sholder was a stand-out star, earning state and national recognition for her play and eventually leading the team to back-to-back state titles. She credits her success in college to Butz-Stavin, whose coaching style in high school prepared her for the next level of play.
"She's very traditional and she's a tough coach, I'll say that," Sholder said. "She is like a college coach except you're getting that in high school. So she really sets people up for success when they continue on to their lives in the future, which is what I have to thank her for… When I do graduate and going into the workforce, I can take those skills and apply them in the workfield."
Karen Shelton, head coach of UNC's field hockey team, holds the record for the most wins by a NCAA coach, surpassing the record with her 701st win. Shelton, in coaching multiple of Butz-Stavin's athletes, recognizes how her field hockey program resonates with the girls, giving them a path to succeed after they step off of the field.
"She has left a long line of players who were not only good players, but future coaches of high level programs like her own," Shelton said. "She emulates success as people constantly compare themselves to her and her success. Coach Butz-Stavin molds people as well as players and this serves them beyond sports as we carry that along here at UNC."
Developing her own legacy at UNC since 1981, Shelton's values instilled in her program breeds success year after year. She understands what it takes to lead a program to success, as well as what separates the best programs from the rest.
"Other coaches try to mimic the atmosphere of the Emmaus program," Shelton said. "Wins are a byproduct of this tradition of success, what's more important is the tradition and habit of the energy within the program as the wins would not be there without it."
With decades of field hockey behind her, Butz-Stavin has seen it all on the field. Running development camps, coaching her nationally ranked club team, Firestyx, and keeping Emmaus going during the off-season has consumed her days. However, not once has she thought about pulling out of this lifestyle. 
"I think I enjoy coaching [and] I have a passion for it," Butz-Stavin said. "It's kind of like a family. I get great support from my sisters. It's too bad my parents are no longer here to watch it, but I think from heaven above, they've always given me encouragement to be the best you can be at all times."
Butz-Stavin has shown dedication and persistence in her coaching career and it is no coincidence that this level of commitment has led to accumulate 1,000 wins. Day by day, Butz-Stavin has kept a steady head and focused only on the next task in front of her.
 Butz-Stavin said, "I approach everything one day at a time, one game at a time."
Following the hallmark win, everything began to sink in for Coach Butz-Stavin. Remaining humble about her success has been a trademark of her personality, but anyone who achieves such a high level of success is expected to relish the moment.
"I appreciate, you know, all the excitement and everything. It's just an amazing accomplishment," she said. "So it's been great, but [with] more of the achievement, I'm more excited for them than I am for myself."
With successes past her that may seem unreachable to other coaches, Butz-Stavin does not let any of her wins stand in her way of continuing to improve and develop the next generation of field hockey players. So, she takes each pass, each penalty, and each goal one at a time.
"We can't look beyond," Butz-Stavin said. "Because if you start looking beyond, something can bite you in between."
Additional reporting by Victoria Bruckler.