From the sidelines: The return of the Hornets Nest
This previously ran in our October 2021 print issue.
The last year and a half (almost two years) has been full of uncertainty, change, and quarantine. Some major changes we have seen over the last 18 months have been sporting events and the fans in attendance. The world as we knew it, before March 13, 2020, had thousands of fans watching their favorite sports teams battle it out on the field. Since March 2020, sports were on a shutdown for a while before resuming in summer 2020.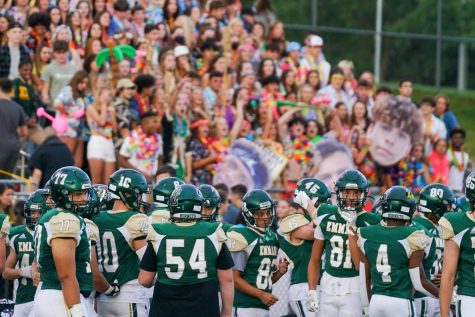 However, when they did resume, the fans had to stay at home. That wasn't just the case for professional sports; high school and college sports had to adjust to having no fans as well. Arguably the biggest impact in high school and college sports are the student sections. Not having the student sections really made it different for the athletes and coaches to get adjusted to. 
Now we are in 2021; we are slowly but surely returning to normal. A majority of sports in America are allowing full capacity crowds at games, including high school sports. Here at Emmaus High School, a majority of last season's football games were played with no fans in attendance, just the band and cheerleaders. For both home games the Hornets have had so far this season, the crowd has been sold out and the student section jumping on their feet.
Alyssa Brader, a senior at Emmaus, spoke about why she enjoys being in the Hornets Nest on Friday nights.
"I enjoy cheering on all the football players, and the energy that the student section brings," she said.
 Kaitlyn Ewing, another senior, talked about how much fun the Hornets Nest is.
"When the pandemic hit last year and we found out football games wouldn't happen, I was very sad," she said. "Friday nights are always something the students look forward to, especially having a full student section. Being able to fill the stands and pick themes, especially for our senior year, is a great experience." 
Quinn Scott, another senior who runs the Hornets Nest, also shared what it means to be back in the student section. 
"I am very happy to be back in the section," he said. "I've always wanted to run the Hornets Nest, and now that it's a reality it's awesome and I love every second of it."
It is clear that the Hornets Nest means a lot to the students at Emmaus High School. If the Coronavirus Pandemic taught us anything, it's that we never know how good we have it until it's gone. In 2020, not one football game had the student section. Now, in 2021, it's sold out every week, and the students are loving every second of it.