The Today Show's Harry Smith visits EHS
Just days before Emmaus girls' field hockey won 3A states last month, coach Sue Butz-Stavin and the team experienced a bit of a cause célèbre when an NBC team of journalists stopped by to film a segment for the Today show.
Flanked by producers and a camera crew, nationally recognized journalist Harry Smith interviewed Butz and three select players in the athletic offices on Nov. 16. Smith spent several hours at Emmaus before later joining the team in its 3-1 win at semifinals against Conestoga that night.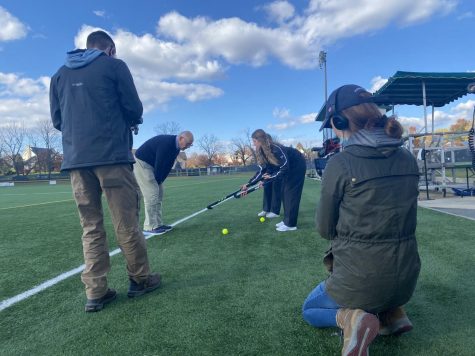 But before the game, the 70-year-old journalist — an occasional co-host of the Today show and known for covering stories across the nation — picked up a field hockey stick and went head-to-head with athletes for a bit on the turf.
Smith would later chat with other players as cameras rolled. The broadcaster said the story will air this month on NBC as it features the career of Butz who, with more than 1,000 wins, has the highest record of a high school field hockey coach in history. Earlier this month, she was one of 10 coaches nominated as coach of the year by Top of the Circle, a group that ranks field hockey teams and players.
During his visit to Emmaus, Smith welcomed student-journalists who stopped by the closed event and later continued to discuss his storied career in the media.
Smith said he began his journalism career in high school, where his passion for news media began while working on his high school paper. After college, he would work as a correspondent, travel the world, and run his own shows, he said. 
"There was something about [the] media that has always been attractive to me," Smith said. 
He said his father "was not a well-educated man." But his dad would get two afternoon papers, and the family couldn't eat dinner until his dad read both papers. 
"So there was something about knowing what was happening without him telling me directly," he said. "I knew it was important to him, and [so] it became important to me." 
The cool part of his job is learning something new all the time. 
He left work that day knowing little about field hockey, knowing nothing about Coach Sue.
But then "the great players took me out and taught me how to play today," Smith said. "I never held a stick before. It's complicated. It's interesting. It's fast. 
So why feature Emmaus field hockey for the Today show?
Smith said that if Butz-Stavin was a basketball or football coach, "everybody in the country would know who she is. But she's the field hockey [coach}. So it's maybe not the sport that everybody talks about.
"This," Smith said, "is phenomenal. It's phenomenal just to be here. So every time I get to leave the house, I get to learn about something else." 
Like Emmaus field hockey.