Boys basketball breaks 10-0 winning streak with loss to Northampton
After dominating the EPCs with an undefeated record, Emmaus boys basketball lost their rhythm in a game against Northampton Area High School Friday night.
Emmaus entered the game against Northampton (4-4) with a record of 10-0, a huge accomplishment for any team in the EPC, but especially Emmaus. Last season, Emmaus went 4-9, and two years prior, they went 5-17.
From the moment Emmaus lost the tip-off and Northampton made the first basket, the team was sent into a painful game of catch-up. Emmaus trailed behind their opponent by only a handful of points the entire game, continuing to fight for every play. Early into the first quarter, while Northampton had possession, senior Jayden Gallagher dove for the ball, rolling into a pass to sophomore Will Barber, who consequently scored on a lay up. 
Northampton kept their defense tight moving into the second quarter, and Emmaus struggled to get a basket. Entering half time, Emmaus was only behind 22-20, and taking the lead was not yet out of the picture.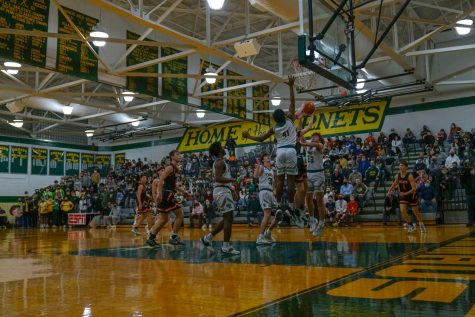 The third quarter, Emmaus started strong with a steal from Gallagher, resulting in a successful shot from senior Ryan Santos. Going into the final quarter, the Hornets trailed, 32-31. Two timeouts later, and with only two minutes left in the game, Emmaus remained scoreless as Northampton increased its lead to 40-31. The boys did not give up, as seniors Ryan Diehl and Jadis Brevitt both scored successful 3-point shots in the last few minutes to cut the lead to four but it was not enough as the game ended 46-42: Emmaus' first loss of the season.
Sophomore Will Barber knew the team worked hard to maintain their 10-0 record, but at some point, every team faces a "tough game."
"We started off slow on the defensive end. We missed a lot of shots that we usually make and we kind of struggled on offense," Barber said.
Due to illness and injury, two players sat out a few days, missing practices, but returned to the court Friday night. 
Senior Jadis Brevitt believes that despite losing the game, the return of players to the team was exactly what Emmaus needed.
"[It's] nice to have them back," Brevitt said. "We needed them to pick us up, and they did. We just couldn't finish the game off strong like we usually do."
Head coach Steven Yoder said the game was simply not their "best," but that players should be proud of themselves for their 10-1 record.
"They did it [kept winning] because they love each other, trust each other, and are unselfish," Yoder said. "And that's the best part of coaching this team."
Yoder also credited Northampton for their execution, but noted that Emmaus has some work to do before their game against Pocono Mountain West this week.
"We are going to focus on getting healthy and getting our cardio back into shape; I thought we kind of looked maybe a half step slow[er] tonight than we have in the past," said Yoder. "We are going to focus on our game plan for Pocono Mountain West … They have a 6'10" kid that can really play."
Emmaus takes on Pocono Mountain West at 7 p.m. Tuesday, Jan. 11 at Pocono Mountain West High School.
Additional reporting by Lauren Riazzi.