Canine Counseling: Therapy dogs shed love on EHS students
This previously ran in our December 2021 print issue.
The East Penn School District is known to offer a variety of programs and opportunities for its students, but this year's addition of therapy dogs might earn a treat for the most interesting. 
Emmaus schools established a therapy dog program this fall for the emotional support of students and staff around the district. Teachers have the ability to request that the dogs come to their classrooms, but it's more common to see the well-mannered three-year-old Golden Retriever, Branch, roaming the halls at the high school.
Students and staff have encountered Branch before, and many have been confused about his purpose and wanted to know more about his role at Emmaus.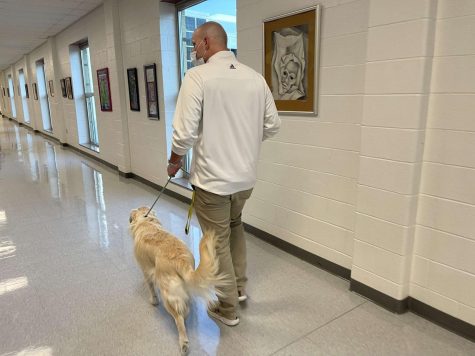 Michael Mihalik, supervisor of secondary curriculum and instruction for East Penn, explained Branch's role in the high school.
"When I've been fortunate enough to have him for a day bringing him around EHS, I typically see hundreds of smiling faces, and that's a pretty special thing to see," Mihalik said. "It's also a neat feeling experiencing the impact he has on a classroom or small group of students. You can just feel the morale improve with his presence."
Branch and his fellow therapy dog, Emmy, have many different jobs around the school, including visiting classrooms, especially helping out in emotional support classrooms.
"He's been used to de-escalate a few tense situations at school; both he and Emmy have been able to help students having a really rough day," said Mihalik. 
Branch was an understudy to his sister Poppy at Warwick School District; but, since the pandemic hit, other schools couldn't take on a dog to integrate into their classrooms.
"It worked out well for us that he was still available," Mihalik shared. "Both Branch and Poppy were trained for this purpose since they were young."
Mihalik had nothing but praise for Branch and the way he carries himself around a very sizable high school.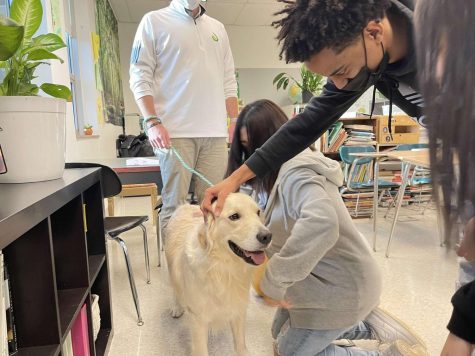 "Branch is super adaptable and is really comfortable with people petting him–that's part of the reason he's here; [it's] what he was trained to do," Mihalik said. "When we take him into a classroom, he typically gets 25 sets of hands touching him that he's never seen before and is just fine."