Humans of EHS: Lorelei Kilka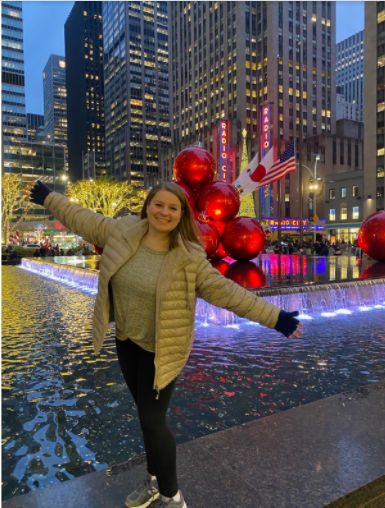 Bek Lopez, Deputy Opinion Editor
March 16, 2022
You are given one day to do anything you want. With endless possibilities, you could spend the day however you chose. 10th-grader Lorelei Kilka knows exactly how she'd spend the day of her choosing: at Hogwarts. 
Hogwarts sadly isn't a real place, but Kilka found herself lost there through a portal known as reading.
"It gives me a chance to escape from our world to a better one with a bunch of magic," Kilka said. "It's a new fantasy that you can't get here."
 In her busy schedule, Kilka participates in theater, volunteering, and softball clubs, but somehow still makes time for reading at the end of her day. Not only is she a fan of the Harry Potter series, but Kilka also has a couple of wands and even a time-turner necklace from the books. 
Reading is somewhat of a sanctuary to her and a place for her to decompress and forget about reality for a little. 
"When life gets stressful and hard, it's nice to be able to go to a world of wizards and witches and fight trolls and dragons instead of having to fight homework and good grades." 
It can be hard balancing book reading and daily life, though. Kilka admitted to having an inconsistent reading schedule. 
"Some nights… I have three or four things going on, but then there's other nights where I have like nothing."
Her love for reading originates from a very early age. 
"Part of it stems from when I was little," Kilka said.  "My parents would read to me before I go to bed." 
Life can be distracting, especially with this new age of technology. Teenagers find themselves on their phones, scrolling through TikTok or other social media platforms. 
"Books were the original," Kilka said. Maybe we can all take a little out of Kilka's book and take the time to read more.