Jason comes to allentown for horror con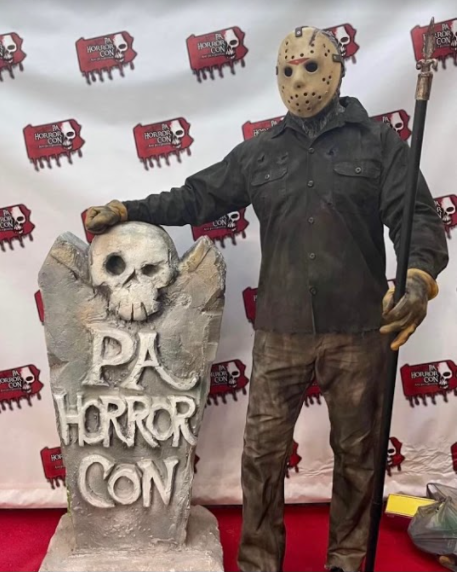 This previously ran in our April 2022 print issue. 
On the weekend of March 5, many horror idols visited the Lehigh Valley for PA Horror Con. 
The event was held at the Delta Hotel in Allentown. It lasted for two days and featured well-known horror actors from a wide range of horror-related content. 
Tickets for the event ranged in price, depending on how many days you would be attending and when you purchased the tickets. If the guest wanted to attend both days of the event, it would be $45 pre-sale and $55 the day of. If the guest only wanted to attend one of the marketed dates, the price of the tickets would be $25 pre-sale and $35 the day of. Children 10 or younger had free admission if they were accompanied by a paying adult. 
The convention offered pro-photo ops, meet and greets with horror celebrities, a cosplay contest, and many opportunities to buy horror merchandise. 
The large center room used for events at the hotel was filled with all sorts of vendors. Some sold memorabilia like props, scene decor from specific movies, and costume pieces including horror villain masks. When some sold basic merchandise like T-shirts, pins, posters, etc. 
There were also some vendors sell- ing specialty-created art pieces, such as paintings, photographs, and handmade home decor. Even some authors who have written their own books were at the event to promote their newest piece of work. The large shopping opportunity allowed guests to spend hours browsing all of the merchandise that was available. 
Shopping was not the only thing available at PA Horror Con. Guests were also able to purchase pro-photo op packages with their favorite celebrities. This would allow them to take professionally staged and shot photos with the available celebrity of their choice. The prices ranged from $40 to $100. 
Each celebrity also had their own table where they offered autographs and self-taken photos to guests. The prices were much cheaper than the pro photos, but the photos were not as well done. Each experience offered a small meet and greet with the celebrity. It allowed fans to have short conversations with their horror idols. 
There were many well-known actors at this event held by Horror Con. Celebrities who have played some of the most beloved horror victims and villains, all in one building. Actors who have played Ja- son Voorhees (Friday the 13th franchise), Michael Myers (Halloween franchise), Leatherface (The Texas Chainsaw Massacre franchise), and many others. 
C.J. Graham, an actor who played Jason Voorhees in the sixth installment of the series, Friday the 13th Part VI: Jason Lives in 1986. Graham is most known for his role as Jason, but he has also appeared in Highway to Hell in 1991, The Friday the 13th Chronicles in 2004, His Name was Jason: 30 Years of Friday the 13th in 2009, Jason Vs. Leatherface in 2010, Friday the 13th Part 3: The Memoriam Documentary in 2017, Toilet Horror in 2020, and 13: Fanboy in 2021. He was one of the spotlighted celebrity guests who were in attendance at the convention. 
Graham also participated in a movie reunion that consisted of himself, Tom Fridley, Darcy Demoss, Tom McLoughlin, and Thom Matthews. Fans had the opportunity to have their photo taken with all of the celebrities who were a part of the reunions. 
The other reunions that occurred at the event were the cast of Leatherface: The Texas Chainsaw Massacre III which featured Jennifer Banko, R.A. Mihailoff, and Toni Hudson. Another reunion that took place consisted of Mark Patton and Kim Myers who were cast members in A Nightmare on Elm Street 2: Freddy's Revenge. The event also featured a Chucky Duo photo opportunity with Alex Vincent and Christine Elise as well as a full Chucky reunion.
Many other big names were in attendance at this year's PA Horror Con including, but not limited to, Felissa Rose (Sleepaway Camp), Scout Taylor Comp- ton (Rob Zombie's Halloween and Halloween II), Michael Berryman (The Hills Have Eyes), Naomi Grossman (American Horror Story), and Tony Moran (Halloween). 
Fans and vendors travel from all over the East Coast to follow the chain of Horror Con events and be able to meet their favorite celebrities. The Horror Con Franchise mainly holds its events in New Jersey and Pennsylvania. The next Horror Con will be held in New Jersey from Sept. 16 through 18. The company also holds smaller events such as Horror Sideshow Market and a film festival every year. 
The experience of attending PA Horror Con allows fans to have unique interactions with their favorite celebrities, purchase one-of-a-kind artwork, and connect with other people who have a love for the same genre they do. If you are a fan of horror and are looking for a way to ex-press your passion for horror, attend one of the NJ or PA Horror Conventions to be fully immersed in the world of horror.