Gitski strives to lead team in sophomore season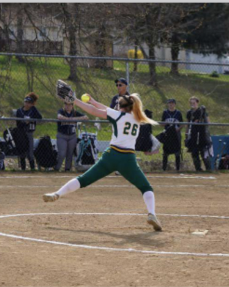 This previously ran in our April 2022 print issue. 
Sophomore Taylor Gitski started her career in softball at just five years old playing for the Emmaus Youth Association and since then has become a member of both the EHS and Kraken softball teams.
Gitski's time playing softball has been quite the adventure with her passion for the sport driving her to work through any challenges that come her way.
"Just dealing with making mistakes and overcoming those mistakes during an important game [has been challenging]," Gitski said. "But also at the same time I'm very passionate about the sport, and it's what I love doing."
Gitski's teammates play a big role in her love for the sport. Even during difficult times, she focuses on staying positive not just for herself, but for them.   
"[I concentrate on] making sure they keep their heads up because they're always there for me and so I want to be there for them," Gitski said.
Being an athlete takes not just the skill and drive to improve, but also having that support system close by to encourage one throughout their journey and Gitski credits her family and coach as being that support for her. 
"My whole family [supports me], but also my tournament coach Tracy," Gitski said. "She's been there for me since day one since I was a little kid playing softball, and even today, she's always been by my side and helping me out with situations that sometimes I can't control."
Gitski pitches and plays third base after previously playing first and being able to switch between roles so fluidly is an accomplishment that not many can claim.  
"Over the past years, I've been very mobile in different positions and just being able to play those positions. I've just been easygoing if something needs to change I feel like that's quite an accomplishment," Gitski said. 
Junior Danika Barthol has been playing softball with Gitski for years prior to EHS and believes that Gitski clearly sends the message of "don't underestimate JV players" and that being so "universal" helps to demonstrate that. 
"She's someone that's very underestimated, so I think that helps her a lot because she's not someone very vocal," Barthol said. "[And her ability] to show off whenever she needs to."
As Gitski continues to develop as a player, she strives to continue her role as someone others can look up to and look to for guidance.   
"[This season I want] to be a leader and to be someone who these younger girls look up to or even like older girls see me and they're like 'Wow, she's gonna do well here and she's going to make [the] school proud," Gitski said.