Nothstein waives preliminary hearing, heads to court in August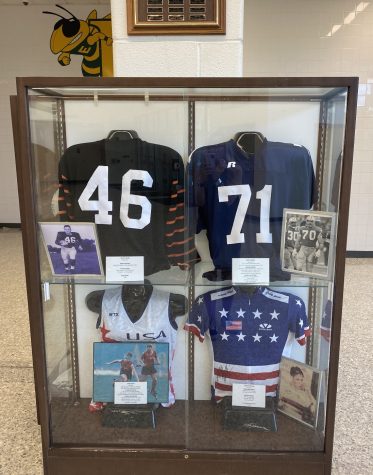 An Emmaus graduate and two-time Olympian who faces charges of stalking two East Penn school district employees waived his right to a hearing and heads to court in August. 
Marty Nothstein, a 1989 graduate, waived his right to a preliminary hearing previously scheduled for Friday, June 10, on charges of criminal trespass, defiant trespass, and stalking. Currently, the EHS athletic department keeps a display of Nothstein in its sports center lobby, honoring his cycling career. 
The Stinger has questioned if the display should remain. In previous inquiries, school officials have responded that there is no official removal policy in place for alumni honored in the case, but that the status of his display should follow due process of his legal case. 
His arrest came from his alleged stalking and harassing of two professional employees over the course of a year. Both individuals work at the same East Penn school. The Stinger is withholding the names of the victims to protect their identities. The woman previously had a relationship with Nothstein while he was married.
According to the criminal complaint, Nothstein allegedly stalked the woman and her new boyfriend, after she ended the relationship, at their homes as well as on district property. In the same documents, details of a series of letters sent to the victims by Nothstein, 51, are mentioned – consisting of racial slurs, vulgar language, and threats of false reporting to their employers directed toward the involved parties. 
Nothstein, who was not only an Olympic cyclist but a former Lehigh County Commissioner who ran for U.S. Senate, was taken into custody by Pennsylvania State Police on Dec. 7, 2021. Here, he was arraigned and later released on $25,000 unsecured bail. 
In February, The Stinger ran a story in relation to the Olympian's charges and the presentation of his memorabilia in the EHS sports center lobby. In May, The Stinger additionally ran a follow-up story regarding the continuing of the originally scheduled preliminary hearing, in addition to a slight modification of the high school's display honoring Nothstein, specifically its relocation to a shelf lower in the display case.
Nothstein waived his right to a preliminary hearing for court on June 8, as were his coinciding charges: he was present at the disposition. Nothstein's preliminary hearing was initially scheduled for Feb. 25, continued to May 11, then once again continued to June 10. 
Nothstein's next hearing is a formal arraignment scheduled for 9:00 a.m. on Aug. 2 at the Lehigh County Courthouse. He is set to appear in front of Judge Anna-Kristi Marks.