World Language Honors Society induction requirements change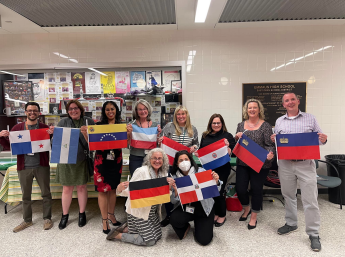 This previously ran in our April 2023 print issue. 
The World Language Honors Society, as it is referred to on the Emmaus High School calendar of events, is made up of honors societies for all four languages offered at EHS; French, German, Latin, and Spanish. Induction into this organization is considered an honor. 
"It is an impressive achievement to put on a college application, but it is also something to celebrate being a part of," says Senorita Smith, a Spanish teacher in the World Language department.
EHS has been participating in the society for over 20 years, but will be experiencing additions to the induction requirements beginning this year. 
Previously, the requirements for induction were grade-based; completion of three levels of a certain language class and an overall average of 90% or higher in the third level. 
Added this year are further requirements designed to encourage student engagement with their target language. 
These include either being a member of a language club, participating in the International Fair at EHS,  tutoring in the target language, taking a national exam, or participating in a language competition of some sort. 
Madame Kalb, the World Language department chair and French teacher, called these new requirements an opportunity for students "to give back outside of the classroom." She expects that the new requirements will become an easily accepted standard for the honors society.
This year's World Language Honors Society induction ceremony took place on Thursday, April 20, in the Emmaus High School auditorium. As students' names were announced, candles were lit in their honor and they recited their chapter's pledge in their target language. They also received their certificates confirming their status as members of the society.