Tunnel vision: Del Rey's LP falls flat with indistinguishable songs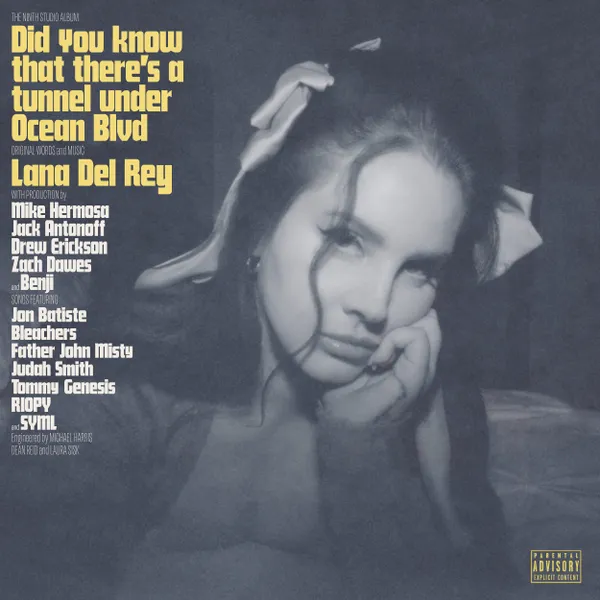 This previously ran in our April 2023 print issue. 
In the early 2010s, up-and-coming popstar Lana Del Rey made her industry breakthrough with her second studio album, Born To Die. The sound of Born to Die is what many people associate with Del Rey today: dramatic chords and forlorn lyrics with a heavy focus on love and Americana. 
This aesthetic continued into her next album, the eight-track Paradise, and by the time her next album released in 2014, the ultra-depressive Ultraviolence, Del Rey was synonymous with this sound–odes to 1950s and 60s America, abusive relationships, drugs, and everything in between. However, the shift in her sound was already beginning, and would eventually lead us to where we are today with the release of her most recent album: Did you know that there's a tunnel under Ocean Blvd?
Since her first album, every Del Rey release has taken one step farther away from her original sound, currently sitting at the opposite end of the spectrum in 2023. Her last three albums have been piano based and dictated by breathy singing and slurred pronunciation. One theme many fans have picked up on in Del Rey's last few releases is that her songs have started to blend together. 
In her earlier albums, each song had a very specific aesthetic attributed to it, making them easy to differentiate from one another. But on Did you know that there's a tunnel under Ocean Blvd?, the dreaded prophecy was fulfilled: the songs are baseless, boring, and indiscernible. 
To put it bluntly, I wasn't excited for the release of this album. Despite the singles, tastefully released to paint the album in a flattering light, I knew my expectations wouldn't be met with this album, just as they weren't with the previous two releases. In fact, I almost didn't even listen to it right away. I would have been happy plundering my friends' playlists, taking a song or two, and moving on my merry way.
The highlight of the album was the four minute duet with Father John Misty, titled "Let The Light In." I found the second half of the album to be far more engaging than the first, with the songs beginning to take their own shape rather than meshing into the depressing conglomerate of piano ballads. In tracks "Fishtail and Peppers," Del Rey actually starts to integrate a slight electronic sound, playing around with autotune and subdued beats. Although it seems like an unlikely combination, it does its job in adding variation to the tracklist and keeping listeners engaged. I also find they're easier to return to because the sound is more memorable and unique. 
While Del Rey is still a talented songwriter and has a beautiful voice, the new sound she has adopted is already growing old. It's difficult to hold onto the aesthetic she built her fame on, especially in the face of growing older and the rapidly changing political climate. However, she should begin to look elsewhere besides her piano; even if the songs are beautiful, they're boring. 
If I could give one single piece of advice, it would be to add more life back into the music. After the last few years, the last thing anyone needs is more depressing ballads about growing old and losing your family (as she speaks about in "The Grants" off the latest album). 
Del Rey's reign in the music industry may have tapered off by now, but that doesn't mean she's lost her force, maybe she just forgot how to use it. 
Did you know that there's a tunnel under Ocean Blvd blends in with its sister albums, whether you look at that as a good thing or not. Del Rey's lyricism is beautiful as ever, but the music is just so lackluster in comparison to what she's created in the past. However, the latter half of the album opened up a little bit of hope looking towards future releases of hers.