Will EHS catch you being kind?
A random act of kindness can go a long way in a time when common courtesy can be hard to find in a time when people are constantly on the go and self-involved.
From now through April 15, Emmaus High School teachers and staff are giving out Caught You Being Kind cards to students who go above and beyond by demonstrating random acts of kindness. The cards are entered into a raffle to win gift cards, school supplies, or special parking spaces.
Throughout the year, however, there are two students who go out of their way to show a little kindness towards the students and faculty of Emmaus by holding the door open each day. Both take the time out of their day to perform one kind action that helps make other peoples day go a little smoother.
Junior Justin Hoover stands outside each day between the periods five and six, holding the door open for fellow students. With a kind smile, Justin stands in the courtyard in rain and shine. Some students thank him or offer a smile in return, others simply just walk by.
Justin doesnt mind holding the door for students, it just became a habit for him because of his interest in being kind to others.
I do it because I want people to know they are appreciated, said Hoover. Its a small way of doing that.
Another student at EHS. senior Duncan Bispham, also offers kindness to other students by holding the door open at the end of most of his classes for his classmates.
Each day Bispham waits for each of his classmates to exit the room while he holds the door open for them purely because he wants to.
I just like doing it. Im not really in it for anything, said Bispham.
In this day in age, people often do kind things for other only if there is something in return for them. Bispham and Hoover take the time out of their day just as a random act of kindness, not expecting anything from it.
Other people should help out and spread kindness, Bispham said.
During the month of March, No Place for Hate promotes Caught You Being Kind, for students who show random acts of kindness around school.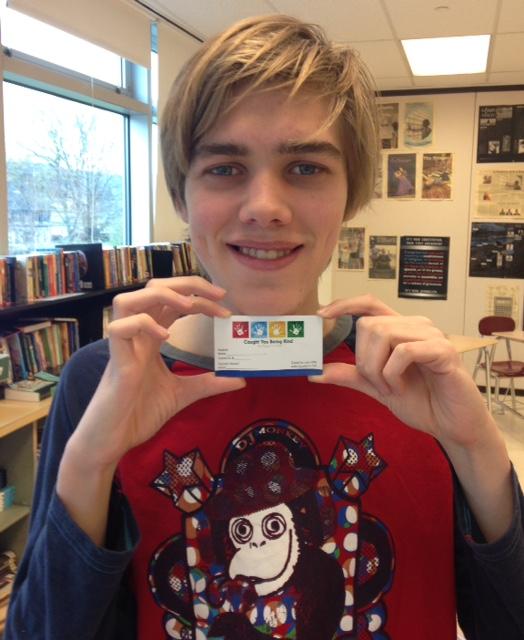 March 21st is also Common Courtesy Day, which is a day to spread awareness of what a simple act of kindness can do to make the world a better place. Whether you hold the door open for someone like Bispham and Hoover, or just give someone a compliment or offer any form of help, it can make a persons day much easier.