Students attend the Super Bowl – Q&A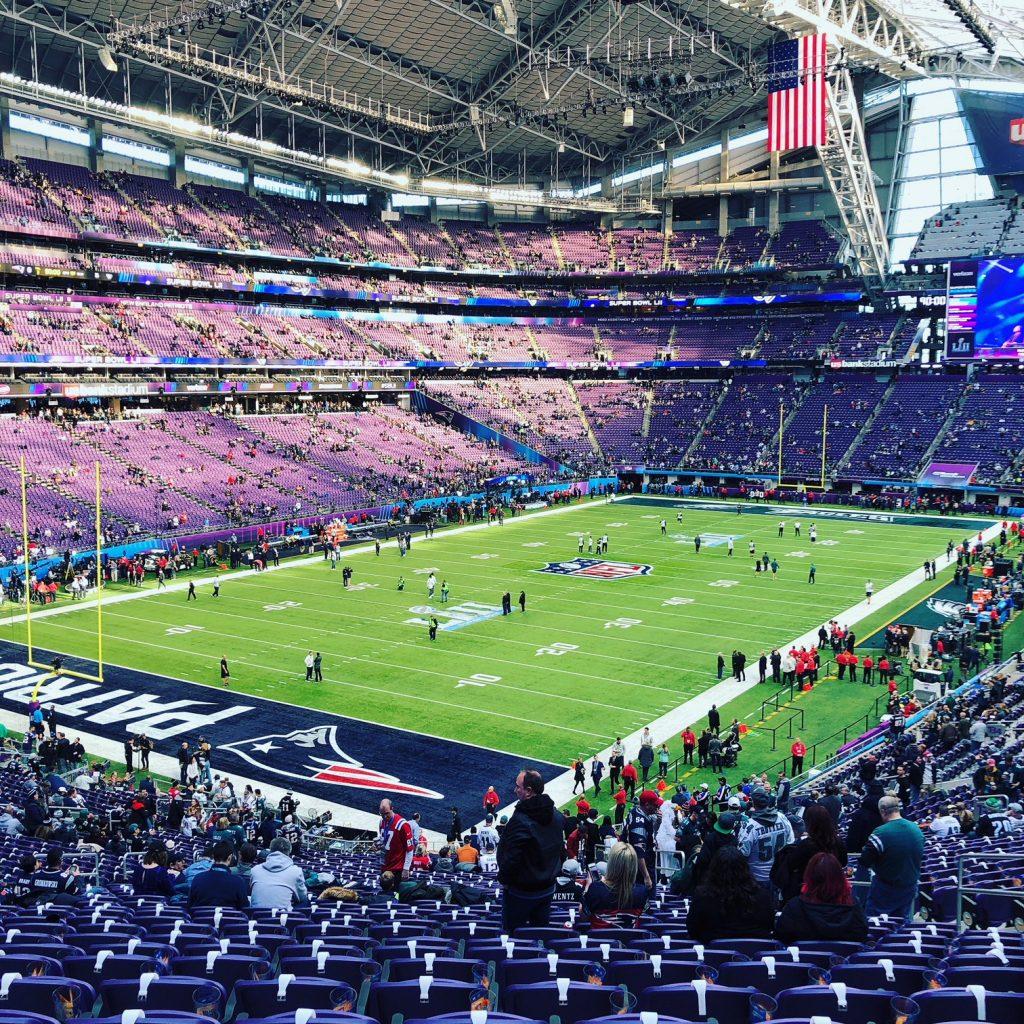 Aidan Springs
February 8, 2018
The Eagles captured their first Super Bowl win on Sunday with a 41-33 victory over the favored New England Patriots in Minneapolis, Minnesota.
And now that Philadelphia is hosting a parade to its beloved Birds and an expected 3 million fans today, The Stinger spoke with two Emmaus High School students who spent last weekend at Super Bowl LII.
Kyle McKiernan and RJ Bender traveled with their families to the stadium to cheer for the Eagles.
Stinger: What did you think of the atmosphere at the game?
Kyle: The atmosphere was electric. There were far more Eagles fans than Patriots fans. When the Patriots entered the stadium, you could hear the boos coming from everywhere.
RJ: The atmosphere was very open and large; the whole stadium echoed since it was inside.
Stinger: How early did you get to the stadium? Did you tailgate?
Kyle: We got to the stadium three hours before the game started to get our seats. Getting into the stadium was absolute insanity, there were hundreds of people all trying to get in, even three hours before kickoff.
RJ: We got there 2 hours before the game started, and we did not tailgate. I did get to come on the field early before the game.
Stinger: What was your favorite dish you ate while in Minnesota?
Kyle: I would say that my favorite dish that I ate was the Juicy Lucy, which is a double hamburger with cheese stuffed inside the patties.
RJ: I liked this burger I ate at the game, I think it was called the Juicy Lucy.
Stinger: On a scale of 1 to 10, how would you rate the halftime show in person?
Kyle: I feel the halftime show could have been a lot better and have more meaning than just a thing about Prince. They really didn't mention him and just brought him up out of the blue. So because of that I would rate him at a 6.
RJ: 7.
Stinger: Were you happy with the Eagles performance?
Kyle: I was very happy with the Eagles performance; they came together as a team and they won one of the many Super Bowls to come.
RJ: Defense could have done better.
Stinger: Did you have a favorite play? If so, which one was it?
Kyle: My favorite play was when Brandon Graham came in and strip sacked Tom Brady for the game winning play. The stadium went wild!
RJ: The trick reverse play the Eagles used. (Foles' reception for a touchdown.)
Stinger: How would you rate the Super Bowl experience (1-10) overall?
Kyle: I would rate the trip a big 10. I got to go to a hotel I've been wanting to go to for years now, which was Great Wolf Lodge. I got to see my favorite football team win the biggest game in front of 70,000 fans in the arena. We also got to go to the Mall of America where I met a lot of Eagles players, which signed my Super Bowl 52 helmet, and let me get pics with them. I also got to meet Jimmy Fallon!
RJ: 10.