Hundreds rally for President Trump's visit to the Lehigh Valley
Thursday, May 14, marked a historical day for the Lehigh Valley when President Donald Trump made his first visit to the area as hundreds of Americans came to watch the event. 
Trump visited Owens & Minor Inc., a Virginia-based global healthcare logistics company that has been producing and sending out millions of N95 masks, surgical gowns, and gloves to medical centers and hospitals across the country. This visit was the president's first trip outside of Washington D.C. since the start of the COVID-19 pandemic.
When hearing about this, Brendan Schoepflin, an Allentown resident, organized the rally to welcome the president.
"I used Facebook for my page, which you know is organizing the flag rallies," Schoepflin said. "And what I do is I create an event, and then I contact other Republican and Trump support groups. They share the page, and then the ones who are going, they share the page, and then their family-friends see it, they share. It's just basically, you know, everyone just sharing all at once, and that's how the word quickly got spread. And then, I think it was on Tuesday or Wednesday when The Morning Call did a very small article on President Trump coming, and at the very bottom of the article I said, 'You know, a pro-Trump group was planning a flag-waving rally,' and I think that article really helped [to] gather a lot more people too."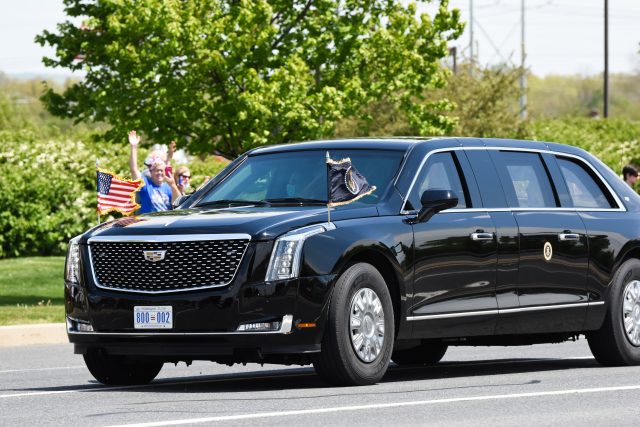 While Schoepflin has been organizing rallies since February of this year, today had the biggest turnout yet.
"I just basically, you know, got there really early," Schoepflin said. "I saw a couple people already there, and I was directing people where to park, how things were going to go. The event itself went very well. People had a great time. People thanked me very much for throwing this whole thing. I didn't expect like, you know, this many people to be coming out for this event."
Schoepflin, like many others in attendance, praised Trump for his efforts during the COVID-19 pandemic. 
"Well, I believe he is doing a great job," Schoepflin said. "He has signed, you know, a couple of stimulus packages to help the families who are struggling to make ends meet, including people who, even though they're working, sometimes their hours are reduced, or they're married with kids and maybe a spouse, you know, got laid off from their job, or the kids can't go to school so they need to hire someone for childcare in order to watch them while the parents, you know, go to work and everything. I think he's definitely still doing a good job. He's trying to encourage other states to reopen to try to get the economy back on track, because millions of people are filing for unemployment."
Paul Leaser, a senior account executive at Fraser Advanced Information Systems in Bethlehem, also applauds Trump for his actions and policies during this time.
"I think he's handled [the coronavirus] well, as far as you can," Leaser said. "With the information that we've been given, he reacted really quickly, shut down flights [and] traffic from China. He's letting it up to the states, so we're seeing a lot of interesting information coming out. If you watch, in Wisconsin the Supreme Court just overruled its governor and they're opening up things in Wisconsin. We're in the process of suing Governor Wolf for his information, so what they're doing is a little unconstitutional."
A trend among countless supporters was critical comments about Pa. state Gov. Tom Wolf and his legislation. While many held signs commending President Trump and supporting "Trump 2020," others held signs urging the president to "save them from Wolf."
Maureen Fletcher was one of those criticizing Wolf, especially the fact that he deemed real estate as nonessential.
"I think President Trump is wonderful," Fletcher, a real estate agent, said. "The fact that he threw it into each governor's hands was great on his part, but this governor here is pathetic. This is the only state in the country that does not accept real estate as essential … he has classified us as nonessential. I am a Realtor … and it's crazy because people all over this state need housing, and they're stuck." 
Leaser commented on several mistakes he believes Wolf has made during the past several weeks.
 "One, appointing a non-medical person as the head of healthcare, and that person has no medical training," Leaser said. "What else has he done? It's a matter of, we got to open up the economy. I'm in business, I have clients that have already called me and said 'We're going out of business, we can't keep the doors open.' And how many people have passed because of it? 70% of the people that have passed in Pennsylvania are elderly, and it's a shame, but also, you [see] the problems. They allowed seniors with the COVID back into senior facilities, which then spread the COVID, therefore [increasing] the amount of people that passed, unfortunately. So, who's responsible for that one?"
Leah Hoopes, a Republican committee member for Bethel Township, and member of Reopen PA and PA Against Excessive Quarantine, disagrees with Wolf's decision to continue the stay-at-home quarantine orders.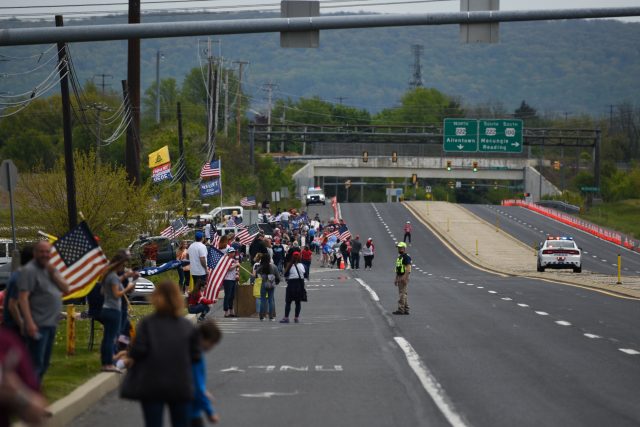 "Technically, quarantine is supposed to be for sick people, and at this point, it's excessive quarantine for healthy people," Hoopes said. "I believe in building immunity, and I believe … that we should be protecting the most vulnerable people in our society, which did not happen in the state of Pennsylvania as you can see. In my county alone, I'm in Delaware County, and 79% of the deaths were actually in long-term care facilities. I think this is an extreme overreach of the government at this point to be quarantining all these people, knocking us down, and taking our jobs."
Hoopes, who attended the rally due to her support for the president and her involvement in politics, stressed her belief in the importance of the policies Trump has enacted during his four years in Washington D.C.
"Where to begin [with what Trump has done as President]," Hoopes said. "I've never seen anything like it. He has done more for this country than any president I've ever seen. He's put more judges into positions. He's decreased the regulations. He's cut taxes. He's done the First Step [and] the Second Step Act, which allowed nonviolent offenders to be released, and [released] federal people that were basically put into jail for an excessive amount of time for crimes that were non-violent. He started the Child Start Act which helps to fund child cancer research. I could go on for days. He's addressed all the deep state people that we've been trying to get out of office for decades. He conserves our constitutional rights. He's made a booming economy … I mean, lowest black unemployment, lowest Hispanic unemployment. I mean our GDP right now, what is it, like 4.2 at this point. I mean I could go on for days on his accomplishments…"
Nick Blose, a junior at Emmaus High School, sees the difference between Trump's and Wolf's approaches to handling COVID-19.
"Trump versus Wolf, I feel like Wolf's priority is just keeping everything slow," Blose said. "I think Trump wants the same, but he also wants — you know, there's businesses that can reopen that aren't open. I think Wolf needs to see that."
While some visited to support Trump or to bash Wolf, many, such as EHS senior Jackson Peterson, attended simply in hopes to see the President of the United States.
"I just came to see the president," Peterson said. "I don't know. I mean, it's a good experience for everyone, even if you like [Trump], or if you don't. It's good to see him."
Northampton couple Jack Marsh and Jenny Franco-Marsh were one of the few protesting President Trump and his policies. 
"Let there be no mistake about this," Marsh said. "President Trump is the worst president in American history. His activities, since before he was elected, everything he's done since has been no surprise. He's done exactly what he promised to do since he joined the Republican primaries in, you know, 2015."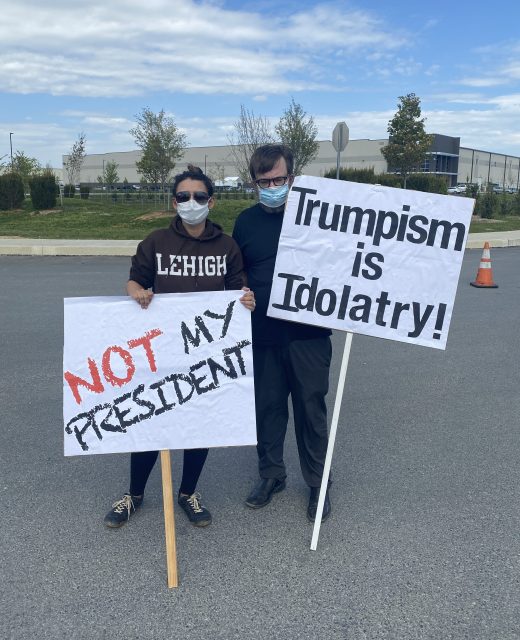 Franco-Marsh and Marsh held signs saying "Not my president' and "Trumpism is idolatry," respectively.
"For me personally, Donald Trump is not my president," Franco-Marsh said when asked about the meaning of her poster. "I can give him some respect as the American president, but a president, to me, has to be humble and kind and compassionate. And Trump has repeatedly made derogatory comments directly to gays and lesbians, the LGBT population, women — like saying it's okay that he grabbed her by the … — throwing paper towels at Puerto Rico when they were devastated from the hurricane. He has absolutely no positive regard for human decency, and that is why he is not my president."
The meaning of Franco's sign stems from his belief that individuals are "worshipping created things over the creator." Franco stated that he agrees with Wolf's policies and approach to handling the crisis.
"Governor Wolf is being a good, responsible governor," Franco said. "He doesn't want Pennsylvania's economy to suffer, but unlike our President — and this is the President of our country — he actually takes what our scientists and specialists — the people we pay … to know how to handle these things — [say into account.] Obama tried to appropriate money to bolster our pandemic response when he was in office and the Republicans refused. So, yeah, Governor Wolf — like most of the governors, Democratic governors — is being a good, responsible leader. And he's not trying to play politics with it … if we want to rescue our economy, we need to get past this pandemic as soon as possible. And opening too soon is just going to cause another round where more people die, and we'll have to do this again."
When asked, many also stated their belief that highschoolers and college students should be "independent thinkers" and create their opinions themselves.
"If I could add for anything — especially for your age group — is that [you should] be independent thinkers," Hoopes said. "Try to see both sides of the argument. Talk to people. Talk to everybody — not just the people that agree with your opinion. Try to see both sides of anything, and do your own research. Try reading books before the year 2000. Try to stay off of social media as much as you possibly can, because you're getting false news. Just try not to let people indoctrinate you and tell you what to think. And [put] facts over feelings."
With his most successful rally coming to an end, Schoepflin hopes to plan and organize more, and that the attendance will be just as high.
"But I think after today, more and more people saw my Facebook page, and some people asked me today — they definitely would love to come do flag rallies like this," Schoepflin said. "Because people that support what I do, they love doing the flag rallies, because it's like engaging a lot of people at one time, especially on public roads and intersections where hundreds and hundreds of cars are passing by. And it's creating such a great positive energy of the 2020 election and President Trump, and we get nothing but support."
Additional reporting by Erick De La Rosa and Aidan Springs.