Camire Powers Hornets in Football's Home Opener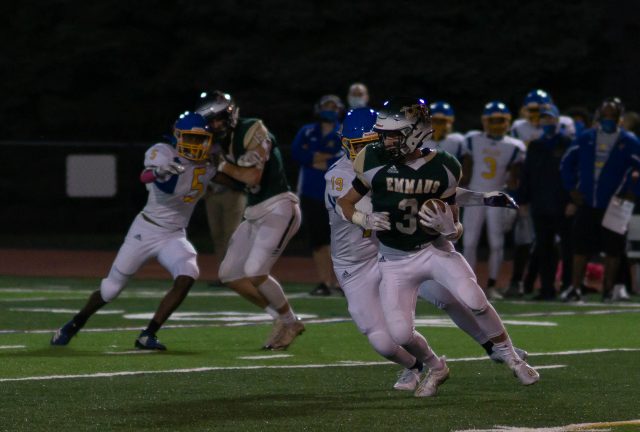 The Emmaus High School football team opened up the season in a massive way, taking down the Allen Canaries 58-0. 
The Hornets started off the scoring when senior Aidan Dougherty blocked a punt with 7:13 remaining in the first quarter for a 2-point safety. Once receiving the ball, running back Brandon Camire ran 38 yards into the end zone for a 9-0 lead. He would add to that with another 8-yard TD to end the quarter. 
The Hornets stayed hot as the second quarter started up. A 4th and 9 pass to Chad Newhard gave the Hornets an opportunity they wouldn't relinquish, as QB Jake Fotta would scramble the very next play for his own 38-yard touchdown. Jared Groller would add to the lead with a 6-yard TD run with 6 minutes left in the half, and Camire would score two more coming off a 36-yard run, and a 6-yard catch. The score was 44-0 at halftime. 
While the offense scored in bunches, the defense also contributed in a big way. The Canaries offense didn't have a first down until 5:30 left in the third quarter, and as a whole they held the team to only 31 total yards. Part of that could be attributed to the Canaries not being able to get out of their own way, committing a penalty on every one of their drives. 
When all was said and done, Camire ended the game with 100 plus yards and 5 touchdowns, a monster performance that clearly leaves him as one of the best players in the league, overshadowing his two first-quarter fumbles. Fotta didn't have a real strong performance, passing only 6/10 with 74 yards, but it wasn't needed in this lopsided matchup. 
In the Hornets next game, they take on the Dieruff Huskies Thursday, Oct. 8, at home.