Boys Soccer District XI Championship Preview: Emmaus prepares for game against Nazareth
Tonight at Whitehall High School, Emmaus boys soccer faces off against Nazareth for the District XI Championship title after they had already been told they won by forfeit on Saturday. 
This past Monday, they learned they must face Nazareth at 7:30. Nazareth had to forfeit their game because of health risks at the school, but have returned to play in the championship game, even after EHS boys soccer head coach John Cari had already been given the trophy and medals. 
Cari has high hopes for his players but also feels sorry that his team has to go through this.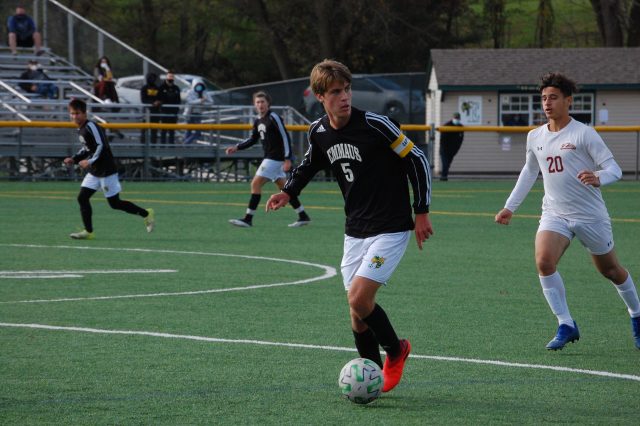 "I hope they're prepared," Cari said. "This was difficult because they mentally checked out. We let them go home early Friday thinking we were not going to play until next Saturday…. We figured we had time to recoup and get healthier, so I'm hoping that I was able to regroup them fast enough by holding practice yesterday and getting us ready. It's hard after being told we are champions after getting medals for them to then say no their not yours anymore, it makes it a little difficult for those players"
Alex Toto, senior captain of the EHS boys soccer team, has confidence in his teammates, and that they are fighting harder because they want to prove that they are the true winners tonight.
"It's definitely a unique situation," Toto said. "But we are glad we have the opportunity to earn the district title on the field. The team is very focused and looking forward to the game." 
Junior captain Jaeden Amato is one of the team's star defenders and has made Player Spotlight of the week for District XI Sports.
"Despite the messy situation, the boys are [as] ready as they will ever be. This is a moment we have been waiting for," Amato said. "The amount of work we have put in the season will most definitely show my step up on the field tomorrow night."