Meet Hikari Inaoka: paper-folding philanthropist
Origami: the Japanese art or process of folding squares of paper into representational shapes.
Hikari Inaoka has been practicing the art of origami since elementary school. From the time he was young, his grandparents in Japan would send him origami materials in the mail. Inaoka, now a senior at Emmaus High School, sees origami as more than just a hobby. It is his creative outlet, and it plays into every part of his life.
"I like how out of one square piece of paper, or multiple pieces of paper, it can make something unexpected," Inaoka said. "This stack of origami on the side of my desk just drew me into the world of origami where I could totally forget about everything else and make crafts."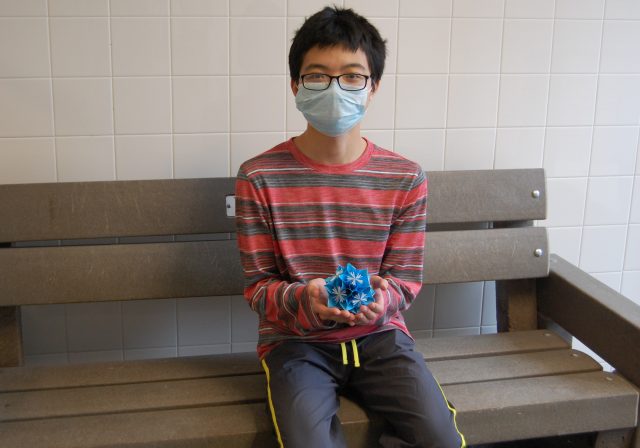 When Inaoka first started practicing origami, he would fold tiny boxes and paper airplanes out of paper. Now, his favorite objects to fold are three dimensional, multi-piece crafts that take a while, but he says that the ultimate result makes it worth the extra time and effort. One of these, a beautifully intricate blue piece with a folded flower design displayed on each side, is a design he folds quite frequently.
Inaoka calmly talks about his background and how he was drawn to this craft. He has lived in the United States his whole life, but origami connects him to his Japanese heritage, as well as to his family members in Japan. His background has impacted the ways in which he connects and relates to the world.
"Having both Japanese and American values and ideals has helped me look at everything from two different perspectives," Inaoka said.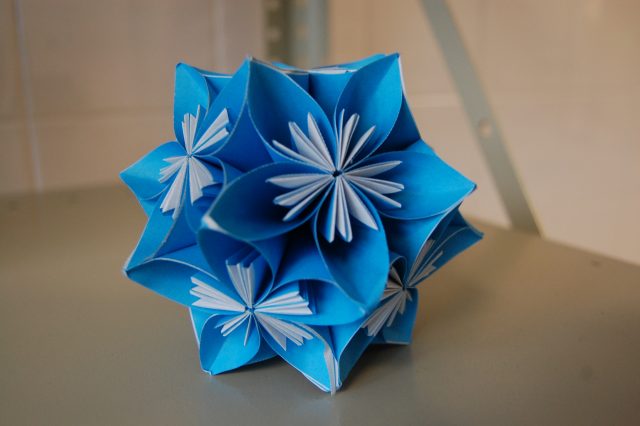 Origami helps him through the rough patches of life, and as a result, he tries to use his origami skills to improve the lives of others. Inaoka has started multiple fundraisers throughout high school, selling his intricate origami creations and donating the money to various causes. He has raised money for the Angel Network, an organization that provides resources and support for impoverished students in the East Penn School District. Then, when a typhoon hit Japan last year, Inaoka started another relief fundraiser by selling his origami and donating the proceeds. 
However, this philanthropy didn't come out of nowhere — it was born after an unexpected loss.
"My tablet was stolen freshman year," Inaoka said. "I was really depressed and devastated. That helped me turn my eyes to origami, and to help out the community and turn this negative experience into a positive one."
When his device was stolen, it made Inaoka think about how not everybody could afford to own a tablet in the first place. The loss of his tablet motivated him to take on new challenges, and to help people who are struggling.
As for his plans for the future, Inaoka is ambitious, and wants to become a pilot. He plans to continue doing origami, and although aviation and origami are not clearly connected, Inaoka says that doing origami and using it for fundraising has taught him skills that are valuable regardless of his future profession.
"I want to get a masters in aviation," Inaoka said. "And then save up money for flight school and begin my journey to my dream."