Java Joint: where coffee is king
Sadie Dallas, Former Deputy Arts & Culture Editor
December 4, 2020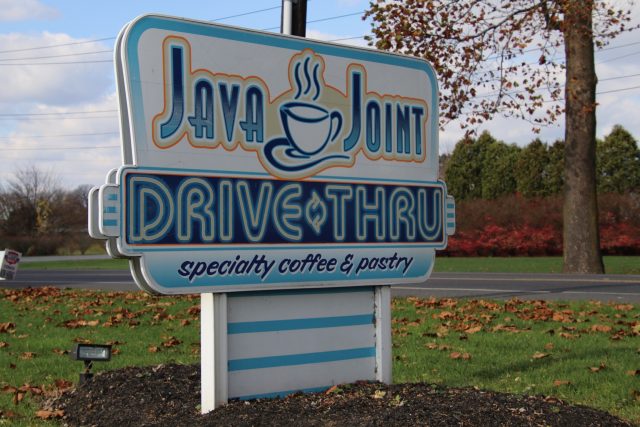 A typical day for Betty Hockman consists of brewing coffee for early customers rushing to work, pausing to chat with regulars who aren't, and then closing up shop at 2 in the afternoon, only to do it all again the next day.
Betty, as customers call her, has become a part of people's routines as she serves up a lot of latte from the windows of the quaint diner-esque drive-thru coffee shop that perches along Hamilton Boulevard in Trexlertown.
Betty opened the Java Joint in 2003 after a friend suggested she make this small business venture. Interestingly, Betty never drank coffee before. 
But the loss of her job as a machinist caused the personable woman to want to try something new. With no prior barista experience, she hired a consultant from Portland to show her the ropes of the coffee market. The consultant suggested a few different coffee roasters for her business, and, with the help of friends, she decided on Crimson Cup. 
"After trying samples from the roasters he suggested, I knew right away that Crimson Cup was the fit for us because it's close by, in Ohio, and shipping time is minimal," Betty says from the sleek silver and blue drive-thru, which is adorned with specials of the day and baked goods. "I sat down with a few of my friends who are, you know, 'real' coffee drinkers, and they agreed that Crimson Cup was definitely the best."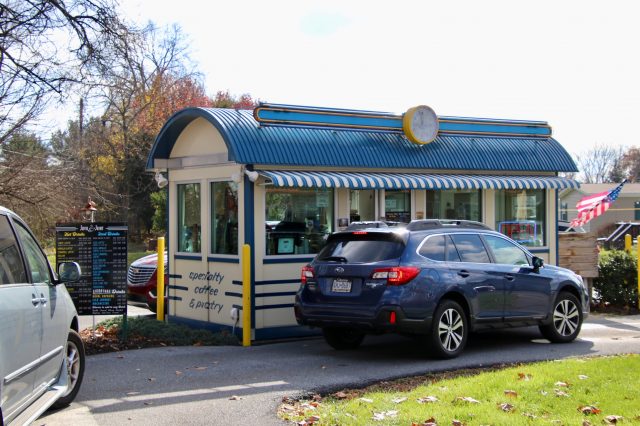 Since then, Java Joint has become a favorite of coffee aficionados in the Lehigh Valley, particularly for those who eschew chain brews. The menu offers the usual coffee shop fare as well as specialty lattes, a wide variety of locally made baked goods, and seasonal treats.  
Fresh pastries and sweets carried by the joint always come from local bakeries, including The Emmaus Bakery and Bakery Nook. When driving up to the window to receive their drink, customers will almost certainly be asked if they would also like one of the alluring muffins or scones seen in the store window. 
"We have started offering donuts from Mary Ann Donut Kitchen in Allentown," Betty said. "Everybody loves those donuts, so we are very lucky to include those in our daily lineup. People will come looking for them, especially people that live over this way."
Over the years, Betty has noticed changes in what customers want, with many becoming more health-conscious and opting for less of the sweet syrup in their drink. 
"What I've found is that some people will tell you exactly what they'd like you to sell," Betty said. "And we absolutely have no problem making drinks specifically for each person. Whatever you want, we'll make it."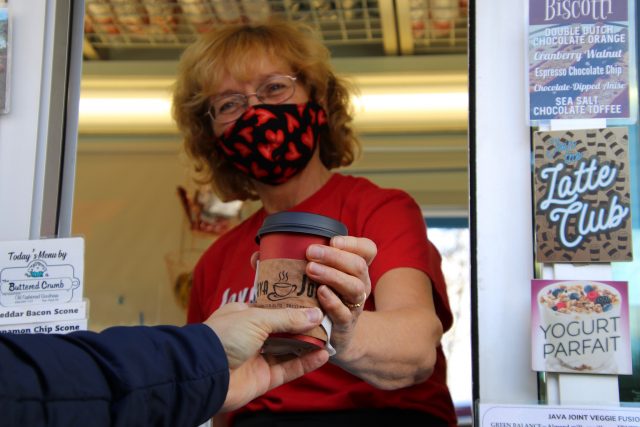 If she's not drinking a plain Americano — an espresso with hot water — Betty's favorite drink on the menu is an iced Javanut, a latte of her own invention that tastes just as good as it sounds. 
The two most popular drinks offered by Java Joint are the caramel latte — espresso with steamed milk, syrup, and foam — and the mocha — espresso with steamed milk, chocolate, and whipped cream. While these two classics can be found at practically every coffee bar, the Java Joint makes them uniquely delicious with quality coffee beans and always-friendly service. 
Java Joint is open from 6 a.m. to 2 p.m. Monday through Friday and 7 a.m. to 2 p.m. on Saturdays.