Jasper Initiative team reflects on second semester
As its first year comes to a close, the team and students involved in the Jasper Initiative reflect on the successes and challenges of the program's second semester.
The Jasper Initiative, which was first proposed in late 2019, is a program that focuses on learning through a project-based curriculum, rather than through regular assessments. Emmaus High School ran the program for the first time this school year and the results of the first semester, which included the classes American Studies I and English 9, were promising. Jasper students continued to explore the program in the second semester with Global Science Inquiry and Design & Development, the latter of which is a new course created specifically for the Jasper Initiative. 
Briana Luancing, who teaches Jasper's GSI course, believes that the second semester was "surprisingly successful" despite the challenges of this past year.
"It's pretty hard to enact project-based learning in this sort of setting, but I feel like we've done the best we could with it, and I think the program has definitely seen some successes despite everything that's been going on," Luancing said.
Due to the heavily-emphasized social aspects of the initiative, the unexpected shift to a virtual environment was a struggle for the team to overcome. However, Luancing and her fellow teachers utilized journaling and breakout sessions to gain insight from their students. They also assembled project kits and delivered them to the Jasper students so that they could create physical projects while at home.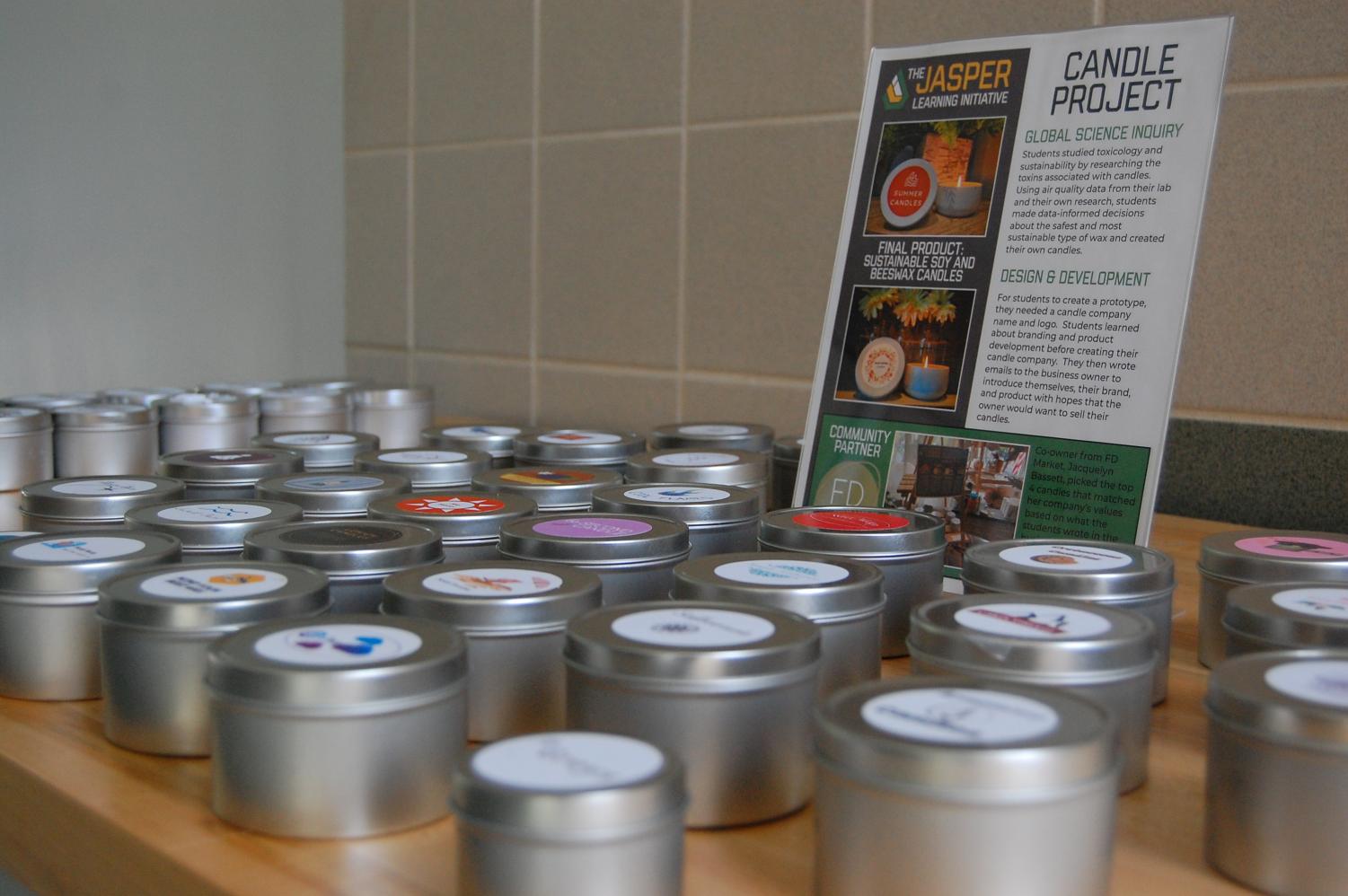 Even though the program has faced its challenges, the team still found ways to create projects that could meet the course objectives and improve their students' skills, even in a virtual environment. One such example was the candle project, which was an overlapping assignment between the two classes. In GSI, students studied toxicology and sustainability by measuring what is in the air when one burns a candle. They then studied different types of wax and chose the type of wax that they thought was the most sustainable. Using the wax they chose, they had the opportunity to create their own candle sets — including their designs and logos — in Design & Development. Students then pitched their ideas via email to the owner of FD Market, a sustainable marketplace in Emmaus, which is currently selling the top four candle ideas.
This project, according to Luancing, is the perfect example of how much emphasis the Jasper Initiative puts on community outreach.
"One of the things that struck me about the program is that it gives kids a chance to do something outside of the classroom," Luancing said. "A lot of our projects are community-based, so they can make those connections with potentially different people in the fields that they're interested in or doing something to actually help the community. Within just the normal classroom, that's not an opportunity that they normally have."
Other Jasper projects also build on that same community focus. The pizza project, which taught students about sustainable agriculture and farming practices, encouraged students to create their own pizza recipes using locally-grown ingredients. These recipes were then sent to Switchback Pizza in Emmaus. In Design & Development, students used a computer program called Fusion 360 to create 3D puzzle cubes, which were then printed using 3D printers. There are currently plans in place to send the cubes to East Penn's elementary schools for indoor recess. 
Design & Development teacher Jason Geist feels that the puzzle cubes, as well as the other aforementioned projects, taught the Jasper students an important lesson about project development, making mistakes, and learning from them.
"What I can say for my class, Design & Development, is seeing students … not going in with a plan, and then learning the design process and understanding that the whole purpose of what we're trying to do is not about creating this great end product," Geist said. "The whole thing is about trying to get you to learn how to come up with an idea, structure an idea to test things, see if it works, make mistakes, come back, fix those mistakes, make adjustments, then get to the final product. So, essentially, the whole thing is [that] they were learning that the process is just as important, or even more important, than what the final product is."
Freshman Keyondra Savacool, a student member of the Jasper Initiative, attests to her own growth in this department over the past school year. Not only has the program exceeded her expectations, she feels that it has taught her relevant skills for the future that she would not have learned in a normal classroom.
Her own individual process when creating a project has especially thrived under the tutelage of the initiative.
"I think I pay more attention to details and research now, because in our projects, we need to do a lot of research," Savacool said. "[Since] I'm doing something for myself, I like to look into it before I just make a selection. I just take more time … looking into what I'm doing instead of rushing things, because there's a lot of things that you have to look into. And the teachers have helped us learn that so far."
Out of all the projects she has done in the program, her favorite is the passion project, which places the largest emphasis on student individuality and building connections within the community. Students were allowed to select any goal or focus that they wanted, as long as it helped someone or something in the community. For example, one student, as Geist describes, learned how to create a website for their grandmother's smoothie business.
Savacool, much like the others, chose a project that would contribute to her local community.
"[The passion project] was my favorite because you could do what you wanted, what you're passionate about, and so I did mine on customizing shoes," Savacool said. "I decided to make an Instagram page, _keyondras_kicks_, and customize my own shoes. I would have customers submit designs and then I would put it on the shoe, based on their liking, and then give it back to them so that they could express their emotions."
Looking back on their own experience teaching in the Jasper Initiative, Geist and Luancing agree that the program gave the Jasper students the ability to showcase abilities that they may have never been able to before. Getting to see their students express themselves through alternative avenues from traditional assessments has influenced how they plan on teaching their regular classes moving forward.
Geist also found himself realizing that he may have underestimated the potential abilities of freshmen in the past.
"The fact that we were able to get what we did out of students and have them show what they've learned in [assessments] other than tests — and not saying tests are a bad thing, like tests are good in certain areas — but being able to see what the students learned and what they're able to do, and how they progress through these projects has definitely changed from, based on what I was taught in college on how to teach, and what I learned in [the] over 20 years of teaching that I've had," Geist said. "It's definitely changed [my] perspective and it's gonna change how I teach my math classes and my engineering classes in the future."
A strong, one-on-one connection with their students is also an element of the program that both Luancing and Geist emphasize as being important. The initiative strengthens these connections through its use of student-led conferences. These conferences are much like regular parent-teacher conferences, except the students are guiding them, instead.
Michael Mihalik, the secondary STEM supervisor and a head of the Jasper Initiative, learned an extensive amount about student growth from the conferences.
"One of the things I've learned, and this is coming from someone who spent 14 years in the classroom at Emmaus High School, so I know what it's like to teach there — one of the things that I learned is [that] the student-led conference was really powerful," Mihalik said. "I learned things about the students, meeting with them one-on-one for a nice, extended period of time, that I may not have known as a classroom teacher. And so I think just giving myself and giving the students an opportunity, just allowing those relationships to really develop, was super helpful."
Moving into next year, the Jasper team hopes to further emphasize those social connections in their classes if EHS returns to in-person learning. As of June 2021, the 9th grade courses will remain the same; the planned courses for 10th grade Jasper members in the class of 2024 include Biology, English 10, and American Studies II.
While they are anticipating that further changes will need to be made, Mihalik is waiting for responses from the end-of-year student-led conferences before solidifying potential developments to the program.
"I want to see what they have to say, because the students have a huge say in what we're doing in our program," Mihalik said. "So, I'm really excited to see what they say at the end of this year; if they have any feedback on what we could be doing better, what are the things that we did right, and we'll adjust accordingly."