Cathryn and Andrea's Lehigh Valley Food Tour
After a week filled with stressful tests and not-so-tasty school lunches, everyone is in need of a break. But where can you find delicious meals on a high school student's budget? We took a small trip around the Valley to sample quality yet affordable food.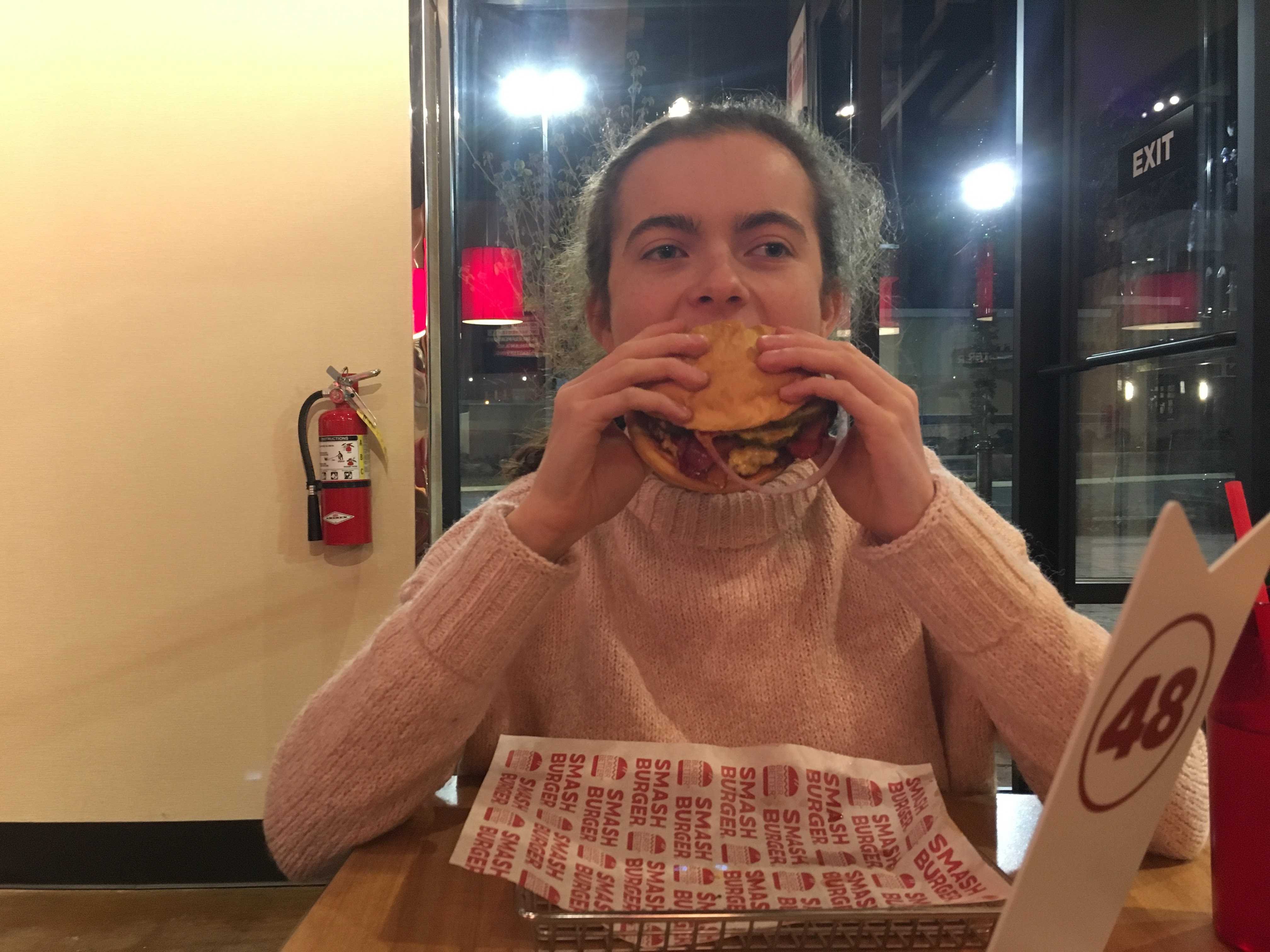 Smashburger– 707 N Krocks Rd, Allentown, PA 18106
Andrea's pick: Classic Smash (Burger with American cheese, lettuce, tomato, onion, pickles, ketchup, smash sauce)
Cathryn's pick: Barbecue, bacon and cheddar burger with haystack onions and bacon along with a side of fries
Ever since this chain eatery opened up at the Hamilton Crossings, it became an instant hit at EHS among students and teachers alike. We dined here per suggestion of Ms. Reaman, our journalism teacher, and we had some coupons for our meals. Upon arrival, we expected it to be the type of restaurant where you sit down and a server comes to take your order, but we thought its actual fast-food style ordering was convenient and made sense. It is a burger joint, of course. The restaurant had limited seating and was quite crowded, but we still found a table to enjoy our meals at. Our sandwiches were sizeable and tasty, just what one would expect for their moderate price point. We were pleasantly surprised by the fries – thin, bite-sized, and crispy.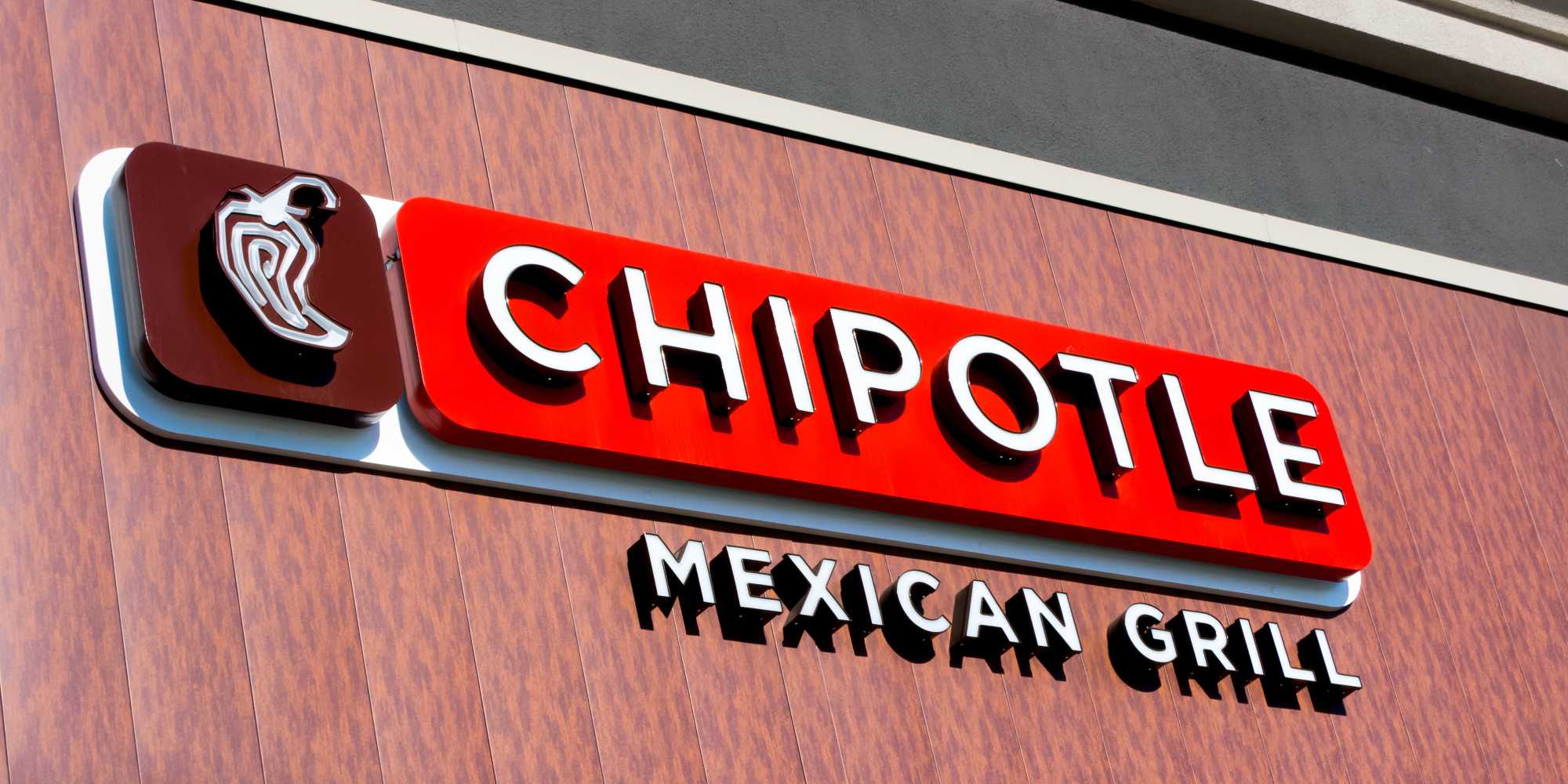 Chipotle– 750 N Krocks Rd, Allentown, PA 18106
Andrea's pick: Chorizo bowl with guacamole
Cathryn's pick: Chicken bowl with guacamole and chips
Yes, Chipotle, a staple piece of many students' diets. When we found out a new Chipotle would be opening just a short drive away, we had to check it out. The restaurant was crowded for a special "pre-opening" event, but the food was worth the wait. Our bowls were piled high with well-seasoned meat, fresh salsa, and, of course, creamy guacamole.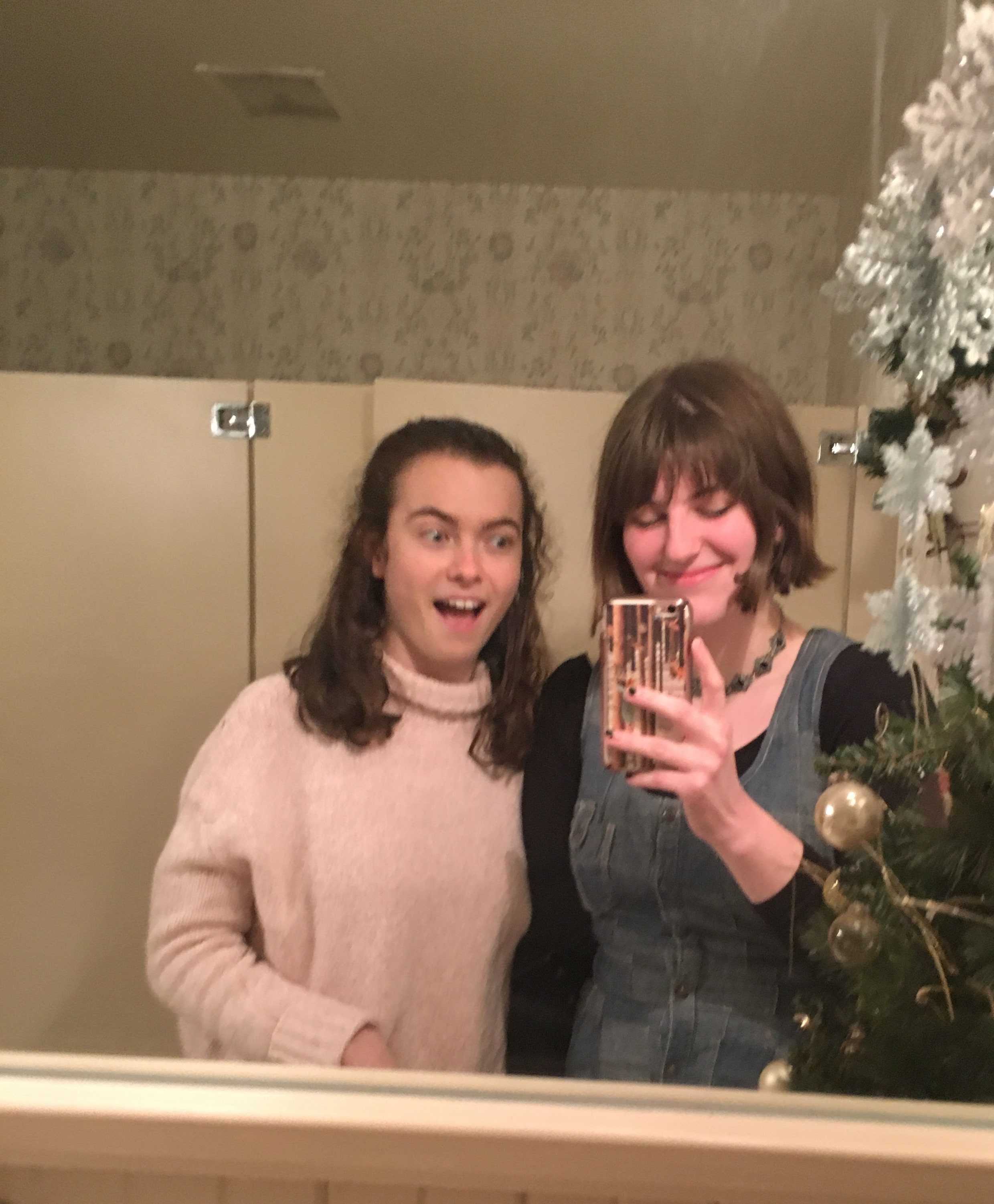 Morgan's– 3079 Willow St, Allentown, PA 18104
Andrea's pick: Buffalo chicken sandwich with chips and cherry cheesecake
Cathryn's pick: Arugula salad with figs, parmesan, pancetta, and lemon vinaigrette with chocolate cake
Unlike our previous stops, Morgan's is a local, sit-down restaurant. We came over winter break, when the restaurant was still decorated and playing soft holiday songs. The menu offered a variety of options from burgers and salads to seafood and pasta, and although it took awhile, we eventually decided on our orders, and we weren't disappointed. The buffalo chicken sandwich had a slight kick but wasn't overly spicy, and it was nice to see a restaurant offer buffalo chicken grilled rather than fried. The arugula salad combined crispy, fresh, and creamy textures wonderfully. Needless to say, we were satisfied with our meals, but we have one tip if you decide to go to Morgan's: save room for the dessert tray. This array of rotating homemade sweets was the perfect way to cap off our already delicious meals. The cherry cheesecake was rich and silky and complemented well with a flaky graham cracker crust, and the chocolate cake had a rich and decadent flavor.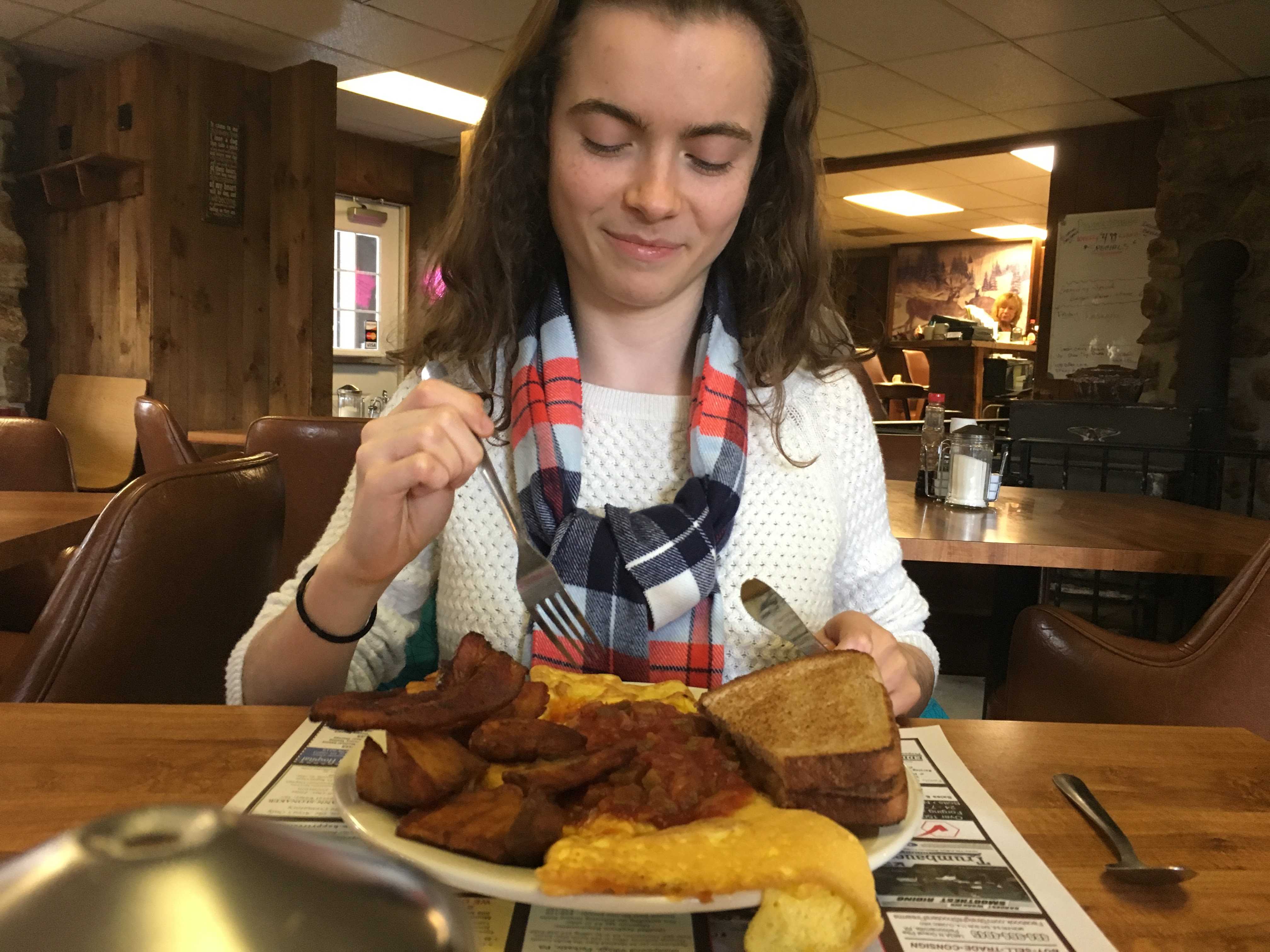 Powderbourne Sportsman's Club– 2071 Baus Rd, East Greenville, PA 18041
Andrea's pick: Spanish omelet (Pepperoni, tomatoes, cheddar, onion, jalapeno and salsa)
Cathryn's pick: Two eggs over-easy with rye toast, extra-crispy hash browns, and bacon
To describe Powderbourne as off the beaten path is not a stretch. Although it is relatively far away, it's worth the trip, even if you make a few wrong turns along the way (which we did). The cozy restaurant is situated in the woods next to a shooting range, and features comfy chairs, a wood-burning stove and delicious home-cooked food. Every time I go there, I order the same thing, eggs with hash browns, toast, and bacon, and it never disappoints. The bacon and the hash browns are perfect – crispy and not too greasy. This made up for the omelet's slight oiliness, so in the end, we were satisfied with our meals.
Cali Burrito– 2149 Reading Rd, Allentown, PA 18104
Andrea's pick: The Santa Barbara (Two tacos with chicken, lettuce, cheese, guacamole, pico de gallo, cilantro-lime dressing and homemade tortilla chips)
Cathryn's pick: The Old Monterey (Burrito with chicken, black beans, rice, cheese, and guacamole and homemade tortilla chips)
It seems like students at Emmaus are constantly raving about Cali Burrito in the halls and on social media, so we decided to try it ourselves. Cali Burrito's new location is spacious and inviting with bright decorations like surfboards adorning the walls. … The tacos, which are served in a hard and soft shell, featured fresh ingredients and a great mixture of textures and flavors. The crisp lettuce and crunchy tortilla shell balanced the creaminess of the guacamole and dressing well and no taste proved overpowering. A mixture of puffy and crispy tortilla chips were well-seasoned and went great with the homemade salsa bar, which offered a variety of spice levels. The Old Monterey was the perfect balance of guac, chicken, beans, and rice, and it was a good size for a filling dinner. But fair warning, Cali Burrito's hot sauce, the Red Death, is extremely spicy and should be used in moderation. Trust us, you only learn that lesson once.
Chris's Family Restaurant– 5635 Tilghman St, Allentown, PA 18104
Andrea's pick: Coconut pancakes and coconut creme pie
Cathryn's pick: Tomato soup and a turkey club with coconut creme pie
Chris's Family Restaurant is basically a diner, but better. The menu offers a large variety complete with classic dishes and other, more adventurous fare; this is the only restaurant I've been to that serves coconut pancakes. After taking a while to look over the novel of a menu, the food we decided on turned out to be fabulous. The coconut pancakes were fluffy and airy, although the coconut added to the texture of the dish but not particularly the flavor. The turkey club impressed as well, as it was thick and the bacon had the perfect crunch. For dessert, the coconut creme pie topped off our meals well. It had a good ratio of creme to whipped cream, and the coconut flakes added to the flavor.
---
Photos by Cathryn Seibert and Andrea Klick. Chipotle photo courtesy of huffpost.com.