Emmaus' production of "Miss Saigon" wins several Freddy Awards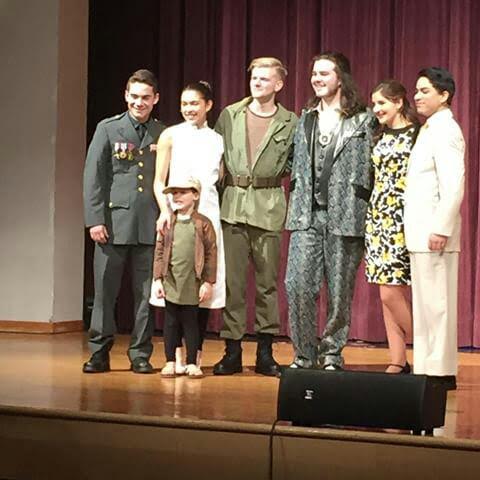 "Miss Saigon," which opened at EHS on March 16, earned 18 Freddy Award nominations–the most of any high school production this year. Of the 21 categories that are judged for the Freddy Awards, EHS' production was nominated in 17. One category had two EHS nominations. Last year's production at EHS, "Once Upon a Mattress," garnered seven nominations, but no awards.The Freddy Awards have been recognizing outstanding high school musical theater productions since 2003.
In their acceptance speeches, most students credited directors Rita Cortez and Jill Kuebler as a major cause of their success.
Although the Freddy's are an important part of high school theater in the Lehigh Valley, Kuebler does not base the success of a show solely off of nominations and awards.
"We always do the best show we possibly can do, and then whatever happens after is icing on the cake," Kuebler said. "I think every school has definite strengths. A strength of our department is that we have a really strong creative team. Our students are amazingly committed to the art and working to put on the best show they can."
Select students from each participating high school are chosen by their schools to perform in the opening and closing numbers of the ceremony, including seniors Julia Bezems, Thomas Riley, Robert Lynn, and Erin McGowan .
EHS students, however, have the opportunity to perform in more than just the opening and closing nomination. Seniors Julia Bezems and Thomas Riley each performed small solos because of their nominations in Outstanding Actress in a Leading Role and Outstanding Actor in a Leading Role. Because of their nomination for Outstanding Overall Production of a Musical, the "Miss Saigon" cast also performed the musical number "Bui Doi."
Riley, who played Chris, sat in the audience at last year's Freddy Awards. Performing in the ceremony twice this year was surreal to him.
"The experience of going to the Freddy's was unlike any other," Riley said. "I made so many friends with great people, and the energy from the audience was absolutely insane. I think my favorite part of the night is when I hit the high note in my solo and everyone from Emmaus stood for me. It was such a rush of adrenaline and euphoria."
Students who performed were not the only ones who attended the show.
Senior Declan Schoen accepted the the Freddy for Outstanding Use of Lighting alongside junior Andrew Ashmar.
"The Freddy's were, as always, a phenomenal night," Schoen said. "There's just a sense of universal support in that theater that I've never felt anywhere else. You just know that if you win an award everyone there is going to be supportive, and if you don't, you are not only ready, but eager to give all of your support to the people that won."
"Miss Saigon" also won the Freddy for Outstanding Performance by an Orchestra, which was accepted by seniors Emily Zimmerman and John Panza.
Zimmerman has been playing clarinet in the pit for three years. She enjoys the challenge that being part of the pit orchestra brings her.
"Pit orchestra music is some of the most challenging music any musician can play," Zimmerman said. "Even the week of the show there were still a few measures here and there that I had to edit a bit so I could play them…every year I've come out of pit 10 times the musician I was before."
Zimmerman believes that part of the reason why they won this Freddy was that it complimented the show well.
" I think our orchestra won the Freddy because I really think the music makes this show very impactful," she said. "The music hitting the right chord in the right moments is what gave me chills and I think that affect set us apart."
Overall, Kuebler is proud of all of the work that the cast, crew and pit put into making "Miss Saigon" the best it could be.
"I knew Miss Saigon was an incredible show," Kuebler said. "We had a lot of talented leads, and they worked hard, and the material lends itself towards an emotional show. The music is beautiful, and the characters are well drawn out."