Students form rock, paper, scissors league amid quarantine boredom (Updated)
Update, as of 8:28 p.m. on April 26:
Aidan Dougherty won a suspenseful championship with a score of 4-3, defeating Nick Thoma in the 7th round.
---
While other Emmaus students are watching Netflix or sleeping during their quarantine, Stinger Sports Editor Erick De La Rosa operates a rock, paper, scissors league with 30 of his friends to ease boredom. 
De La Rosa instituted the official Rock Paper Scissors Quarantine League on April 5, which consists of six divisions, with five people in each division. There are two conferences, Eastern and Western, and the divisions are denoted by various countries: Cambodia, Myanmar, and Kazakhstan make up the Eastern Conference, while Aruba, Chile, and Bolivia make up the Western Conference. 
Inspired by Major League Baseball writer Jared Carrabis' rock, paper, scissors games with Red Sox players over a Zoom call, De La Rosa began his own version of the league to fill the void of the MLB season's cancellation. 
"I just liked the idea," De La Rosa said. "I was like, 'That's something to do to get all of my sports energy out or something.' I put on my Instagram story, 'Who wants to play?' At first, only like 10 people said they wanted to play, and I was kind of bummed out. Then, I texted a bunch of people, and more people started saying they wanted to get in, and we eventually got it up to 30 [players.]"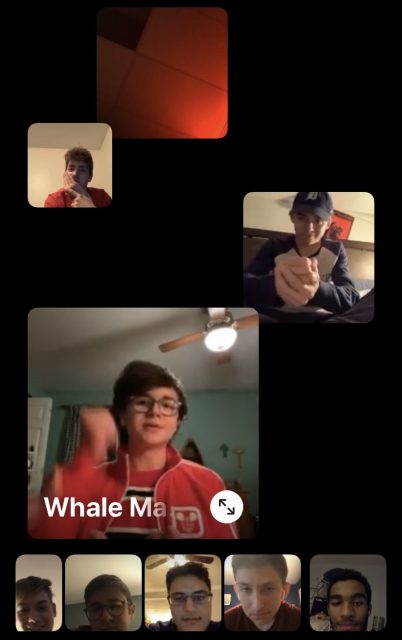 Complete with the national anthem at the start of each game, as well as devising mock 'sponsorships' for each of the showdowns, participants played 14 games over FaceTime during the regular season to establish their rank. The winner of each matchup was determined by the first to win four rounds. Exciting matches were played during 'Primetime,' and other players from the league could join the call.
"[Primetime] was really fun to see everyone, play rock, paper, scissors with them, and just kind of have fun for a solid half an hour," De La Rosa said. "And that was what I would look forward to every single day. I would just spend all day getting ready for primetime because it meant that I could talk to all of my friends."
The final games of the regular season were played on April 21, and the postseason began the following day — complete with a Wildcard Round with byes, the league moved into the quarterfinals on Friday, April 24, and into semifinals yesterday. Tonight, senior Nick Thoma and junior Aidan Dougherty will go head to head, playing for the best of seven rounds to determine the winner. At the conclusion of the regular season, Thoma and Dougherty both had records of 10-4.
Going into finals, Thoma looks to make a name for himself and his division, Myanmar, as he strategizes his plan to win against Dougherty. 
"Strategy-wise, you need to get in the other person's head and see what they're going to play," Thoma said. "The best play is to use the same move that your opponent just used in the previous turn because they don't usually use the same move twice in a row."
Dougherty's strategy is more along the lines of prediction.
"Nick's good," Dougherty said. "I watched him play a bit, he knows what he's doing. You have to predict about what they're going to put down. It's a mind game I guess. I don't know."
The winner of the finals not only has bragging rights, but will also receive a trophy and a fanny pack with the word 'champion' across the front.
"We get the fanny pack," Dougherty said. "I'm about to be wearing that fanny pack all over the place."
Tonight, De La Rosa predicts Dougherty will come out on top.
"I said this on the Write Brothers Podcast today, I said I think Aidan Dougherty is going to win the entire thing," De La Rosa said. "I've said Aidan Dougherty is going to win since the beginning. I hope it comes true, [because] that would be fire."
Thoma and Dougherty, like many other members from the league, enjoyed their experience and stated they would excitedly join again, if the rock, paper, scissors league continues.
"It's been great because everyone's been really active in the group," Thoma said. "We all make fun of each other, and it's funny to see everyone talk smack about something as silly as rock, paper, scissors. It's pretty entertaining."
Though the league started as a mere supplement to missing his nightly MLB games, De La Rosa believes it has brought himself and his friends even closer — it gives them entertainment during a time when it's needed most.
"What I will say is that it doesn't have to be rock, paper, scissors, you know," De La Rosa said. "Obviously, it's a hard time for everybody. Everybody misses their friends, everybody wants to go outside. I would say, for everyone, just try and find something to do, something to keep you motivated, something to keep you talking to people, something that helps you communicate with your friends, and something that, you know, gets you through your day.
"I think that was the biggest success of the Rock, Paper, Scissors Quarantine League," he said, "and I hope that's what people get out of it — that you can always do something to help make your day brighter."
Follow @rpsql on Instagram to check out the result of tonight's finals.
Illustration by Nate Garcia.