Tomo Curran
Tomo Curran is involved in Marching Band, Jazz Band, and the Envirothon Club. 
After graduating, she is excited to attend Boston University where she will study linguistics, and speech and hearing sciences.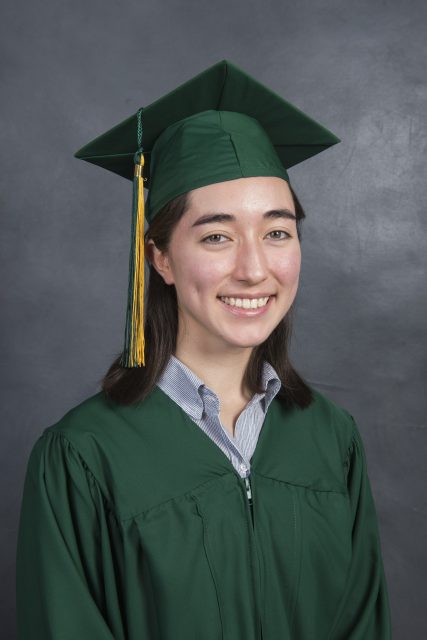 Stinger: What made you decide to get involved in the activities you're involved in?
Curran: I joined the bands because I love playing music, and being part of an ensemble is great because of all the friends you meet. And of course with the Marching Band, supporting the school and being able to show school spirit with music is pretty awesome. And Envirothon Club, I just liked biology so it seemed like a cool thing to do. 
Stinger: What's your favorite memory from Emmaus?
Curran: My favorite memory is probably making tableaux for Mrs. Doklan's English class.
Stinger: What will you miss most about Emmaus?
Curran: I will miss all of the kind people there and Mr. Parish's song of the day.
Stinger: What teachers impacted you the most and why?
Curran: Mr. Parish, Mrs. Svencer, Mrs. Doklan, and Mr. Gavin. Mr. Parish is incredibly kind and is really good at making students feel important. And when he teaches he's super spirited, which is very inspiring. Also he looks like Edward Snowden. Mrs. Svencer is really motivating and her excitement over biology always made me look forward to her class. She also gave us a lot of freedom over what we wanted to learn and encouraged us to be curious. Mrs. Doklan is always candid with her students which is really refreshing. I learned from her that it's okay to be unapologetic and I have a lot of respect for her. Mr. Gavin makes an effort to make literature relatable and helps us learn about ourselves. He also pushes us to think for ourselves and makes a mean slideshow presentation. 
Stinger: Do you have any advice for underclassmen?
Curran: I would say it's okay not to be super ambitious. There's often a lot of pressure in high school to be successful and that's understandable, but success is very subjective and I think it's more rewarding to build our goals around what we love and what brings us joy. 
Stinger: If you could change the school mascot to any animal you want, what would it be and why?
Curran: If I had to, I'd change it to a bear because they can be really cute and really aggressive, both admirable qualities in a mascot. Also "The Emmaus Bears" just sounds nice.