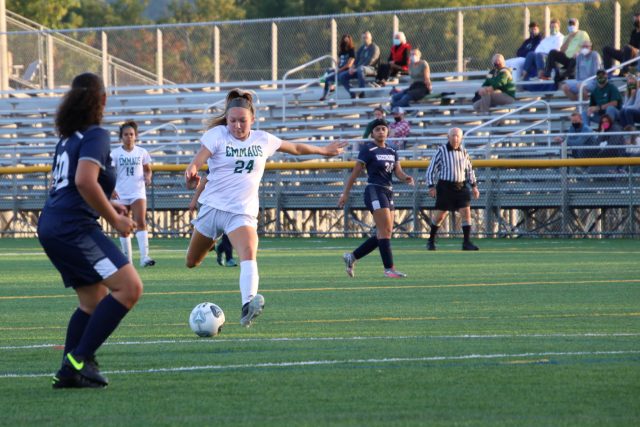 The Emmaus girls soccer team kicked off the season in decisive fashion, picking apart the Dieruff Huskies in a 9-0 victory. 
Senior team captain Maddie Brown opened up the scoring early for the Hornets with two quick and easy goals, setting the tone for the rest of the night. Freshman Gianna Buysse quickly answered with two goals of her own, proving her worth to the varsity roster by giving the Hornets a 4-0 lead in the first 15 minutes of action. 
Shortly after, the Hornets cleared the bench, allowing the reserves to finish out the half. Goals from Kam Watkins, Maddi Woodward, Maya Cooper, Renna Istrate, and an own goal eventually left the final score at 9-0, despite the Hornets' best attempts to simply just play keep away. Each subsequent Emmaus goal was greeted with less and less fanfare. 
Despite the lopsided nature of the match, Brown believes that a game like this is just as important as any other game on the schedule. 
"Even though this team is not as much of a challenge, it's important for us to keep the same level of play and play the same level game," Brown said. "We use games like this to keep our level up so when we play more challenging competition like Parkland, we can be ready for them." 
Brown, pleased with the level the Hornets played against Dieruff, is glad the team finally has taken the field.
"Our ball movement was great today," Brown said. "It was quick, it was clean, and it's what helped us get this win. I'm really excited for this season. It was a pretty great start and we played with a lot of energy tonight."  
The girls soccer team will play their next game at home on Sept. 28 at 5 p.m., once again against Dieruff High School.