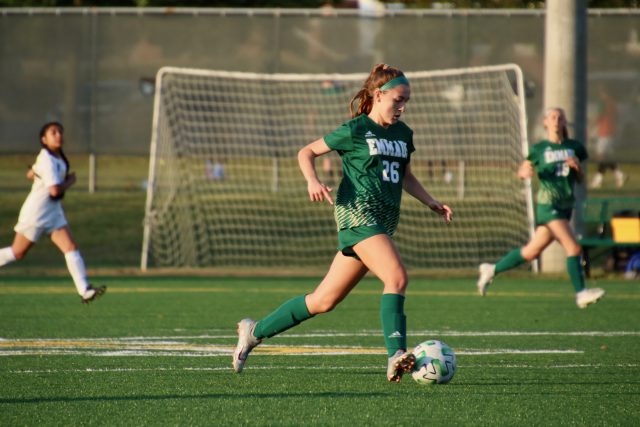 The Emmaus girls soccer team dominates the field in their fifth match of the season against the Vikettes remaining undefeated with a 5-0 record. 
The Hornets met their match against the Vikettes keeping spectators on the edge of their seats for the entire first half with neither team scoring. It was a back and forth struggle between both teams falling short in scoring with close calls for both teams. The game reached its climax in the last 10 minutes with Maddie Brown scoring for Emmaus wrapping up the game on a good note with a 1-0 win. With two minutes left, the Vikettes attempted to snatch the game with their corner kick opportunity failing to get the ball in the goal with it being slightly off and hitting the post. 
Lindsay Foster is satisfied with the effort her teammates put forth being appreciative that they worked collectively to overcome a team that challenged their strength.
"We were all on our best game," Foster said. "This was a big game for us and I was very happy that we were all able to calm our nerves and play some quality soccer." 
The Hornets faced off in a tense match but didn't let the difficulty of the opponent consume their drive for success. The team managed to keep their composure despite the challenge making large strides and doing everything in their power to score. While the Hornets had a strong defense, the Vikettes equaled with a fierce offense with neither team giving in. Foster recognizes pressure the game put on her teammates but was confident in the team's dynamic to seize the game. 
"At times there were some challenges with getting the ball to split the defense," Foster said. "We were able to fix some small issues and come out successful." 
The two teams will meet again for a rematch on Oct. 7 away at 4:00 at Iron Lakes GC.